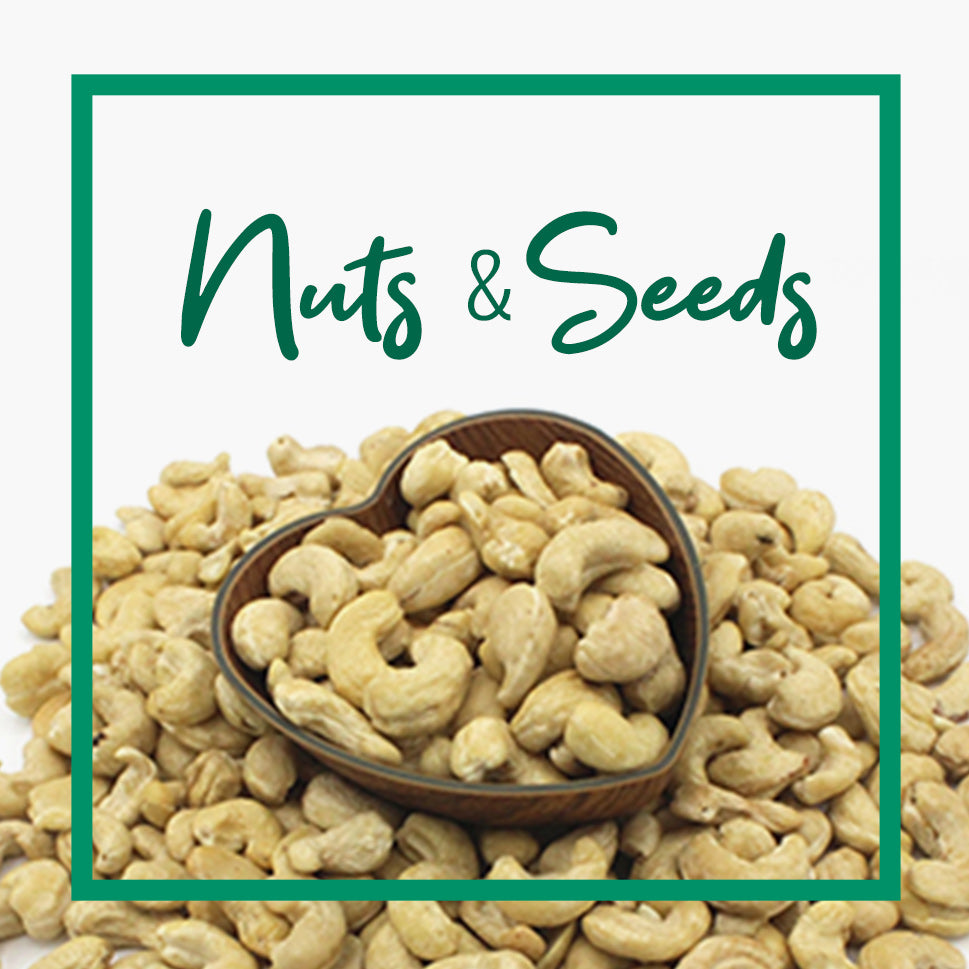 Nuts & Seeds
Organic Nuts and Seeds
Despite their small size, nuts and seeds pack a powerful nutritional punch. They are rich in protein, fibre, and various essential vitamins and minerals, making them a great addition to any diet.
Organic nuts and seeds are a powerhouse of nutrition, they are incredibly rich in essential nutrients such as protein, fibres, vitamins and minerals, making them a great addition to any diet. They are tiny in size but mighty in terms of the amount of nutrition they provide.
What are Organic Nuts
Organic nuts are nuts that are grown and processed without the use of synthetic pesticides, fertilisers, or genetically modified organisms (GMOs). They are considered to be a more environmentally friendly option compared to conventionally grown nuts.
In the culinary world, nuts are used in a variety of ways. They can be eaten raw as a snack, roasted or toasted for added flavour, ground into nut butter, or used as an ingredient in baking and cooking. Some popular nuts used in cooking include almonds, pecans, walnuts, and hazelnuts.
They are used in various recipes, from baked goods to granolas, and can also be enjoyed as a quick snack when eaten on their own.
They can be added to salads, used as a topping for oatmeal or yoghurt, and incorporated into desserts like cakes, cookies, and ice cream. Nuts are also commonly used in savoury dishes like pesto, meat rubs, and stuffings.
What are Organic Seeds
Organic seeds are seeds that are grown, harvested, and processed according to strict standards set by organic certification organisations. These standards prohibit the use of synthetic pesticides, herbicides, and fertilisers, and require that the land where the seeds are grown has been free of these chemicals for a certain period of time.
In the culinary world, organic seeds are used to grow a wide range of ingredients that are used in various recipes and dishes. They are used as a main ingredient, a seasoning, or a garnish. 
For example, organic sesame seeds are often used to make tahini, a popular condiment in Mediterranean and Middle Eastern cuisine.Organic pumpkin seeds are commonly used in granolas, bread, and as a garnish for soups and salads. Organic sunflower seeds are a popular snack food and can also be used in baking, salads and as a topping for yoghurt.
Organic seed production is a bit more challenging than conventional seed production, but it ensures that the seed is not only healthy for consumption but it also ensures the health of the soil, pollinators, and the environment.
How to use Organic Nuts and Seeds
Incorporating organic nuts and seeds into your diet is easy; simply aim for a serving of one to two ounces per day and choose the types you prefer. Try adding them to salads, sauces, vegetables, or whole grains like brown rice or quinoa for added flavour and texture.
Experiment with making homemade pesto using cashews or pine nuts, or include them in hot cereal or yoghurt. You can also add them to stir-fries or use nut flour in your baking.
No matter how you choose to consume them, you'll benefit from the extra flavour and texture they bring to meals, as well as the added nutritional benefits.
Types Of Nuts and Seeds
There are many different types of nuts and seeds available, each with their own unique flavour, texture, and nutritional profile. Some common types of nuts and seeds include:
Types of nuts
A nut is a type of dry fruit that typically has one or two edible seeds enclosed in a hard shell. Some common examples of nuts include:
Organic Almonds: Organic Almonds are a type of seed which comes from the almond tree. They have a sweet taste and a hard texture. They are used in various products such as almond milk, almond flour, and almond oil.
Organic Cashews: Organic Cashews are known for their salty and buttery taste which makes them hard to put down once you start eating them. They are commonly used to make nut butter or cashew milk as a dairy alternative.
Organic Walnuts: Organic Walnuts have a distinct appearance that can resemble small pieces of peanut brittle from a distance. They are also known for their attractive flowers and wild, irregular shape.
Organic Pecans: Organic Pecans have a distinct appearance, with a larger size and a wrinkled exterior, compared to other types of nuts. They have a slightly sweet flavour that makes them a great addition to baked goods such as sticky buns or pecan pie.
Organic Pistachios: Organic Pistachios have a rich and bold flavour that sets them apart from other types of nuts. This makes them a great option for grinding down and using as a crust for seafood dishes.
Types of seeds
Organic Chia seeds: Organic Chia seeds are small and versatile, making them easy to incorporate into both sweet and savoury dishes and baked goods. They can be added whole or ground, and are great when sprinkled over vegetables, cereal, or yoghurt.
Organic Flaxseeds: Organic Flaxseeds are high in omega-3 fatty acids, lignans (a type of antioxidant), and fibre. They have a nutty flavour and a slightly crunchy texture.
Organic Pumpkin seeds: These Organic Pumpkin seeds are high in zinc, magnesium, and antioxidants. They have a slightly sweet and nutty flavour and a crunchy texture.
Organic Sesame seeds: Organic Sesame seeds are high in healthy fats, fibre, and minerals like copper and manganese. They have a nutty, slightly sweet flavour and can be used as a topping on breads and pastries.
Organic Sunflower seeds: Organic Sunflower seeds are high in healthy fats, vitamin E, and antioxidants. They have a slightly sweet, nutty flavour and a crunchy texture.
Using Organic Nuts and Seeds in Culinary Recipes: Options and Ideas
Nuts and seeds can be used in a wide variety of recipes, the possibilities are endless! Here are some ideas for incorporating them into your meals and snacks:
Eating as a snack on their own

Making into nut milk or nut butter

Using as a topping for salads

Creating a trail mix with dried fruit and chocolate

Adding to roasted vegetables

Incorporating into baked goods such as muffins, cookies, cakes, etc

Mixing into cereal, like oatmeal or granola

Incorporating into granola bars

Making raw brownies or energy balls

Seasoning or cand with spices or sugar
At
Thames Organic Store
, we offer a wide selection of
organic nuts and seeds
. We strive to make your shopping experience effortless and convenient.
Filters