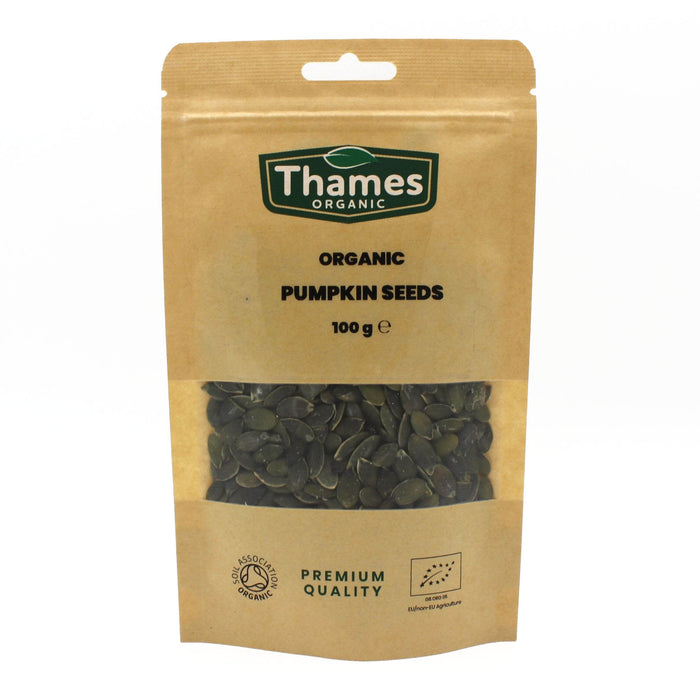 Organic Pumpkin Seeds
Original price
£3.49
-
Original price
£9.49
Organic Pumpkin Seeds by Thames Organic Ltd. Organically grown in China. Packed in the UK. Also known pepita.
Nutrition Value Per 100g: Energy 446kcal, Protein 19g, Carbohydrate 54g, of which sugars(Trace), Fat 19g, of which saturates 4g, Fibre(Trace), Salt 45mg
Allergen Information: Packed on premises that handles nuts, seeds, cereals, soya & gluten.
Thames Organic UK is Soil Association Certificated with a License no : DA30314
About Organic Pumpkin Seeds
Organic pumpkin seeds are nourishing and versatile. They are a good source of magnesium, iron, zinc, essential fatty acids, and potassium along with a number of vitamins. Pumpkin seeds can be enjoyed in a number of ways from snacking on, topping breakfast bowls or bowls of soup to adding to bread making for added texture. You can even make your own seed butter by adding to a high powered blender and blitzing until smooth - add a touch of salt for the perfect spread for toast!
Benefits of organic pumpkin seeds
100% organic

Contains healthy fats

Rich in fibre

High in protein 

Good source of vitamins
Dietary Information
Discover Thames Organic's Organic Pumpkin Seeds – a versatile and delightful addition to your kitchen, perfect for a variety of culinary preferences. Whether you're a vegan, vegetarian, or follow a plant-based, specific dietary plan, these premium pumpkin seeds are a must-have. Sourced sustainably from the finest organic pumpkins, they offer a nutty and crunchy flavor that enhances your favorite recipes. Use them as a nutritious snack on the go, or sprinkle them over salads, yogurt, or soups for an enticing texture and taste. Embrace the natural goodness of Thames Organic's Pumpkin Seeds and elevate your cooking with this wholesome and eco-conscious choice.
Usage
Toast, roast or enjoy raw as a snack

Add nutrition, flavour and texture to salads

Top bowls of porridge and add fresh blueberries and a drizzle of maple syrup

Add to homemade bread and crackers for added texture

Sprinkle of fresh fruit salads

Use to make seed butter and spread on toast or top breakfast bowls

Add to granola or flapjack recipes

Make your own trail mix by combining with dried cranberries and whole almonds
Buy organic pumpkin seeds and choose from a range of sizes to suit your requirements from small to bulk. We deliver pumpkin seeds to the UK and throughout Europe with fast delivery times suited to you.
Ingredients
organic pumpkin seeds
Allergen Information
Packed on premises that handles nuts (including peanuts), seeds, cereals, soya & products containing gluten.
Storage
Store in a cool dry place away from sunlight.