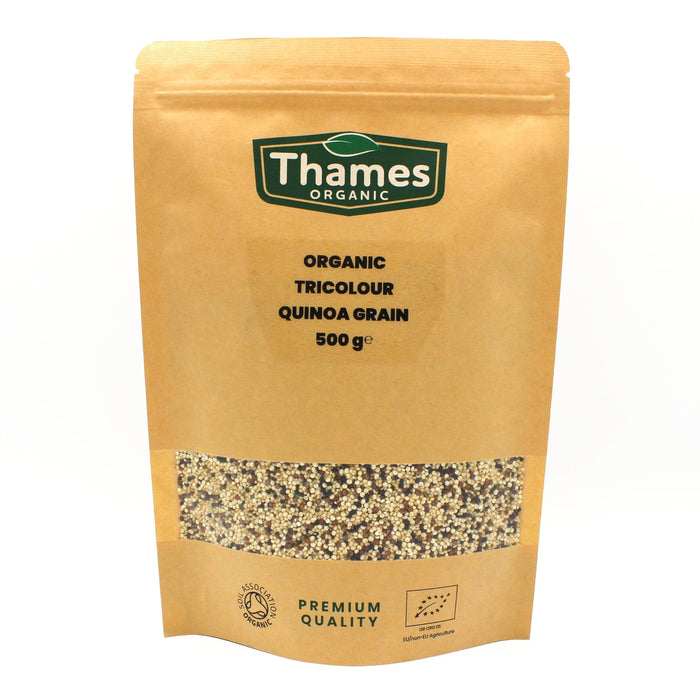 Organic Tricolour Quinoa Grain
Tricolor Quinoa Grain is a nutritious and balanced blend of white, red, and black quinoa. When cooked, each seed has its own unique tex­ture and savory, nut­ty fla­vor that comes togeth­er to form a deli­cious dish. Tricolor Quinoa Grain makes a great meal on its own, and is great for sal­ads, or as a base for vari­ety of col­or­ful recipes.
Good source of fiber and iron

Contains essential amino acids

Delicious source of plant protein

Alternative to starchy grains
The mix of white, black and red quinoa is light and satisfying. In addition, it has a delicious combination of rich and aroma. Tri-color quinoa is a combination of natural white, red and dark quinoa.
Quinoa grain is an adaptable grain that is flavorful in plates of mixed greens, tacos, soups, bean burgers, pilaf, and tabbouleh. Tricolour mix: white, dark and ruddy quinoa mix features a wealthy taste as well as a light and satisfying texture. Quinoa may be tasty with mixed greens, tacos, soups, bean burgers, rice. 
Trıcolour quınoa graın is frequently utilized by individuals on diets. Quinoa is without gluten, and an extraordinary wellspring of protein, affluent in essential amino acids, nutrients B2, E, and A
Discover Thames Organic's Organic Tricolour Quinoa Grain – a versatile and delightful addition to your kitchen, perfect for a variety of culinary preferences. Whether you're a vegan, vegetarian, or follow a plant-based, specific dietary plan, this premium tricolour quinoa grain is a must-have. Sourced sustainably from the finest organic farms, it offers a delightful blend of red, black, and white quinoa that enhances your favorite recipes. Use it as a nutritious and protein-rich base for salads, stir-fries, or Buddha bowls, or enjoy it as a side dish for a wholesome and satisfying meal. Embrace the natural goodness of Thames Organic's Tricolour Quinoa Grain and elevate your cooking with this wholesome and eco-conscious choice.
Organic tricolour quinoa grain is a type of quinoa that has three different colours: white, red, and black. Quinoa is a highly nutritious grain that is native to South America and has been grown for thousands of years. It is a good source of protein, fibre, and essential vitamins and minerals, including iron, zinc, and B vitamins.
Organic tricolour quinoa comes in three distinct colours: white, red, and black. Each color has its own unique flavour profile, with white quinoa having a mild taste, and red and black quinoa having a more pronounced, nutty flavour and a richer texture. This versatile grain can be used in a variety of dishes, including salads and side dishes.
This grain, featuring red, white, and black colours, adds texture and interest to both sweet and savoury dishes. It can be cooked in boiling water to achieve your desired level of tenderness. Once cooked, this versatile grain is ready to be incorporated into a wide range of recipes.
Its vibrant colours make it a visually appealing choice for showcasing in dishes such as grilled meats, poultry, fish, or vegetables. Get creative and try using tricolour quinoa to add flavour and visual interest to your meals.
Thames Organic's Soil Association Licence number is DA30314.