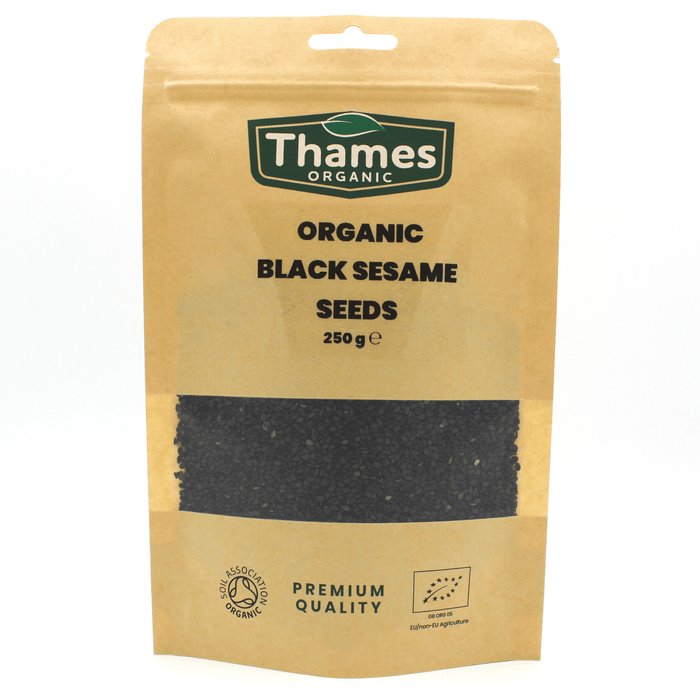 Organic Black Sesame
Original price
£3.99
-
Original price
£8.49
Organic Black Sesame contains copper, magnesium, calcium, zinc, and selenium. This halved seed has a pleasant piquancy but no bitterness. It's high in protein, essential amino acids, and beneficial minerals. Because black sesame seeds are nutty and multi-faceted when it comes to flavor, they're a great addition to foods ranging from baked goods to salads.
Organic Black Sesame seeds are naturally rich in nutrients, including protein and calcium. Used in baking and cooking, as a topping for breads and pastries, or mixed with rice for a unique flavor
Organic Black Sesame provides several beneficial properties. It has a nutty flavor that is rich and concentrated, particularly when compared to other sesame seeds. Organic Black Sesame also differs in nutritional composition, with higher levels of protein, calcium, and zinc than white sesame.
Black sesame seeds are an excellent addition to your kitchen. They have a rich, nutty flavor as well as a variety of health benefits and can be used in both sweet and savory dishes or added to beauty masks.
Black sesame seeds are most commonly used in dishes and baked goods because of their myriad health benefits. In addition to being rich in magnesium, calcium and zinc, the seeds' high vitamin E content
Discover Thames Organic's Organic Black Sesame – a versatile and delightful addition to your kitchen, perfect for a variety of culinary preferences. Whether you're a vegan, vegetarian, or follow a plant-based, specific dietary plan, these premium black sesame seeds are a must-have. Sourced sustainably from the finest organic sesame crops, they offer a rich and nutty flavor that enhances your favorite recipes. Use them as a flavorful garnish on salads, stir-fries, or sushi rolls, or grind them into a luscious black sesame paste for a delightful twist. Embrace the natural goodness of Thames Organic's Black Sesame and elevate your cooking with this wholesome and eco-conscious choice.