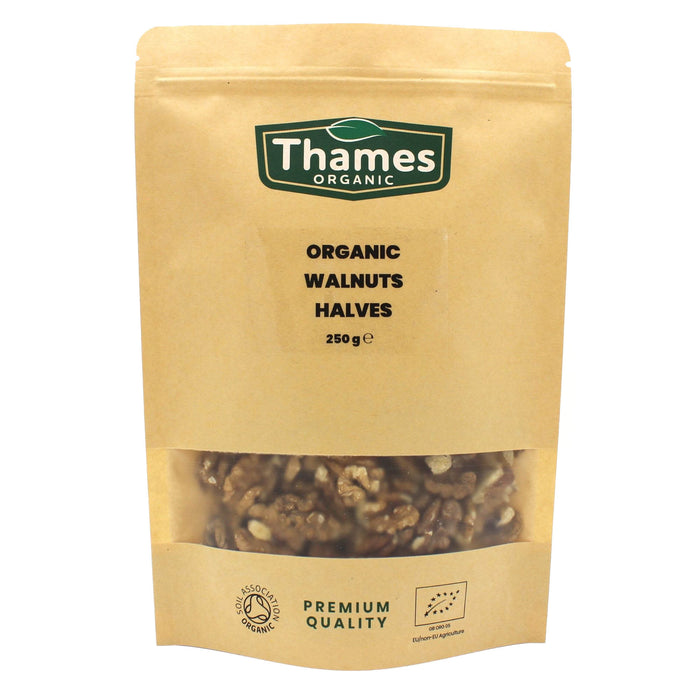 Indulge in the ultimate snack with these premium, organic walnuts! Packed with protein, fiber, and a variety of essential vitamins and minerals, these nuts are not only delicious, but also incredibly good for you. Their crunchy texture and rich, nutty flavor make them the perfect choice for any meal or snack.
Our organic walnuts are sustainably grown using only the finest methods to ensure the highest quality product. No synthetic pesticides or fertilizers are used in the growing process, making these walnuts not only good for your body, but also good for the environment. In addition, our organic walnuts are raw and unsalted, making them a perfect option for those following a raw or vegan diet. They are also free from additives and preservatives, so you can be sure you're getting a pure, natural product. And because they are GMO free, you can feel good about choosing a product that is made with only natural, non-genetically modified ingredients.
These organic walnuts are the ultimate ingredient for adding some crunch to your meals. Whether you're looking to add some texture to your salads or create a tasty topping for your morning oats, our organic walnuts are the perfect choice. They are also a great addition to any baked goods recipe, adding a tasty and nutritious twist to cookies, muffins, and more. And because they are so convenient and portable, you can take them with you wherever you go for a quick and satisfying snack anytime, anywhere.
So why wait? Start incorporating these delicious and nutritious organic walnuts into your meals and snacks today and experience the numerous benefits for yourself!
Discover Thames Organic's Organic Walnut Halves – a versatile and delightful addition to your kitchen, perfect for a variety of dietary preferences. Whether you're a vegan, vegetarian, or follow a Mediterranean or plant-based diet, these premium walnut halves are a must-have. Sourced sustainably from the finest organic walnut trees, they offer a rich and buttery flavor, making them an ideal snack or a delightful addition to your culinary creations. Sprinkle them over salads, blend them into pesto, or use them in baked goods for a delectable crunch. Embrace the natural goodness of Thames Organic's Walnut Halves and elevate your cooking with this wholesome and eco-conscious choice.
Organic Walnuts Halves are a nutritious and delicious addition to any diet. These organic nuts are grown without the use of synthetic pesticides or fertilisers, making them a healthier choice for you and the environment. They are a rich source of antioxidants, omega-3 fatty acids, and other essential nutrients. 
Add them to your favourite recipes or snack on them throughout the day for a tasty and healthy boost. Our Organic Walnuts Halves are carefully selected and gently processed to preserve their natural goodness and crunch. Order a bag today and enjoy the many health benefits of these superfood nuts.
Organic Walnuts  Halves by Thames Organic Ltd. Organically grown in Moldova. Packed in the UK.
Walnut halves are also referred to as "Whole Halves". It sounds like a contradictory name, but it makes sense. Walnuts are tree nuts, and they grow in a shell about one and a half inches around. Inside the shell, the meat grows in two separate parts, so the biggest single piece of walnut you can have is one of these two halves.
Allergen Information: Packed on premises that handles nuts, seeds, cereals, soya & products containing gluten.
Thames Organic's products are certified as organic by the UK's Soil Association
(Soil Association licence no. DA30314).
About Organic Walnuts Light, Halves
Our organic light walnut halves have a distinctive flavour that is often added to salads and cakes as a decorative finishing touch and a boost in nutrients. The halves are perfect for snacking on, adding to cakes or topping savoury meals such as waldorf salad. 
Eating walnuts could help towards keeping a healthy gut due to the health-promoting bacteria found in the nuts. Walnuts help to nourish your body from the inside out thanks to the many minerals associated with the popular nut. They are an excellent source of copper, folic acid, phosphorus, vitamin B6, manganese and vitamin E.
Benefits of light walnut halves
Light coloured walnuts are sought after

High in fibre

Good source of vegan protein 

Contain essential healthy fats

Can be used in sweet or savoury dishes/cakes
Usage
Like most nuts, walnuts can be easily added to your diet. 

Chop and add to your favourite salad or yoghurt.  

Make your own granola or porridge topping with our goji berries and chia. 

Mix with our other nuts, dried fruits and seeds in homemade snack mixes. 

Alternatively just open the bag and snack!
Ingredients
Organic Walnuts
Allergen Information
Packed on premises that handles nuts (including peanuts), seeds, cereals, soya & products containing gluten.
Storage
Store in a cool dry place away from sunlight.