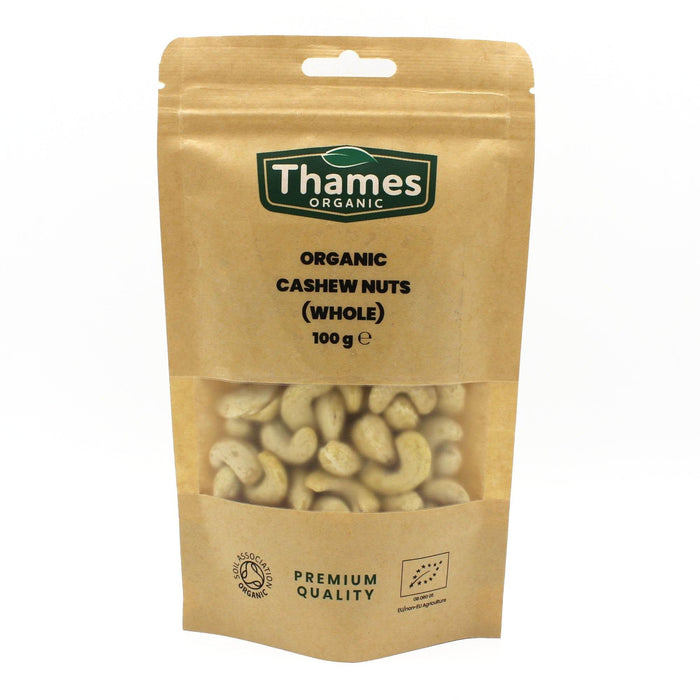 Organic Cashew Nuts (Whole)
Get ready to discover the ultimate snack that is both delicious and nutritious - organic cashew nuts! These creamy and flavorful nuts are a nutritious snack option that is perfect for satisfying your cravings and nourishing your body.
Our organic cashew nuts are grown using sustainable and ethical methods, ensuring the highest quality product. No synthetic pesticides or fertilizers are used in the growing process, making our cashews not only good for your body, but also good for the environment. These nuts are also minimally processed, so you can be sure you're getting a pure, natural product.
Not only are these cashews delicious, they are also incredibly nutritious. They are a rich source of protein, fiber, and a variety of essential vitamins and minerals. They are also naturally low in sugar and saturated fat, making them an amazing tasty snack option.
Our organic cashew nuts are the perfect snack for any occasion. Whether you're looking for a quick and convenient snack on the go or want to add some creaminess and flavor to your meals and recipes, our organic cashew nuts are the perfect choice. Try adding them to granola or trail mix for a tasty and nutritious boost, or mix them into your morning oats for a creamy and flavorful start to your day. You can also use them to add some creaminess to your smoothies or as a topping for salads and roasted vegetables.
Don't miss out on the numerous benefits of organic cashew nuts. Start incorporating them into your meals and snacks today and discover a new favorite snack that is both tasty and good for you!
Organic Whole Raw Cashews by Thames Organic Ltd. Organically grown in Vietnam. Packed in the UK. 100% premium organic Raw Cashews from Thames Organic. Produced to the highest standards. Re-sealable bag to ensure continuous freshness.
Thames Organic's Soil Association Licence number is DA30314.
Dietary Information
Introducing Thames Organic's Organic Cashew Nuts – a delectable and versatile treat that caters to a diverse range of dietary preferences. Whether you're a vegan, vegetarian, or follow a Mediterranean or flexitarian diet, these premium cashew nuts are a must-have for your pantry. Sourced sustainably from the finest organic cashews, they offer a creamy texture and a subtly sweet flavor. Enjoy them as a nourishing snack or incorporate them into your culinary creations, adding a delightful crunch and richness to your dishes. Embrace the natural goodness of Thames Organic's Cashew Nuts and elevate your cooking and snacking experiences with these wholesome and eco-conscious delights.
About Organic Cashew Nuts
Organic cashew nuts are packed full of goodness, protein and essential fats and are the perfect snack at any time of day. They are extremely versatile and can be used to not only add texture to meals and sweet treats but can also be used to make creamy pasta sauces or even a vegan cheese dip!
Benefits of organic cashew nuts
Essential healthy fats

High in protein

High in fibre

100% organic

Versatile

Ways to enjoy
Enjoy as a healthy snack
Make your own organic nut butter to add to toast, oats and smoothies

Sprinkle on top of salads, stir fries or curries for texture

Use to make a vegan cheese sauce or dip - particularly good for nachos!

Make creamy pasta sauces and stir through warm pasta for a healthy meal

Buy online in a range of sizes or shop for alternative organic cashew nuts including organic nut pieces for more options. We deliver to most of the UK and throughout Europe with fast and efficient delivery times to suit you and your needs or business.
Ingredients
Organic Cashew Nuts
Allergen Information
Packed on premises that handle nuts (including peanuts), seeds, cereals, soya & products containing gluten.
Storage
Store in a cool dry place away from sunlight.