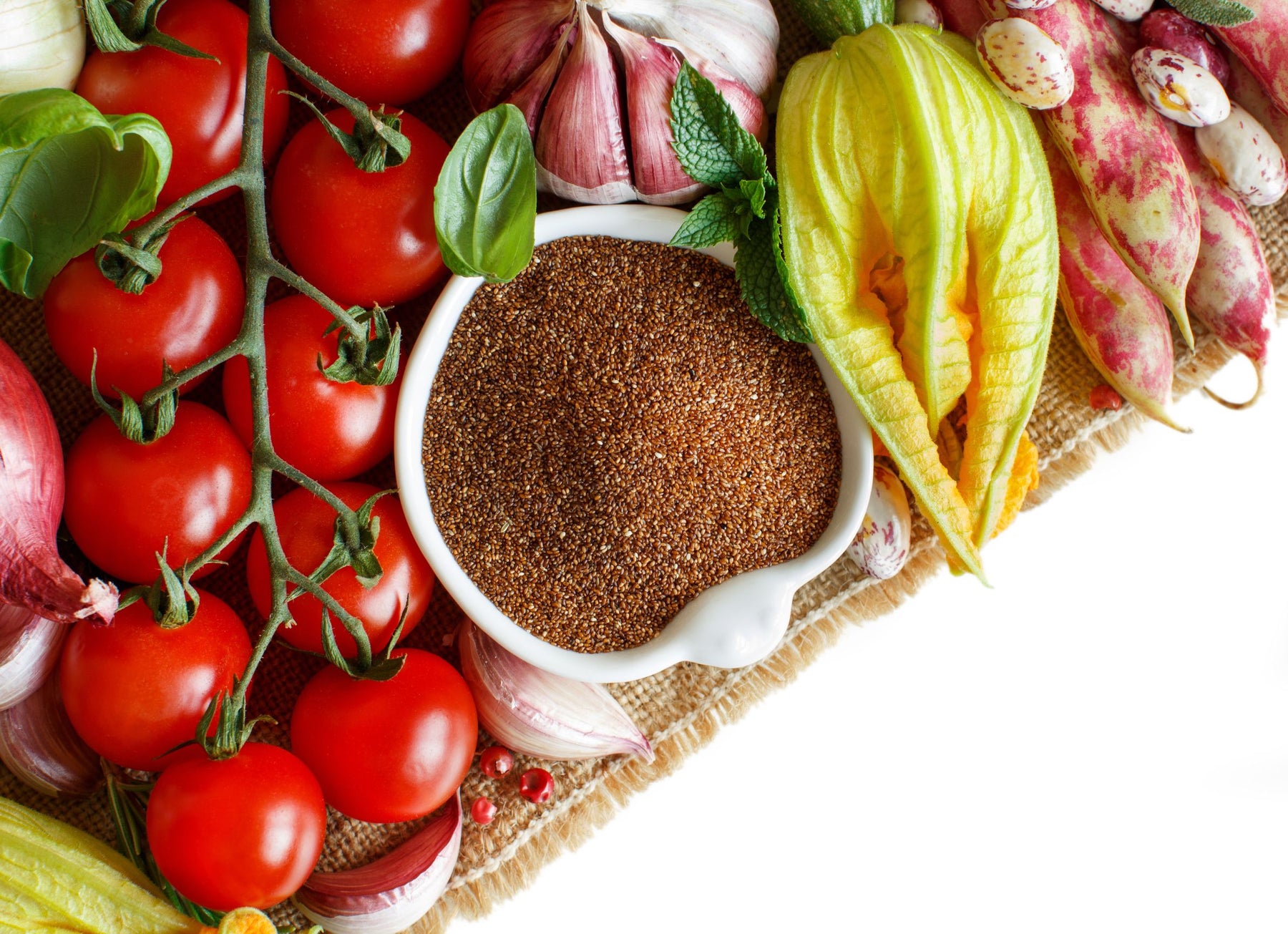 Teff Bowl with Roasted Vegetables
This easy and flavorful teff grain bowl is a nourishing and satisfying meal that is perfect for any occasion. The organic teff grain is combined with a variety of roasted vegetables and a simple vinaigrette dressing for a delicious and nourishing bowl that is sure to impress.
Preparation time: 15 minutes

Cooking time: 40 minutes

Serves: 4 people
Ingredients:
1 cup

organic teff grain

2 cups water

1/2 teaspoon salt

1 medium sweet potato, peeled and diced

1 medium zucchini, diced

1 medium red bell pepper, diced

1 tablespoon olive oil

Salt and pepper to taste

2 tablespoons red wine vinegar

1/2 teaspoon Dijon mustard

2 tablespoons chopped fresh herbs (such as parsley, mint, or basil)
Instructions:
Preheat your oven to 400°F (200°C).

Rinse the teff grain in a fine-mesh strainer under cold water.

In a medium saucepan, bring the water and salt to a boil. Add the teff grain and reduce the heat to low. Simmer, covered, for 20 minutes, or until the teff grain is tender and the water has been absorbed.

Fluff the teff grain with a fork and set it aside.

In a medium bowl, toss the sweet potato, zucchini, and bell pepper with the olive oil, salt, and pepper. Spread the vegetables on a large baking sheet and roast them in the preheated oven for 20 minutes, or until they are tender and golden brown.

In a small bowl, whisk together the red wine vinegar and Dijon mustard.

In a large bowl, combine the cooked teff grain, roasted vegetables, and dressing. Toss to combine.

Serve the teff grain bowl hot, garnished with the chopped herbs.
This recipe makes 4 servings.
This organic teff grain bowl with roasted vegetables is a simple and satisfying meal that is packed with nutrients. It's perfect for a quick and easy lunch or dinner, and it can be customized to your liking by adding your favorite vegetables and other ingredients. Give it a try and see how delicious and nourishing teff grain can be!