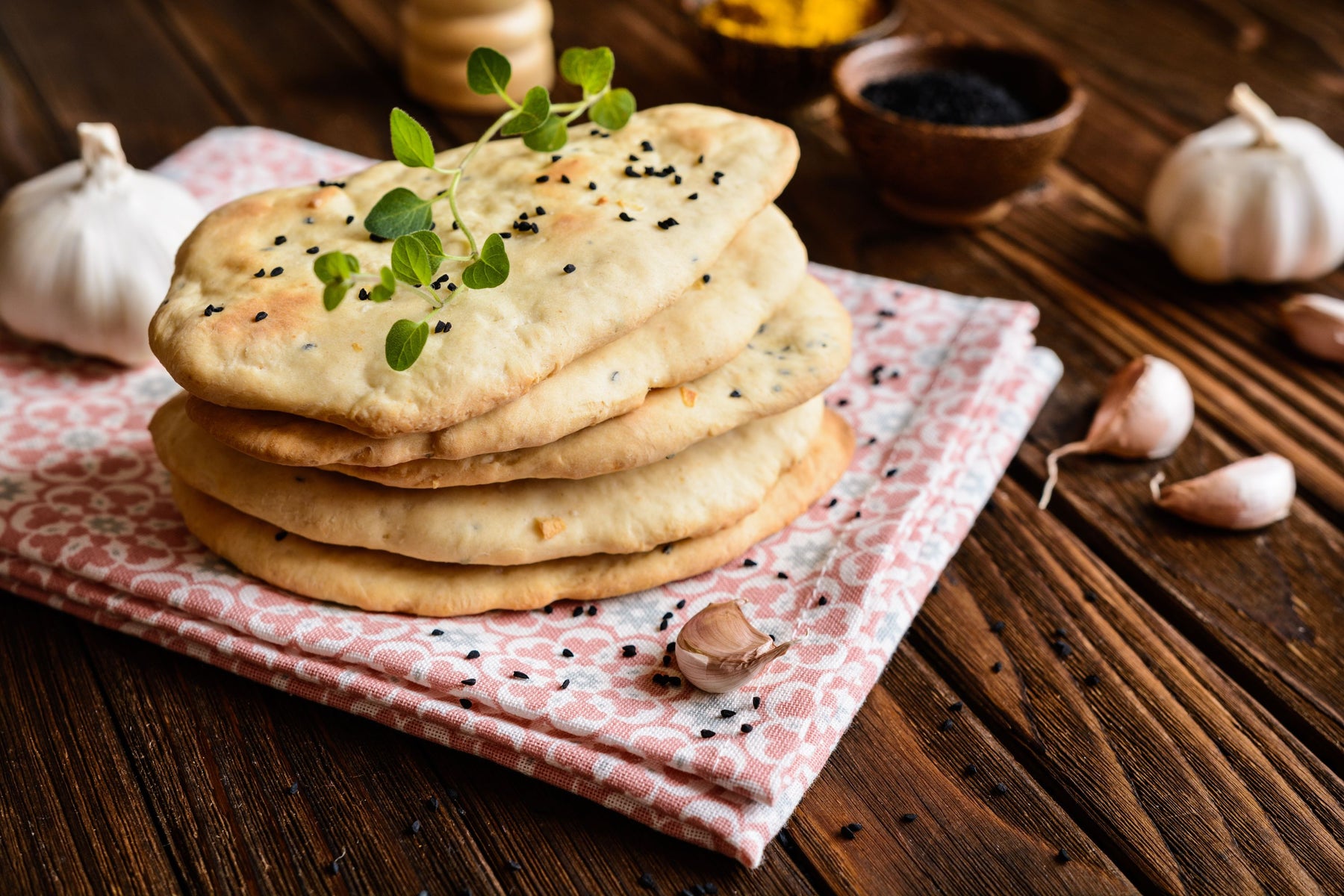 Naan Bread with Nigella Seeds: A Delicious and Aromatic Flatbread
Naan bread is a popular and delicious type of flatbread that originates from the Indian subcontinent. Adding a sprinkle of aromatic nigella seeds to the dough before baking gives the bread a unique and slightly nutty flavor that pairs well with a variety of dishes.
Preparation time: 2 hours and 10 minutes (includes rising time)

Cooking time: 15-20 minutes

Serves: 4 people
To make naan bread with nigella seeds, you will need the following ingredients:
1 cup warm water

2 teaspoons active dry yeast

2 tablespoons

sugar

3 cups

all-purpose flour

1 teaspoon salt

2 tablespoons vegetable oil

1/4 cup plain yogurt

1 teaspoon

nigella seeds
Instructions:
In a small bowl, combine the warm water, yeast, and sugar and set aside for 5-10 minutes, or until the mixture becomes foamy.

In a large bowl, combine the flour, salt, vegetable oil, and yogurt. Add the yeast mixture and mix until a soft dough forms.

Knead the dough for 5-10 minutes, or until it becomes smooth and elastic. Cover the bowl with a damp cloth and set aside in a warm place to rise for 1-2 hours, or until the dough has doubled in size.

Punch down the dough and divide it into 8 equal pieces. Roll each piece into a ball and flatten it into a disk. Sprinkle the nigella seeds over the top of each disk.

Heat a large skillet or griddle over medium heat. Place one disk of dough in the skillet and cook for 1-2 minutes on each side, or until puffed and browned. Repeat with the remaining dough.

Serve the naan bread hot.