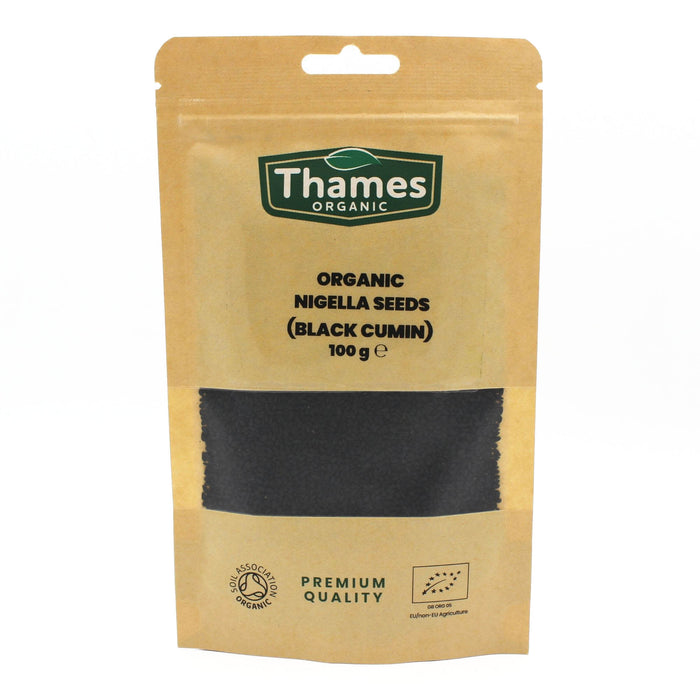 Organic Nigella Seeds (Black Cumin)
Original price
£3.49
-
Original price
£10.49
Our organic nigella seeds are of the highest quality and purity, grown without the use of synthetic pesticides or fertilizers. These seeds are sourced from trusted and reputable farmers who use sustainable, environmentally-friendly farming practices.
Nigella seeds, also known as black cumin or kalonji, are a nutritious and flavorful addition to many dishes. They are a rich source of antioxidants, fiber, and essential fatty acids, and have a unique, slightly pungent flavor that enhances the taste of breads, curries, salads, and even desserts. These seeds are easy to use - simply sprinkle a small amount over your dish for a flavor boost or grind them up and use them as a seasoning.
Our organic nigella seeds come in a convenient resealable pouch, which makes it easy to use as much or as little as you need and keeps the seeds fresh for longer. These seeds are a great pantry staple to have on hand for adding flavor and nutrition to your meals.
We are a trusted and reputable brand based in the UK, known for offering high-quality, organic products. Our commitment to quality means that our seeds are carefully sourced and rigorously tested to ensure they meet our high standards.
In addition to their delicious flavor, nigella seeds have been traditionally used for their various benefits, including aiding digestion and reducing inflammation. These seeds can be a valuable addition to your diet.
Introducing Thames Organic's Organic Nigella Seeds (Black Cumin) – a versatile and delightful addition to your kitchen, perfect for a variety of dietary preferences. Whether you're a vegan, vegetarian, or follow a Mediterranean or plant-based diet, these premium nigella seeds are a must-have. Sourced sustainably from the finest organic black cumin plants, they offer a unique blend of earthy, nutty, and peppery flavors that elevate your culinary creations. Sprinkle them over salads, use them as a flavorful seasoning in curries, or incorporate them into homemade bread for an enticing twist. Embrace the natural goodness of Thames Organic's Nigella Seeds and elevate your cooking with this wholesome and eco-conscious choice.
So why wait? Add a touch of flavor and nutrition to your cooking with our pure and organic nigella seeds, . Order now and enjoy the delicious and aromatic taste of these seeds in your dishes.
Nigella Seeds was first discovered in the tombs of Egyptian Pharaohs because they were considered valuable and worthy of preservation. Organic Nigella Seeds come from the Mediterranean region and Western Asian countries like Pakistan, India, and Afghanistan.
These aromatic seeds have a unique flavour that blends the characteristics of oregano and black pepper. They are often used in bread recipes, especially as a garnish on flatbreads like naan. The pungent black seeds are a common ingredient in Middle Eastern and Indian dishes.
Organic Nigella Seeds makes a great addition to salads or rice, adding a pop of colour and flavour.
Organic Nigella Seeds (Black Cumin) by Thames Organic Ltd. Organically grown in India. Packed in the UK.
Thames Organic UK is Soil Association Certificated with a License no : DA30314
Also Known Organic Nigella seeds, Black caraway, Black cumin, Black seed, Black onion seed, Charnushka, Kalonji
Nutrition Value Per 100g: Energy (kj) 7kcal, Energy (kcal) 0.4g, Protein 1g, Carbohydrate 0g, of which sugars 0.3g, Fat 0g, of which saturates 0.3g, Salt 0mg
Allergen Information: Packed on premises that handles nuts, seeds, cereals, soya & products containing gluten.
About
Organic nigella seeds are black seeds and have a nutty and slightly smoky, peppery flavour, together with a crunchy texture.
Nigella seeds are pungent, utterly unique and a wonderful ingredient if you like to make tasty chutneys, pickles and preserves. Bake these organic celery-like seeds into bread, brew them as a soothing standalone tea, or use them to enliven your stews, soups, casseroles, broths, vegetable dishes, traditional English, French and European cooking.
Usage
used in Turkish and Indian bread, like naan, and is an essential ingredient of panch phora.

they are great lightly dry roasted and fried with potatoes

dispersed through rice or green vegetables after being lightly dry roasted
Ingredients
Organic Nigella Seeds
Allergen Information
Packed on premises that handles nuts (including peanuts), seeds, cereals, soya & products containing gluten.
Storage
Store in a cool dry place away from sunlight.