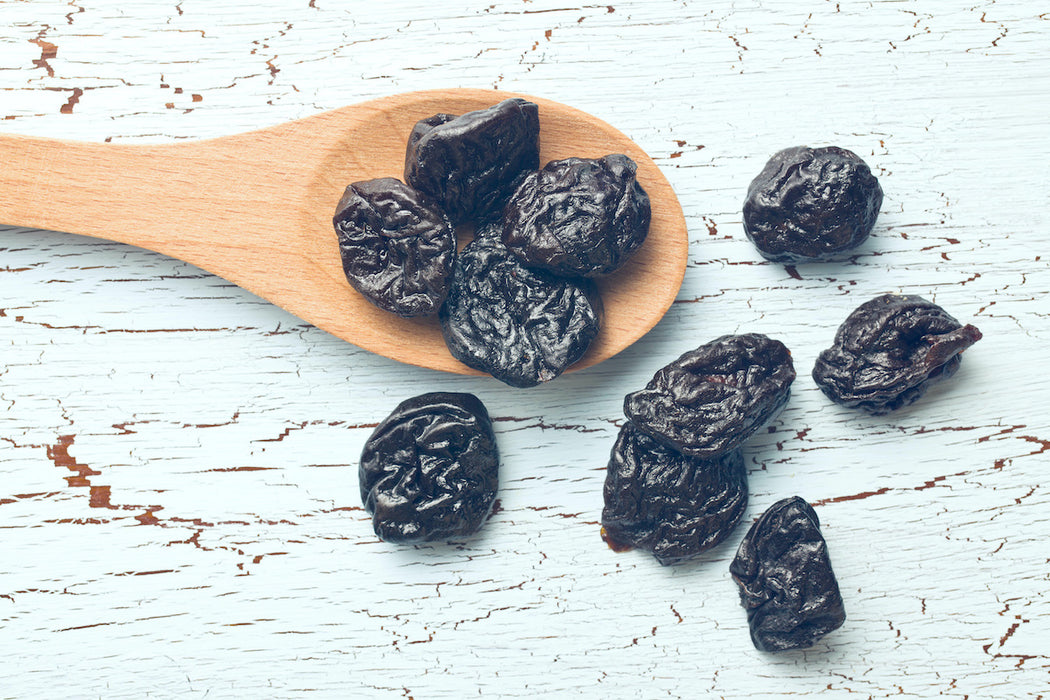 Organic Pitted Prunes
Original price
£4.49
-
Original price
£15.99
Organic Pitted Prunes by Thames Organic Ltd. Organically grown in France. Packed in the UK. 
Allergen Information: Packed on premises that handles nuts, seeds, cereals, soya & products containing gluten. 
Thames Organic's products are certified as organic by the UK's Soil Association 
(Soil Association licence no. DA30314)
Description:
Organic Pitted Prunes are firm and have a full flavour. Prunes (or dried plums) are a good source of vitamin A, dietary fibre, potassium and copper. Delicious squeezed for prune juice or for use in baking. Prunes start off similar to fresh plums but the variety grown to be dried into prunes are never referred to as 'plums' because they are always destined to be dried into chewy prunes.  Organic prunes are great as a snack but can also be soaked to make a rich compote which is great on porridge.
Organic pitted prunes are the finest, premium quality prunes available. These organically grown prunes have a rich flavour and are great included in muesli or soaked to make a rich compote to be enjoyed on porridge.
Tasty and naturally sweet, the Organic Pitted Prunes are delicious and nutritious. They are a good source of vitamin A and dietary fibre.
Introducing Thames Organic's Organic Pitted Prunes, a delectable addition to your pantry. These succulent prunes cater to a wide range of dietary preferences, making them an excellent choice for vegans, vegetarians, and those on a Mediterranean diet. Whether you're following a paleo, ketogenic, raw, or flexitarian lifestyle, our prunes fit seamlessly into your culinary regimen. Bursting with natural sweetness and essential nutrients, these prunes are a delightful and healthy snack. Sourced from premium organic farms, they embody our commitment to sustainable and wholesome products. Elevate your taste experience with Thames Organic's Organic Pitted Prunes and savor the goodness of nature.
The prune is a part of the family farm's "historical harvests," where it has been grown and transformed by multiple generations of people who are passionate about organic farming and environmental sustainability.. These values are reflected in every aspect of the prune's cultivation and transformation.
Our organic pitted prunes are not only delicious, soft, and aromatic, but they are also grown and harvested with care. They are completely free from harmful pesticides and chemicals, making them a true organic choice.
In addition to their pleasing flavour and texture, they also contain essential minerals like iron, copper, potassium, phosphorus, and magnesium, making them a nutritious choice for your snacking needs.
Our organic pitted prunes are a culinary delight, perfect for adding to both sweet and savoury dishes. They are also delicious when eaten straight from the bag as a snack. These prunes are incredibly rich and tender, with a dark, meaty, and sweet flavour that is soft on the outside, chewy and sticky on the inside, and bursting with sweetness in every bite. Discover the taste of our pitted prunes for yourself and elevate your dishes to the next level!