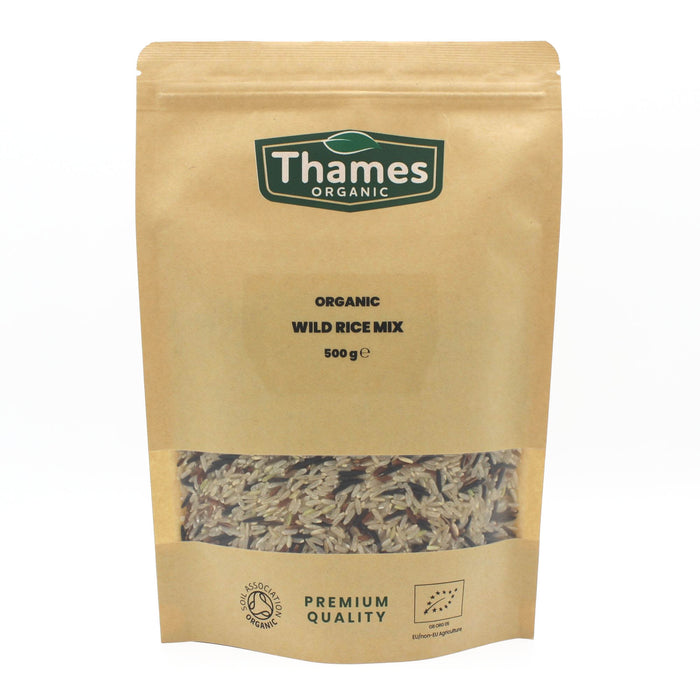 Get ready to elevate your meals to the next level with our premium organic wild rice mix! This unique blend of Camargue Red Rice, Wild Rice, and Long Grain Brown Rice will add flavor, nutrition, and excitement to any dish.
Our wild rice mix is more than just a side dish - it's a true culinary adventure. Its nutty, earthy flavor and chewy texture are unlike anything you've tasted before, and its versatility means you can use it in a variety of dishes, from soups and salads to pilafs and stir-fries. It's the perfect ingredient to add some excitement to your meals.
But our wild rice mix isn't just tasty - it's also incredibly nutritious. It's a good source of protein, fiber, and a variety of vitamins and minerals, making it the right choice for you and your family. And with its organic, raw, vegan, and GMO-free certification, you can feel good about using it in all of your dishes.
But we don't just focus on the interest of our customers - we also prioritize the health of the environment. Our wild rice mix is certified by the Soil Association, ensuring that it's grown using sustainable and environmentally friendly farming practices. This ensures that our wild rice mix is of the highest quality and purity, and supports ethical and sustainable agriculture.
And for your convenience, our wild rice mix comes in a convenient, BPA-free resealable bag that is easy to store and use as needed. No more spilling or worrying about the product going stale - just seal it up and use it whenever you need it.
So why wait? Add our premium organic wild rice mix to your pantry today and discover the unique, flavorful, and nutritious rice blend that will take your meals to the next level. Trust us, you won't be disappointed!
Our Organic Wild Rice Mix is a tasty and nutritious addition to any meal. Wild rice is a type of grain that is native to North America and is known for its nutty, earthy flavour and chewy texture.
Our Organic Wild Rice Mix combines wild rice with a variety of other grains and seeds, including quinoa, millet, and flaxseeds, to create a flavorful and nourishing blend. Each serving of our wild rice mix is high in fibre and plant-based protein, making it a healthy and satisfying choice for any meal.
Our Organic Wild Rice Mix is made with only the highest quality, organic ingredients and is free from any additives or preservatives. 
Use our Organic Wild Rice Mix as a base for grain bowls, as a flavorful addition to soups and stews, or as a side dish to complement your favourite protein. With its delicious flavour and nutrition-packed ingredients, our Organic Wild Rice Mix is a must-have in any home kitchen.
Organic Wild Rice Mix by Thames Organic Ltd. Organically grown. Packed in the UK · Produced to the highest standards.
Thames Organic's products are certified as organic by the UK's Soil Association
(Soil Association license no. DA30314).
About
Wild rice is a wetland grass 10-15mm in length, which is cured and roasted to give an even black appearance.
Dietary Information
Discover the exquisite Organic Wild Rice Mix from Thames Organic – a versatile and nourishing choice that caters to various dietary preferences. Whether you're a vegan, vegetarian, or follow a paleo, gluten-free, or flexitarian diet, this premium wild rice mix is a must-have in your kitchen. Sourced sustainably from the finest organic grains, it boasts a unique blend of flavors and textures that will delight your taste buds. Enjoy it as a hearty side dish or incorporate it into your salads and casseroles for a wholesome and satisfying meal. Embrace the natural goodness of Thames Organic's Wild Rice Mix and elevate your culinary creations with this wholesome and eco-conscious choice.
Benefits
Compared to white and brown rice, the grass is lower in calories.

Wild rice delivers more protein, which may help you feel fuller longer, says registered dietitian Alex Caspero.

Wild rice also has been shown to pack a whopping 30 times more antioxidant activity than white rice.

 
Usage
It's a great substitute for potatoes, pasta, or rice. 

Some people eat it alone, while others mix it with other rice or grains.

Alternatively, wild rice can be added to a variety of dishes, such as salads, soups, casseroles, and even desserts.

 
Ingredients
Organic Wild Rice Mix
Allergen Information
Packed on premises that handles nuts (including peanuts), seeds, cereals, soya & products containing gluten.
Storage
Store in a cool,dry place away from sunlight.