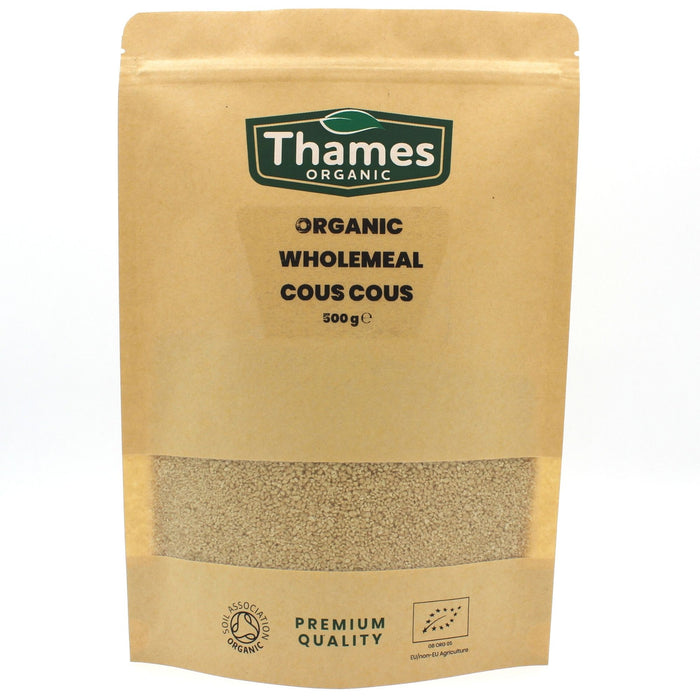 Organic Wholemeal Couscous
Couscous is a North African dish of small steamed granules of rolled durum wheat semolina that is traditionally served with a stew spooned on top. Pearl millet, sorghum, Bulgur and other cereals can be cooked in a similar way in other regions and the resulting dishes are also sometimes called couscous.

Couscous is a staple food throughout the Maghrebi cuisines of Algeria, Tunisia, Mauritania, Morocco, and Libya. It is also widely consumed in France, where it was introduced by Maghreb immigrants.
Organic Wholemeal Cous Cous by Thames Organic Ltd. Organically grown in Italy. Packed in the UK.
Thames Organic's Soil Association Licence number is DA30314.
Organic Wholemeal Couscous is an excellent source of carbohydrates, fibre and a good source of protein. It contributes to a healthy diet and is suitable for vegans and vegetarians.
Organic Wholemeal Couscous is made using durum wheat semolina, which has been toasted then rolled into small granules. Use organic wholemeal couscous to replace rice or pasta in your favourite meals.
Organic Wholemeal Couscous is naturally low in fat and full of energy. It is an excellent alternative to rice, pasta and potatoes as it cooks quickly and has a light fluffy texture.
Discover Thames Organic's Organic Wholemeal Couscous – a versatile and delightful addition to your kitchen, perfect for a variety of culinary preferences. Whether you're a vegan, vegetarian, or follow a plant-based, specific dietary plan, this premium wholemeal couscous is a must-have. Sourced sustainably from the finest organic grains, it offers a nutty and wholesome flavor that enhances your favorite recipes. Use it as a delightful and quick-cooking alternative to rice or pasta, or as a base for flavorful salads and side dishes. Embrace the natural goodness of Thames Organic's Wholemeal Couscous and elevate your cooking with this wholesome and eco-conscious choice.