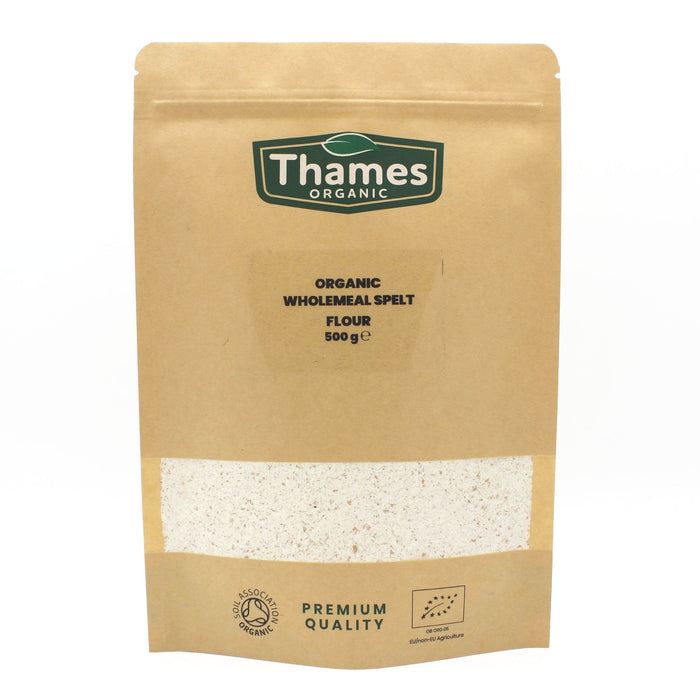 Organic Wholemeal Spelt Flour
Organic Wholemeal Spelt Flour by Thames Organic Ltd.  Organically grown in Netherlands. Packed in the UK. Re-sealable bag to ensure continuous freshness. Savor the whole grain goodness of spelt, an ancient relative of durum wheat that originated in the Near East over 8,000 years ago. This heirloom grain later spread throughout Europe, becoming especially popular in Germany, where it was farmed throughout the Middle Ages. 
Nutrition Value Per 100g: Energy 342 kcal, Protein 13.8g, Carbohydrate 67.2g, Of Which Sugar 0.5g, Fat 2g, Of Which Saturates 0.4g, Fibre 4.4g, Salt 0.13g.
Allergen Information: Packed on premises that handles nuts, seeds, cereals, soya & products containing gluten.
Thames Organic's products are certified as organic by the UK's Soil Association
(Soil Association license no. DA30314).
About
This wholemeal spelt flour is 100% organic and a great flour for making healthy homemade bread. It is easier to digest than many other flours and regular flour. Organic wholemeal flour is a high fibre alternative to white flour. Wholemeal flour contains more nutrients and fibre than white flour and is a more wholesome option.
Benefits
Great for blood circulation with it's high in iron and copper

A good source of calcium, magnesium, selenium, zinc, iron, and manganese 

Consists of vitamin E and B-complex vitamins. 
Dietary Information
Discover Thames Organic's Organic Wholemeal Spelt Flour – a versatile and delightful addition to your kitchen, perfect for a variety of culinary preferences. Whether you're a vegan, vegetarian, or follow a plant-based, specific dietary plan, this premium wholemeal spelt flour is a must-have. Sourced sustainably from the finest organic spelt grains, it offers a rich and nutty flavor that enhances your favorite recipes. Use it as a wholesome and nutritious alternative in baking, or blend it into savory dishes for added depth. Embrace the natural goodness of Thames Organic's Wholemeal Spelt Flour and elevate your cooking with this wholesome and eco-conscious choice.
Usage
Spelt flour is one of the most popular whole grain, non-wheat flours available. 

It shows up in pastas, breads and in a variety of specifically wheat-free recipes.

Making no-knead wholemeal bread
Ingredients
Organic Wholemeal Spelt Flour
Allergen Information
Packed on premises that handles nuts (including peanuts), seeds, cereals, soya & products containing gluten.
Storage
Store in a cool,dry place away from sunlight.
Storage Instructions
Keep in an airtight sealed container in a cool, dark and dry location. Can be refrigerated or frozen (in an airtight container) to extend the shelf life.
Wholemeal spelt flour is made by grinding whole spelt grains into a fine powder. It is an ancient grain that has been consumed by humans for centuries and has a long history in various civilizations.
Spelt flour is a fascinating choice from a nutritional standpoint. It is higher in protein, magnesium, zinc, iron, and copper compared to wheat. Additionally, the proteins in spelt flour contain all eight essential amino acids, which is not common among cereals.
Spelt flour can be used as a substitute for wheat flour in many recipes. Its higher nutritional content makes it a good option for adding more nutrients to your dishes. However, as it is more difficult to work with than wheat flour, it is often mixed with wheat flour when making baked goods such as cakes, pancakes, and pastries.
This helps to improve the texture and make the dough or batter more manageable. Using a combination of spelt and wheat flour can also help to add a unique flavour to your dishes.