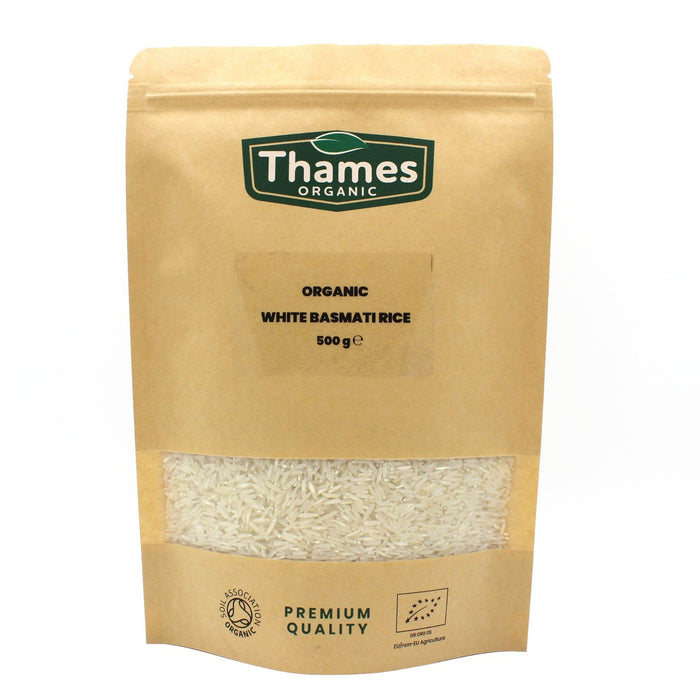 Organic White Basmati Rice
Original price
£4.49
-
Original price
£6.99
Organic White Basmati Rice by Thames Organic Ltd. Organically grown in India. Packed in the UK.
Thames Organic's products are certified as organic by the UK's Soil Association

(Soil Association licence no. DA30314).
Discover Thames Organic's Organic White Basmati Rice – a versatile and delightful addition to your kitchen, perfect for a variety of culinary preferences. Whether you're a vegan, vegetarian, or follow a plant-based, specific dietary plan, this premium white basmati rice is a must-have. Sourced sustainably from the finest organic rice paddies, it offers a delicate and aromatic flavor that enhances your favorite recipes. Use it as a delightful and fluffy base for curries, stir-fries, or pilafs, or enjoy it as a side dish to complement your favorite meals. Embrace the natural goodness of Thames Organic's White Basmati Rice and elevate your cooking with this wholesome and eco-conscious choice.
About
Organic white basmati rice has a unique, slightly nutty flavour and is delightfully aromatic, with a firmer texture than most other varieties of white rice. A traditional Indian rice, basmati is a flavoursome side dish with curries and particularly suits coconut flavours. White Basmati is a versatile medium-grain rice that cooks beautifully and can be used in savoury or sweet recipes. Steamed or boiled, basmati rice remains separate and is light and fluffy when cooked.
Usage
Used in any recipe that calls for rice
Ingredients:
Organic White Basmati Rice (100%). 
Allergens:
No known allergens.
This product may contain traces of allergens.
Storage:
Basmati Organic rice is a variety of long grain rice famous for its delicate fragrance and exquisite flavour. Its name in Hindi means: queen of fragrances. Basmati rice is a family of rice with very long grains. There is a very precise and limited list of varieties that can benefit from this prestigious appellation from Punjab, northern India.
One of the best things about basmati rice is its unique flavour and aromatic scent. When cooked, it expands and becomes fluffy, making it a perfect choice for dishes like pilafs, biryani, and stir-fries. It is also a versatile grain that can be paired with a wide variety of ingredients and flavours.
With its stronger flavour than regular rice, basmati rice has gained popularity in recent years. It is ideal to accompany your curries of meats, vegetables or fish for example.