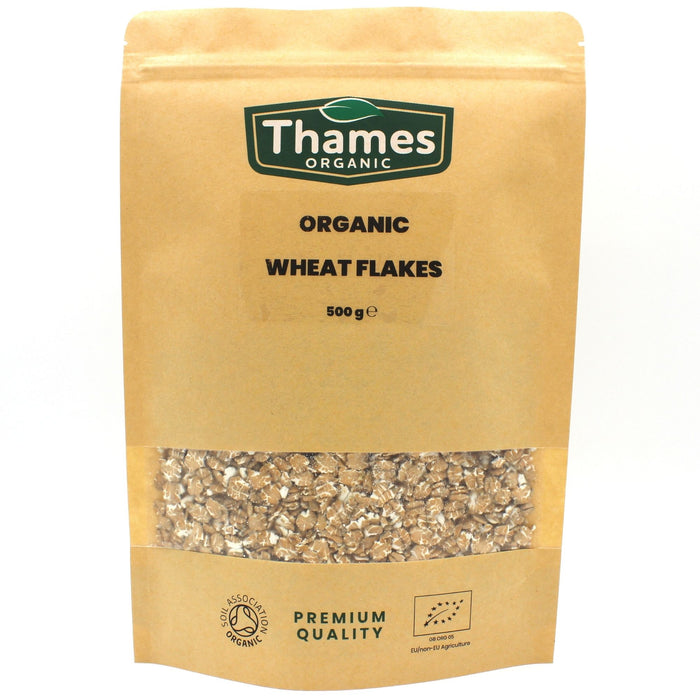 Organic Wheat Flakes
Original price
£3.49
-
Original price
£4.49
Organic wheat flakes are a type of breakfast cereal made from whole grain wheat that has been grown using organic farming techniques. They are produced by steaming and rolling whole grain wheat to create thin flakes. These flakes are a nutritious and tasty choice for breakfast.
Organic wheat flakes can be eaten on their own as a cereal, or they can be mixed with other types of cereal or grains to add texture and flavour. They can also be used as an ingredient in recipes like granola bars or breakfast bars.
Organic wheat flakes are a tasty alternative to regular oatmeal and can be used in a variety of ways, such as in a hot bowl of cereal, granola, or for baking. They can be used to replace oats in many recipes and add a unique and delicious flavour to items like cookies, muffins, granola bars, and cereal bars.
In addition to being a tasty breakfast cereal, wheat flakes can also be used as an ingredient in a variety of baked goods, such as muffins, cookies, and breads. They can be used as a topping for yoghurt or oatmeal, or as a crunchy coating for baked or fried foods.
Bran flakes is a brand of breakfast cereal similar to corn flakes and currently owned by Post Holdings. The cereal consists of small toasted flakes of wheat or oat bran together with binders and seasoning. They may be nutritionally fortified. They are usually served cold with milk.
Organic Wheat Flakes are the perfect addition to your morning routine. They're a delicious way to start your day, combining a wholesome crunch with a light, sweet flavour. Enjoy as part of a nutritious breakfast, or as a tasty snack.
Organic wheat flakes are a source of protein. They have a very low content of salts and fats. Wheat flakes have good cooking properties. Such flakes can be used in the kitchens to make grilled meats, stuffed vegetables and other meat products.
Wheat flakes are great for adding bulk to a meal. They provide a lot of fibre and protein, which will keep you feeling full for a longer time.

Organic Wheat Flakes are a delicious and versatile ingredient that you can add to breakfast cereals, baked goods, baked or grilled dishes. A great source of protein, they are also low in salt and fat and have no added sugar.