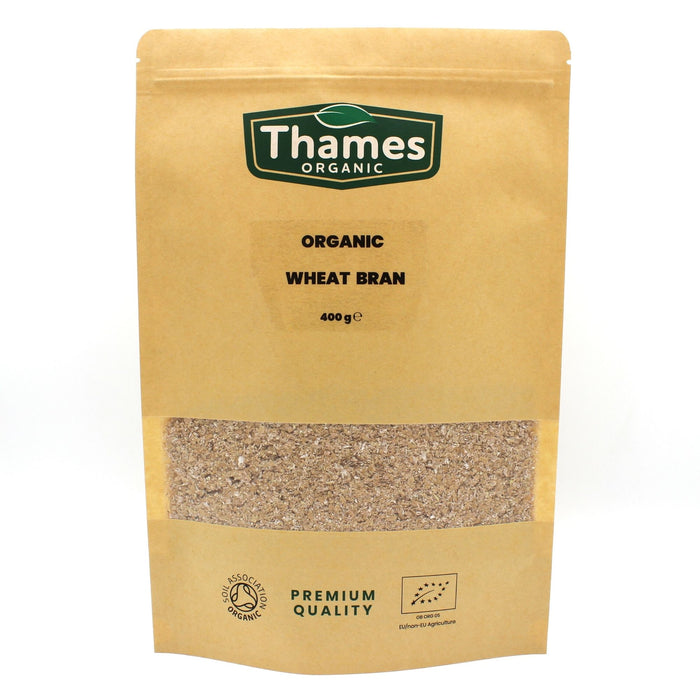 Looking to add some extra nutrition to your meals and recipes? Look no further than our Organic Wheat Bran
Our wheat bran is sourced from certified organic farms, ensuring that you're getting a pure and natural product free from any additives or preservatives. It's also free from genetically modified organisms (GMOs), so you can trust that what you're consuming is completely natural.
But our wheat bran isn't just pure and natural - it's also incredibly versatile. Mix it into your oatmeal or yogurt for a fiber-rich breakfast, incorporate it into your baking recipes for a nutritious twist, or sprinkle it over salads and bowls for added crunch. The possibilities are endless!
Each serving of our wheat bran contains a good source of dietary fiber, which can help support digestion and make you feel fuller for longer. It's also a nutrient-rich ingredient, containing a variety of vitamins and minerals that can support overall well-being.
But we don't just care about the quality of our product - we also care about convenient use of it. That's why our wheat bran comes in a convenient, resealable bag that is easy to store and use as needed. No more spilling or worrying about the product going stale - just seal it up and use it whenever you need it.
So why wait? Add some extra nutrition to your meals and recipes with our Organic Wheat Bran. Trust us, your taste buds will thank you!"
Organic Wheat Bran is a convenient and easy way to add dietary fibre to your diet. It contains about 80% insoluble fibre and 20% soluble fibre. 
It is also packed with nutrients, including protein, iron, and B vitamins. Adding Wheat Bran to your diet is a simple way to boost your nutrition and improve your overall health.
Discover Thames Organic's Organic Wheat Bran – a versatile and delightful addition to your kitchen, perfect for a variety of culinary preferences. Whether you're a vegan, vegetarian, or follow a plant-based, paleo, or specific dietary plan, this premium wheat bran is a must-have. Sourced sustainably from the finest organic wheat grains, it offers a rich and nutty flavor with a satisfying texture that enhances your favorite recipes. Use it to add nutritional value to smoothies, yogurt, or baked goods for a wholesome touch. Embrace the natural goodness of Thames Organic's Wheat Bran and elevate your cooking with this wholesome and eco-conscious choice.
There are many ways to use Wheat Bran in your cooking and baking. You can sprinkle it on salads, or add it to soup, pastry, or pie. You can also mix it into bread dough to give your bread a nutritional boost. 
Wheat Bran is a versatile ingredient that can help to improve the nutritional value of many different dishes.
Wheat Bran is the outer layer of the wheat kernel and an excellent source of dietary fiber, particularly insoluble fiber. Wheat bran has a sweet, nutty flavor. It can be used to add texture and a full-bodied taste to bread, muffins and other baked goods.
One of nature's richest sources of dietary fiber

Rich in manganese, magnesium, selenium and phosphorus.

A good source of insoluble fiber
Wheat grain is a wellspring of plant-based minerals, and it has both a sweet and great flavor. And, wheat bran is perhaps best known as being an amazing source of fiber. 
The bark forms the outermost part of what is called wheat bran. When washed and dried wheat is ground in the mill, this crusty part separated from wheat is at least as healthy and valuable as wheat flour.
Organic wheat bran is an excellent source of natural fibre, for those who are seeking to maintain a healthy diet.When added to soups, salads, and baked goods it provides a great nutritious boost. It can be used to add texture and a full-bodied taste to bread, muffins and other baked goods.
Thames Organic's Soil Association Licence number is DA30314.