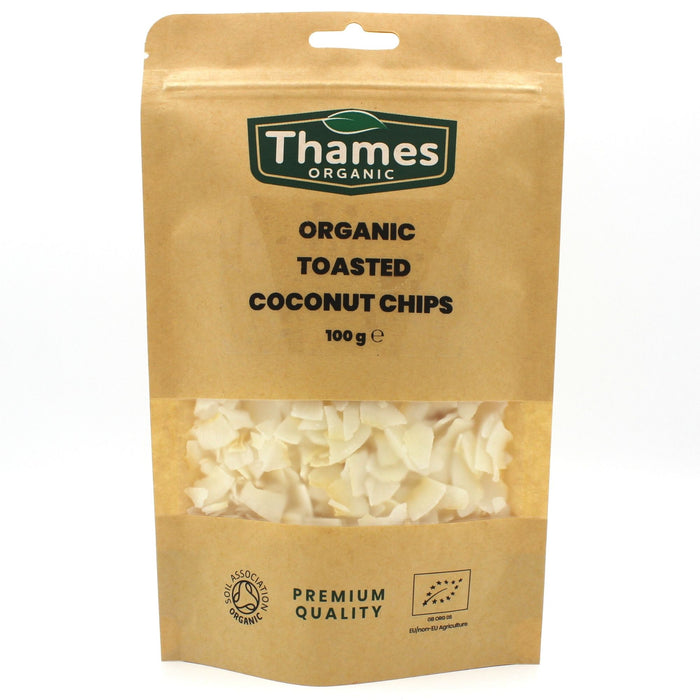 Organic Toasted Coconut Chips
Original price
£2.99
-
Original price
£5.49
Get ready to discover the ultimate snack that will satisfy your cravings and nourish your body - organic toasted coconut chips! These crunchy and flavorful chips are a nutritious and delicious addition to any meal or snack, and they are packed with a variety of essential nutrients that your body craves.
Coconut has a rich and storied history of use in traditional cuisine and medicine, dating back to ancient times in tropical regions around the world. It is widely used to add flavor and nutrition to a variety of dishes and is also prized for its numerous benefits, including its ability to improve digestion, boost the immune system, and support skin and hair.
Our organic toasted coconut chips are made from 100% organic coconut that is grown sustainably and ethically on eco-friendly. No synthetic pesticides or fertilizers are used in the growing process, making our coconut chips not only good for your body, but also good for the environment.
Our organic toasted coconut chips are a rich source of fiber, protein, and a variety of essential vitamins and minerals. They are also naturally low in fat and calories, making them a nutritious and tasty addition to any diet. Their unique and aromatic flavor is the perfect way to add a little extra flavor to any meal or snack.
Our organic toasted coconut chips come in a convenient and easy-to-use resealable pouch, making it easy to keep the chips fresh and easily accessible for all your snacking needs. Simply enjoy them on their own as a tasty snack, or add them to your favorite recipes for a crunchy and flavorful boost. They are perfect for adding to smoothies, yogurt, oatmeal, and baked goods.
Don't miss out on the numerous benefits of organic toasted coconut chips. Start incorporating them into your meals and snacks today and discover a new superfood snack that is both tasty and good for you! 
Discover Thames Organic's Organic Toasted Coconut Chips – a versatile and delightful addition to your kitchen, perfect for a variety of culinary preferences. Whether you're a vegan, vegetarian, or follow a plant-based, specific dietary plan, these premium toasted coconut chips are a must-have. Sourced sustainably from the finest organic coconuts, they offer a delightful and toasty flavor that enhances your favorite recipes. Use them as a crunchy and tropical topping for yogurt, salads, or desserts, or enjoy them as a wholesome and satisfying snack on their own. Embrace the natural goodness of Thames Organic's Toasted Coconut Chips and elevate your cooking with this wholesome and eco-conscious choice.
Indulge in the crunchy goodness of our Organic Toasted Coconut Chips. These tasty snacks are made from 100% organic coconut and gently toasted to bring out their natural sweetness and crunch. Our chips are free from any additives or preservatives, ensuring that you get the purest, most natural flavour possible.
Not only are they delicious, but our Organic Toasted Coconut Chips are also packed with nutrients like fibre and healthy fats. They have a slightly sweet and savoury flavour that pairs well with a variety of foods, making them a versatile and nourishing snack choice.
Enjoy our Organic Toasted Coconut Chips as a topping for salads and grain bowls, a snack on their own, or as a natural sweetener in recipes. With their crunchy texture and delicious flavour, our Organic Toasted Coconut Chips are a must-have in any pantry.
Coconuts are distinct from other fruits because their endosperm contains a large quantity of clear liquid, called coconut water or coconut juice. Mature, ripe coconuts can be used as edible seeds, or processed for oil and plant milk from the flesh, charcoal from the hard shell, and coir from the fibrous husk. Dried coconut flesh is called copra, and the oil and milk derived from it are commonly used in cooking – frying in particular – as well as in soaps and cosmetics. Sweet coconut sap can be made into drinks or fermented into palm wine or coconut vinegar.
Organic Toasted Coconut Chips' warm and rich flavour is the perfect addition to many dishes, including oatmeal, curries, smoothies, salads, homemade trail mix and much more!
Organic Toasted Coconut Chips are a perfect topping or snack. Naturally sweet and bursting with coconut flavour. Crunchy and slightly sweet, these coconut chips are a perfect snack for putting on salads or just eating by the handful.
Coconut chips are a tasty, richly flavoured snack that's both a nutritious and delicious treat. Savoury coconut chips can be eaten as is, sprinkled on salads or yoghurt, or baked into desserts for an elegant touch.