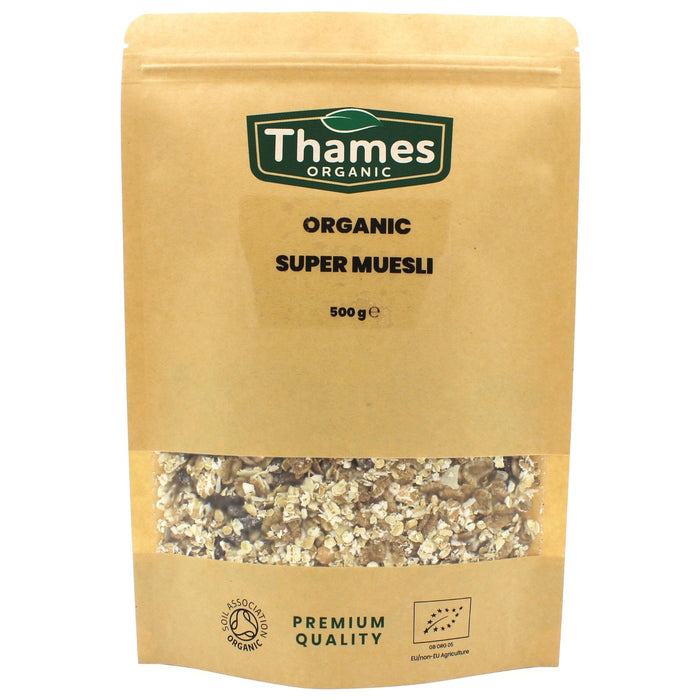 Welcome to our Organic Super Muesli! This tasty breakfast option has a long history and is beloved for its unique flavor and numerous benefits.
Muesli is a type of cereal that originated in Switzerland in the late 1800s and has since become a popular breakfast choice around the world. It is typically made from a blend of dried fruits, nuts, and seeds and is served with milk or yogurt.
Our Organic Super Muesli is made from the highest quality ingredients, sourced from eco-friendly farms. It is free from additives, preservatives, and GMOs, making it a natural choice. It is also certified organic, ensuring that it is grown and produced using sustainable and ethical farming practices.
In addition to its delicious taste, our Organic Super Muesli is a nutritional powerhouse. It is a rich source of protein, fiber, and important vitamins and minerals. It is low in fat and calories, making it a great choice for those looking to maintain weight. It is also vegan-friendly, making it suitable for a variety of dietary needs.
Discover Thames Organic's Organic Super Muesli – a versatile and delightful addition to your kitchen, perfect for a variety of culinary preferences. Whether you're a vegan, vegetarian, or follow a plant-based, specific dietary plan, this premium super muesli is a must-have. Sourced sustainably from the finest organic ingredients, it offers a delightful blend of grains, nuts, seeds, and dried fruits that enhance your favorite breakfasts and snacks. Use it as a nutritious and energizing start to your day, or sprinkle it over yogurt or smoothie bowls for a delicious crunch. Embrace the natural goodness of Thames Organic's Super Muesli and elevate your mornings with this wholesome and eco-conscious choice.
So what can you do with our Organic Super Muesli? The possibilities are endless! Simply mix it with your choice of milk, yogurt, or plant-based milk and enjoy as a breakfast or snack. You can also add it to smoothies, oatmeal, or baked goods for a tasty boost of flavor and nutrition.
Our Organic Super Muesli comes in a convenient BPA-free resealable bag, making it easy to stock up and always have on hand. The clear window on the front of the bag allows you to see the delicious contents inside.
Overall, our Organic Super Muesli is a tasty and nutritious choice that is sure to become a pantry staple. With its unique flavor and numerous benefits, it's a breakfast option that you can feel good about indulging in.
Ingredients:
Oats 55%, Raisins 20%, Hazelnuts 5%,Dates 4%, Apple 4%, Sunflower kernels 4%, Apricot 3%, Currants 3%, Roasted buckwheat 2%
Muesli (/ˈmjuːzli/ MEWZ-lee) is a cold oatmeal dish based on rolled oats and ingredients such as grains, nuts, seeds and fresh or dried fruits. Muesli was traditionally prepared with milk or cream, a squeeze of citrus juice, often with a sweetener such as honey, and either left overnight to soften or eaten immediately. Yoghurt or other milk products are now commonly added to packaged and homemade muesli recipes.
Developed around 1900 by Swiss physician Maximilian Bircher-Benner for patients in his hospital, it is now eaten as a standard breakfast dish, like a breakfast cereal, and also in Switzerland as a supper called Birchermüesli complet: muesli with Café complet (milk coffee, accompanied with bread, butter, and jam (Butterbrot)).
As delicious as it is healthy, our organic muesli features the finest combination of ingredients. From the sweet-yet-tart taste of raisins and apricots to the crunchy texture of sunflower kernels and hazelnuts, this is perfect for those who prefer a more natural approach to combining healthy food with great taste. Super Muesli can be eaten simply as cereal with milk or yoghurt.