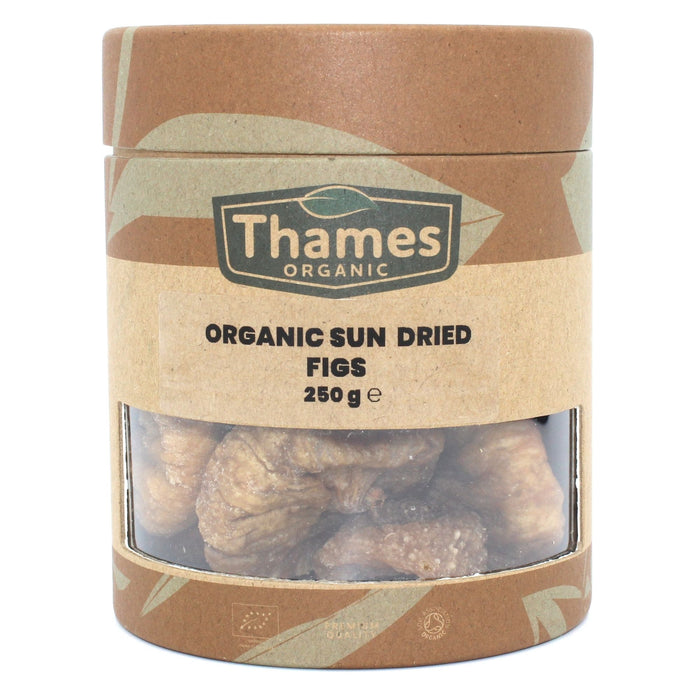 Organic Sun Dried Figs-Box
Organic Sun Dried Figs by Thames Organic Ltd. Organically grown in Turkey. Packed in the UK. 
Thames Organic's products are certified as organic by the UK's Soil Association
(Soil Association licence no. DA30314).
About Organic Dried Figs
Organic dried figs are naturally sweet and juicy and great for snacking on. They are rich in vitamins and minerals and high in soluble fibre, which can be great for a healthy digestive system.
Fresh figs are delicately soft and fruity and great paired with cheese and used to make chutneys. These organic figs have been dried to preserve the natural goodness of the fruit whilst keeping the juicy centre.
Figs are native to the Middle East and popular in the Mediterranean diet. Fresh figs are in season between summer and Autumn, however the dried varieties are available all year round.
Benefits of organic dried figs
Good source of dietary fibre

Rich in minerals such as potassium, iron and calcium

Contain vitamin A and vitamin K

Natural sugars only, no added sugar

Great for digestive health

Natural source of prebiotics

100% organic
Ways to enjoy
Enjoy as a healthy, fibre-rich snack 

Dice up and sprinkle on porridge oats and drizzle with raw honey 

Use in bread making, such as fig and sunflower seed bread

Use to make fig rolls 

Serve with cheese and biscuits and have a mix of fresh and dried figs
Ingredients
Organic Dried Figs
Allergen Information
Packed on premises that handles nuts (including peanuts), seeds, cereals, soya & products containing gluten.
Storage
Store in a cool,dry place away from sunlight.