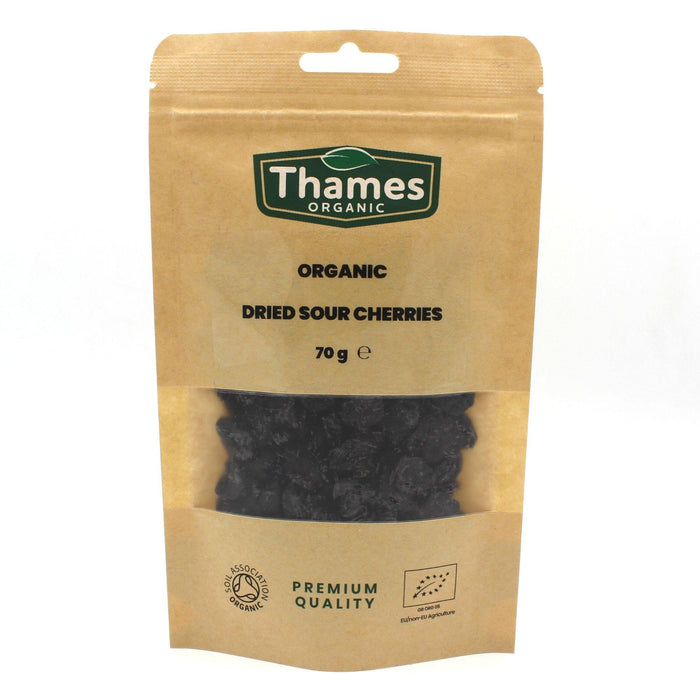 Organic Dried Sour Cherries
Introducing our Organic Dried Sour Cherries - the perfect snack for cherry lovers everywhere! These tart and tangy treats are made from 100% organic sour cherries, grown on sustainable farms and carefully dried to preserve their natural flavor and nutrition.
But these cherries are more than just a tasty snack - they're also packed with nutrition. Sour cherries are high in antioxidants, which help to reduce inflammation. They're also a good source of fiber and vitamin C, making them a great choice for a satisfying snack.
Our Organic Dried Sour Cherries are perfect for snacking on their own or adding to your favorite recipes. Try them in granola bars, trail mix, oatmeal, or baked goods for a burst of flavor. They're also great for topping yogurt, ice cream, or even a salad.
One of the best things about these cherries is their convenience. Dried fruit is a great way to enjoy the taste and nutrition of fresh fruit all year round, and these cherries are no exception. They're portable, shelf-stable, and easy to pack for a snack on the go.
So why wait? Add a bag of our Organic Dried Sour Cherries to your cart today and treat yourself to a tasty snack that's sure to satisfy. You won't be disappointed!
Producing dried sour cherries is a challenging process due to the unique structure of their pits. The pits are similar in density to the flesh of the fruit, making it difficult to separate them using machinery alone. Therefore, a labour-intensive manufacturing process is necessary to produce dried sour cherries.
Sour cherries are a tasty blend of sweet and sour flavours, with a chewy texture. They are a unique and enjoyable fruit.Dried sour cherries are increasingly popular as a healthy and nutritious snack, and can be eaten straight from the bag. Their sour-sweet flavour also complements morning yoghourts or oatmeals, as well as trail mixes, muesli, cereals, and granola.
Sour cherries, similar to blueberries, are often used in baking and make a great addition to cookie, scone, muffin, cupcake, and bread batters. They have a complementary flavour when paired with nuts and dark chocolate chips in these recipes.
Organic Dried Sour Cherries by Thames Organic Ltd. Organically grown in Uzbekistan. Packed in the UK.
Thames Organic's Soil Association Licence number is DA30314.
About
These dried sour cherries are a dark red colour and have a perfect taste combination of sweet and sour.  If you addicted to sweets then these are a perfect healthy substitute as they are rich in nutrients are wonderfully moreish.  One 28g serving of these tasty cherries is high in Vitamin A (beta-carotene).
Benefits
Concentrates their flavor and nutrients

Good for helping you reach your daily recommended values of vitamins and minerals

Abundant source of vitamin A
Dietary Information
Indulge in Thames Organic's Organic Dried Sour Cherries – a delectable and versatile treat perfect for various dietary preferences. Whether you're a vegan, vegetarian, or follow a Mediterranean or flexitarian diet, these premium dried sour cherries are a delightful addition to your pantry. Sourced sustainably from the finest organic cherries, they offer a tangy and slightly sweet flavor that tantalizes your taste buds. Enjoy them as a flavorful snack or add them to your salads, cereals, or baked goods for a burst of natural goodness. Embrace the mouthwatering allure of Thames Organic's Dried Sour Cherries and elevate your culinary creations with these wholesome and eco-conscious delights.
Usage
Can be used in making desserts, pastries, breads, granola, popcorn balls, muesli, hot cereal, as a salad garnish or as a healthy snack alternative.
Ingredients
Organic Dried Sour Cherries
Allergen Information
Packed on premises that handles nuts (including peanuts), seeds, cereals, soya & products containing gluten.
Storage
Store in a cool, dry place away from sunlight.