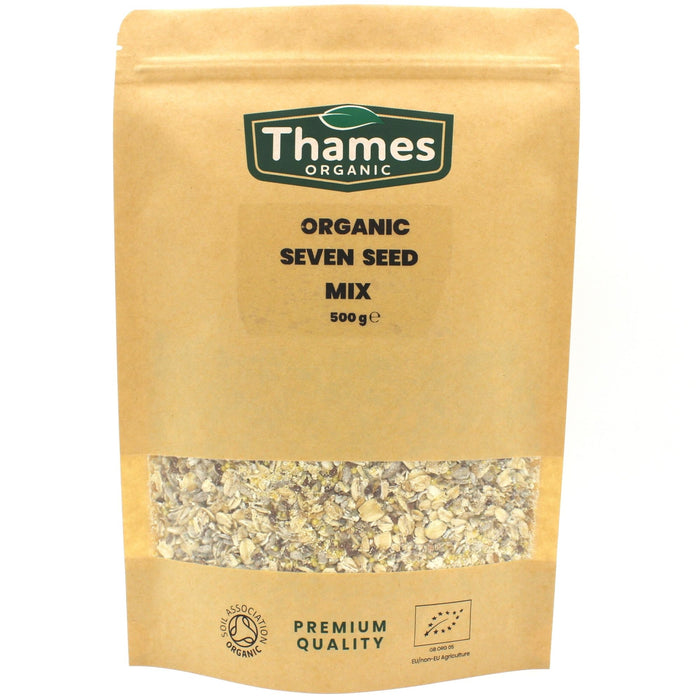 Organic Seven Seed Mix
Original price
£3.49
-
Original price
£4.99
Seven Organic Seed Mix (Oat Flakes, Chopped Rye, Polenta, Sunflower Seeds, Millet Seeds, Brown Linseed, Golden Linseed)

Organic Seven Seed Mix by Thames Organic Ltd. Organically grown in UK. Packed in the UK.

Thames Organic UK is Soil Association Certificated with a License no : DA30314

From breakfast to dinner, and even dessert, oat flakes bring a grainy, mildly nutty flavour and a chewy.

Rye is a cereal grain and should not be confused with ryegrass, which is used for lawns, pasture, and hay for livestock.

Polenta is the Italian word for ground cornmeal. It is a staple ingredient in many northern Italian families' cooking and there are many different ways to cook it, from soups to sides.

Organic sunflower seeds are rich in protein, fibre and many vitamins and minerals.

Millet is a small seeded grain that provides our bodies with extraordinarily rich sources of protein, dietary fibre and its high content of B vitamins and manganese can provide us with many energy boosting benefits.

Organic brown linseed (also known as golden flaxseed) are a fantastic source of vegan protein, various minerals and other healthy attributes.

Organic Golden Linseeds are a fantastic source of nutrients, dietary fibre, many minerals, including manganese, vitamin B1 and omega-3.
Discover Thames Organic's Organic Seven Seed Mix – a versatile and delightful addition to your kitchen, perfect for a variety of culinary preferences. Whether you're a vegan, vegetarian, or follow a plant-based, specific dietary plan, this premium seed mix is a must-have. Sourced sustainably from the finest organic seeds, it offers a crunchy and nutrient-rich blend that enhances your favorite recipes. Use it as a delightful and flavorful topping for salads, yogurt, or smoothies, or incorporate it into baking for added texture and health benefits. Embrace the natural goodness of Thames Organic's Seven Seed Mix and elevate your cooking with this wholesome and eco-conscious choice.
Looking for a tasty and nutritious way to add some crunch to your meals? Our Organic Seven Seed Mix is the perfect solution. This blend of seven different seeds is packed with protein, fibre, and a host of essential vitamins and minerals.
This mix includes Chopped Rye, Oat Flakes, Sunflower Seeds, Polenta, Millet Seeds, Golden Linseed and Brown Linseed, Golden Linseed. Each seed brings its own unique flavour to the mix.
Add a crunchy, earthy, and nutty dimension to your meals with our blend of tasty grains and seeds. Perfect for snacking on-the-go or as a topping for a variety of dishes, this mix is sure to satisfy your cravings.
Enjoy it as a standalone snack or sprinkle it over yoghurt, pudding, applesauce, cottage cheese, soup, and more to add texture and nutrition to your meals. Take it with you on a hike, keep it in your car, or have it at the office for a quick and satisfying snack.
Toss together lettuce leaves, juicy orange segments, crunchy walnuts, and our flavorful organic 7-grain mix for a satisfying and nutritious salad. Finish it off with a light dressing made from sesame oil, olive oil, soy sauce, and a pinch of cracked black pepper for a burst of flavour in every bite.