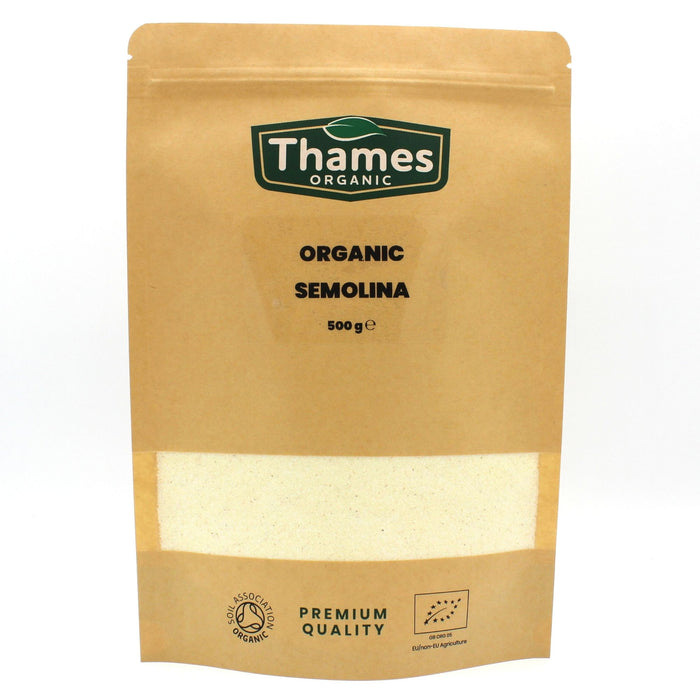 Looking for a high-quality, organic flour that is perfect for baking and cooking? Look no further than Organic Semolina Flour!
Made from 100% pure, durum wheat that has been carefully selected and milled to perfection, our semolina is free from additives and preservatives, ensuring that you are getting a pure, natural product that is perfect for all of your baking and cooking needs.
But our semolina is not just pure and natural – it is also deliciously versatile and easy to use. Its finely milled texture is smooth and consistent, making it perfect for creating light, fluffy baked goods like bread, pasta, and pizza crust. It has a slightly nutty flavor that adds depth and complexity to any recipe.
Not only is our organic semolina delicious and versatile, it is also packed with protein and other essential nutrients. Each serving provides a good source of energy and nutrition, making it a satisfying choice for anyone looking to add more plant-based protein to their diet.
Discover the delightful Organic Semolina from Thames Organic – a versatile and nourishing choice that caters to various dietary preferences. Whether you're a vegan, vegetarian, or follow a Mediterranean or flexitarian diet, this premium semolina is a must-have in your kitchen. Sourced from the finest organic durum wheat, it boasts a rich, nutty flavor and a delicate texture. Enjoy it as a comforting bowl of warm porridge or use it in baking to create delectable desserts and savory dishes. Embrace the natural goodness of Thames Organic's Semolina and elevate your culinary creations with this wholesome and eco-conscious choice.
At Thames Organic, we are committed to sustainability and environmental responsibility. Our organic semolina is sustainably sourced and certified organic, ensuring that it is grown and produced in a way that is respectful of the earth and its resources. We believe that the foods we eat should be good not just for ourselves, but also for the planet.
So why wait? Add Organic Semolina Flour from Thames Organic to your pantry today and start enjoying all of the delicious and nutritious benefits it has to offer! Whether you are a seasoned baker or a beginner, this is a product that you will love and use time and time again.
Semolina
is the coarse, purified wheat middlings (intermediate milling stage) of durum wheat mainly used in making couscous, pasta, and sweet puddings. The term semolina is also used to designate coarse middlings from other varieties of wheat, and sometimes other grains (such as rice or corn) as well.
Semolina is derived from the Italian word 'semola' which means bran. Semolina can be made into porridge when cooked in water (or milk) and eaten as a warm breakfast cereal. It has a distinctive yellow colour, due to the presence of carotenoids (naturally occurring pigments).
Semolina is made from one of the hardest types of wheat which gives semolina a high protein. It is used in breads and pastas as a structural element that traps in moisture and as a food source for yeast.
Semolina is one of the few flours that has been used for thousands of years in both sweet and savoury cooking, from cakes and pastries to homemade pasta.
Semolina is our most finely-ground flour, which makes it perfect for pasta, breads, and crackers. Organic semolina is the coarse, purified wheat middlings of durum wheat mainly used in making couscous, pasta, and sweet puddings.