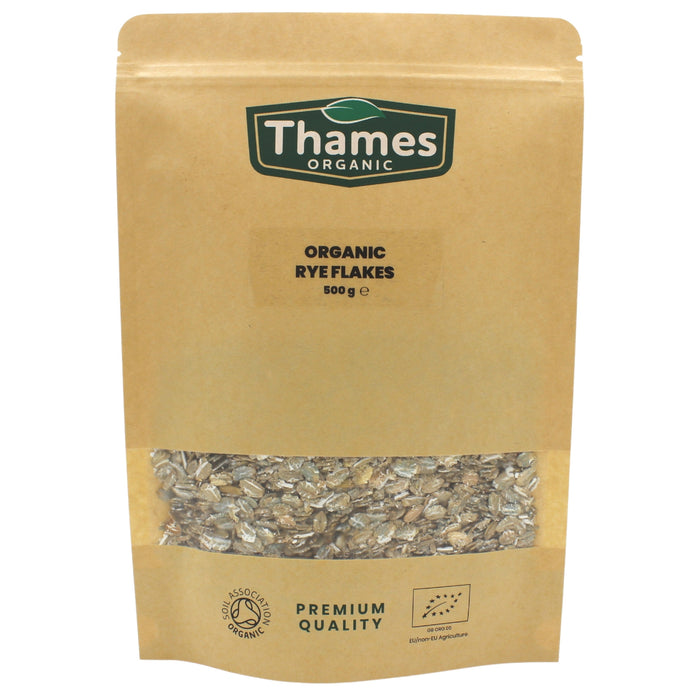 If you're looking for a nutritious cereal option, consider organic rye flakes. These flakes are made from whole rye grains that have been steamed and rolled into flakes, preserving their flavour and nutritional value.
With a slightly nutty flavour and chewy texture, organic rye flakes can be used in a variety of recipes. They are popular in granolas and mueslis, and can also be used as a base for porridges or incorporated into baked goods such as breads and muffins.
They are perfect for snacking on the go – whether you're in your car, out for a hike, or at the office – and can also be used as a hot or cold cereal, or added to baked goods like breads, cookies, and bars.
For a tasty and nutritious recipe using rye flakes, try making creamy almond oatmeal with rye flakes.
Discover Thames Organic's Organic Rye Flakes – a versatile and delightful addition to your kitchen, perfect for a variety of culinary preferences. Whether you're a vegan, vegetarian, or follow a plant-based, specific dietary plan, these premium rye flakes are a must-have. Sourced sustainably from the finest organic rye grains, they offer a nutty and wholesome flavor that enhances your favorite recipes. Use them as a nutritious and fiber-rich alternative in breakfast cereals, granola, or baking, or enjoy them as a delightful and energizing snack on their own. Embrace the natural goodness of Thames Organic's Rye Flakes and elevate your cooking with this wholesome and eco-conscious choice.
Rye (Secale cereale) is a grass grown extensively as a grain, a cover crop and a forage crop. It is a member of the wheat tribe (Triticeae) and is closely related to both wheat (Triticum) and barley (genus Hordeum). Rye grain is used for flour, bread, beer, crispbread, some whiskeys, some vodkas, and animal fodder. It can also be eaten whole, either as boiled rye berries or by being rolled, similar to rolled oats.
Rye flakes are made from rye groats which are steamed and rolled into a flake. They may be added to soups, stews, cakes and breads
Rye flakes are produced by collecting rye, roasting it on a gas fire, and then rolling it into flakes. It is most commonly eaten as hot cereal. Other recipes that call for rye flakes include granola, muesli, creamy soups, stews, desserts, pie crusts, and baked goods. They are one-hundred percent whole grain, thus making them very high in fiber and manganese.