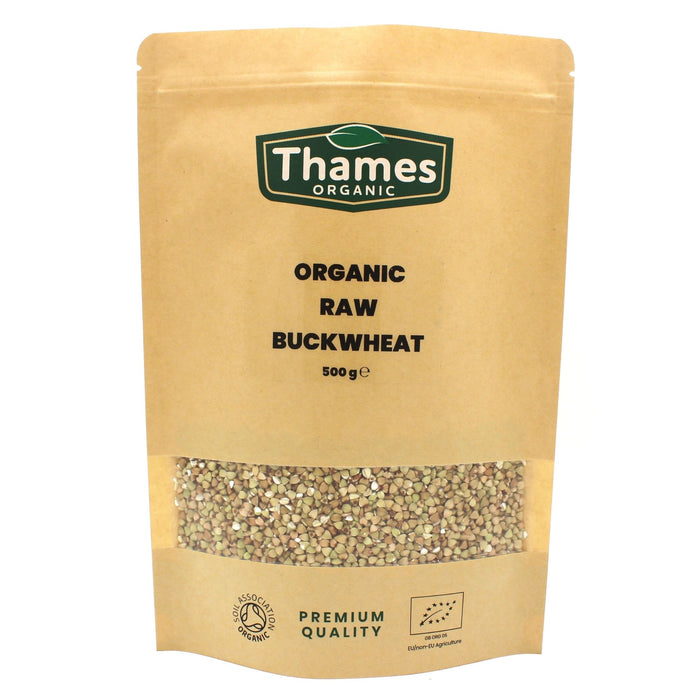 Get ready to discover the ultimate superfood grain that is both delicious and nutritious - organic raw buckwheat groats! These nutty and crunchy seeds are a delicious alternative to traditional grains and are packed with a variety of essential nutrients. 
Our organic raw buckwheat groats are grown using sustainable and ethical methods, ensuring the highest quality product. No synthetic pesticides or fertilizers are used in the growing process, making our groats not only good for your body, but also good for the environment. These seeds are also minimally processed, so you can be sure you're getting a pure, natural product.
Not only are these groats delicious, they are also incredibly nutritious. They are a rich source of protein, fiber, and a variety of essential vitamins and minerals. They are also naturally gluten-free, making them a great option for those with gluten sensitivities. Plus, their nutty flavor and crunchy texture make them a unique and tasty addition to any meal or snack.
Our organic raw buckwheat groats are incredibly versatile and can be used in a variety of dishes. They can be cooked like oats and eaten as a hot cereal, or they can be sprouted and added to salads and smoothies for a crunchy and nutritious boost. They can also be ground into flour and used to make homemade pasta, bread, and pastries. The possibilities are endless!
Don't miss out on the numerous benefits of organic raw buckwheat groats. Start incorporating them into your meals and snacks today and discover a new superfood grain that is both tasty and good for you!
Discover Thames Organic's Organic Raw Buckwheat – a versatile and delightful addition to your kitchen, perfect for a variety of culinary preferences. Whether you're a vegan, vegetarian, or follow a plant-based, specific dietary plan, this premium raw buckwheat is a must-have. Sourced sustainably from the finest organic crops, it offers a nutty and earthy flavor that enhances your favorite recipes. Use it as a nutritious alternative in cooking, or sprout it for a delightful addition to salads and wraps. Embrace the natural goodness of Thames Organic's Raw Buckwheat and elevate your cooking with this wholesome and eco-conscious choice.
Buckwheat (Fagopyrum esculentum), or common buckwheat, is a plant cultivated for its grain-like seeds and as a cover crop. The name "buckwheat" is used for several other species, such as Fagopyrum tataricum, a domesticated food plant raised in Asia. Despite the name, buckwheat is not closely related to wheat, as it is not a grass. Instead, buckwheat is related to sorrel, knotweed, and rhubarb. Buckwheat is referred to as a pseudocereal because its seeds' culinary use is the same as cereals', owing to their composition of complex carbohydrates.
Buckwheat contains high amounts of protein and unusual amino acids, including lysine. Its name "buckwheat" comes from its triangular seeds. Buckwheat is a highly nutritious whole grain with a mild, nutty flavour. Because it's naturally and contains no wheat, it's a great choice for those seeking alternative grains that are rich in complex carbohydrates. 
Organic raw buckwheat is also a great source of manganese, magnesium and phosphorus. It is also a source of fibre and antioxidants.
Buckwheat is a good source of dietary fibre and manganese, and contains protein. The high fibre content in buckwheat can benefit digestive health. Buckwheat is a moderately good source of magnesium and copper.