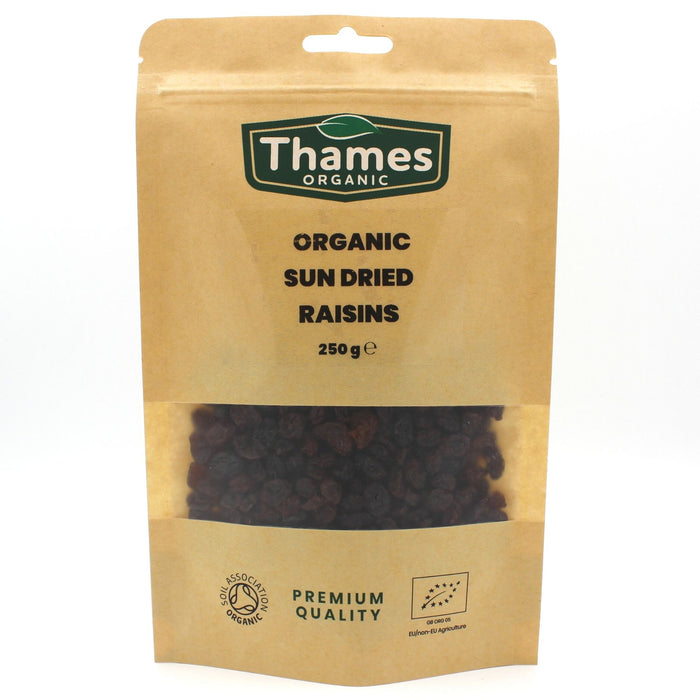 Get ready to discover the ultimate snack that is both delicious and nutritious - organic raisins! These sweet and plump dried grapes are an amazing snack option that is perfect for satisfying your sweet tooth and nourishing your body.
Our organic raisins are grown using sustainable and ethical methods, ensuring the highest quality product. No synthetic pesticides or fertilizers are used in the growing process, making our raisins not only good for your body, but also good for the environment. These raisins are also minimally processed, so you can be sure you're getting a pure, natural product.
Not only are these raisins delicious, they are also incredibly nutritious. They are a rich source of fiber, iron, and a variety of essential vitamins and minerals. They are also naturally sweet, making them a great alternative to processed sugars and a tasty addition to any diet.
Discover Thames Organic's Organic Raisins – a versatile and delightful addition to your kitchen, perfect for a variety of culinary preferences. Whether you're a vegan, vegetarian, or follow a plant-based, specific dietary plan, these premium raisins are a must-have. Sourced sustainably from the finest organic vineyards, they offer a naturally sweet and chewy flavor that enhances your favorite recipes. Use them as a convenient and wholesome snack, or sprinkle them over oatmeal, baked goods, or salads for a delightful burst of natural sweetness. Embrace the natural goodness of Thames Organic's Raisins and elevate your cooking with this wholesome and eco-conscious choice.
Our organic raisins are the perfect snack for any occasion. Whether you're looking for a quick and convenient snack on the go or want to add some sweetness to your meals and recipes, our organic raisins are the perfect choice. Try adding them to granola or trail mix for a tasty and nutritious boost, or mix them into your morning oats for a sweet and flavorful start to your day. You can also use them to add some sweetness to your baked goods or as a topping for yogurt or salads.
Don't miss out on the numerous benefits of organic raisins. Start incorporating them into your meals and snacks today and discover a new favorite snack that is both tasty and good for you!
Organic Raisins by Thames Organic Ltd. Organically grown in Turkey. Packed in the UK.

Thames Organic UK is Soil Association Certificated with a License no : DA30314

Organic raisins are dried grapes. These chewy, sweet treats pack tons of energy and taste into bite-sized morsels. Raisins are great as a healthy snack right out of the box, or you can use them to enhance salads, cookies, breads and more.

Raisins are high in energy and rich in fibre, vitamins (especially vitamin C, potassium and iron), and minerals. They also contain phytonutrients, such as polyphenols and anthocyanins

In raisins, the fruit of the grape plant is partially dehydrated to produce a sweet and healthy snack. When eaten in moderation, raisins are good sources of vitamins, minerals, and fibre.

Raisins can be the size of a small grape to the size of a large walnut. They have a sweet and chewy taste which is enjoyable for most people. Raisin snacks are also popular amongst children as well as adults.

Organic raisins are a delicious snack and add a sweet touch to salads, trail mix, cookies, cereal and more. They're a good source of potassium and high in fibre.