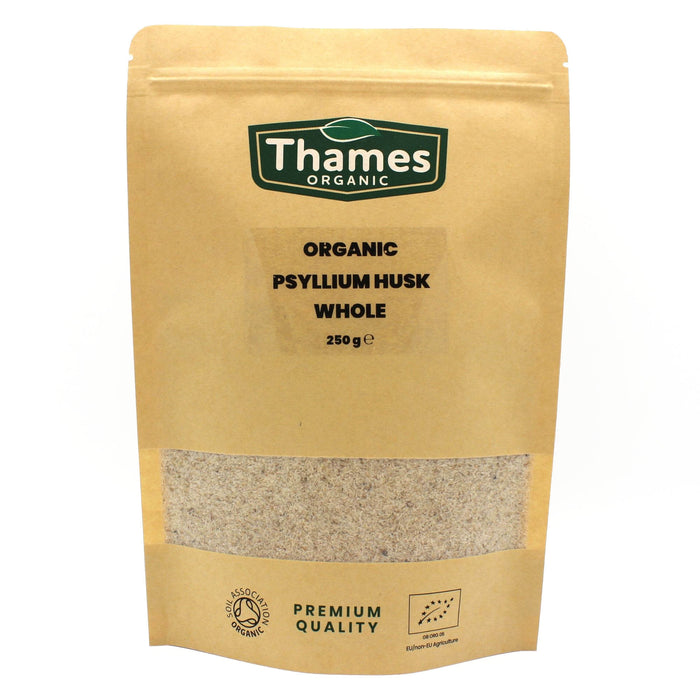 Organic Psyllium Husk Whole
Introducing a plant-based fiber option for supporting your digestive system - organic psyllium husk whole! This versatile ingredient is derived from the Plantago ovata plant and has a variety of potential benefits for digestion.
Our organic psyllium husk is 100% pure and free from any additives or fillers, making it a pure and natural option for supporting your digestive system. It is also sustainably and ethically sourced, with farms using organic growing methods to cultivate the highest quality psyllium husk. This means no synthetic pesticides or fertilizers are used in the growing process, making our psyllium husk not only good for your body, but also good for the environment.
Incorporating our organic psyllium husk into your daily routine is easy and convenient. Simply mix a tablespoon of psyllium husk into a glass of water or your favorite beverage and drink it down. You can also add it to smoothies, oatmeal, or baked goods for an extra boost of fiber. And because it has a mild, neutral flavor, it won't alter the taste of your meals or snacks.
Explore the potential benefits of adding organic psyllium husk whole to your daily routine and see how it can support your digestive system. Start incorporating it into your daily routine today and experience the numerous benefits for yourself.
Discover Thames Organic's Organic Psyllium Husk Whole – a versatile and delightful addition to your kitchen, perfect for a variety of culinary preferences. Whether you're a vegan, vegetarian, or follow a plant-based, specific dietary plan, this premium psyllium husk whole is a must-have. Sourced sustainably from the finest organic psyllium plants, it offers a mild and slightly nutty flavor that enhances your favorite recipes. Use it as a natural and fiber-rich ingredient in baking, or blend it into smoothies and shakes for a nutritional boost. Embrace the natural goodness of Thames Organic's Psyllium Husk Whole and elevate your cooking with this wholesome and eco-conscious choice.
Psyllium husks, also known as psyllium husk fibre, isabgol, or simply psyllium, are a type of soluble fibre that absorbs water to form a gel-like substance. This process in the body can help to keep you feeling fuller for longer.
Psyllium husks are commonly used as a natural laxative, but they also have other health benefits, such as improving digestive health and lowering cholesterol levels.
Organic psyllium husks are a great source of dietary fibre, which is important for good gut health and healthy digestion.Psyllium whole husks have a distinct flavour, so they are best added to other foods to mask their taste. 
Some good options for using psyllium whole husks include adding them to oatmeal, granola, cereal, and other dishes.
Psyllium husks are easy to add to your diet. You can mix them with water or add them to your favourite juices and smoothies. They are also great for baking, and can be used as a binding agent in place of eggs.
Organic Psyllium Husk Whole is full of fiber made from the husks of the ispaghula seed. Almost all detox programmes use psyllium as part of the diet programs. You can add it to your diet program benefits that make them a great addition to any health plan.

Benefits of Psyllium Husk Whole

Healthy Source of Energy
High in Fiber
B-complex Vitamins
Psyllium is an all-natural, pure dietary fibre with no additives or fillers. Psyllium has long been used as a safe and effective way to increase the intake of dietary fibre because of its high level of soluble fibre.

Organic Psyllium Husk Whole is full of fibre made from the husks of the ispaghula seed, and has almost no taste. It is a great addition to any health plan because it mixes well with other ingredients and can be added to liquids or soft foods. One ingredient in psyllium husk whole is fibre, and fibre helps you feel full longer

Psyllium Husk Whole is a wholesale bulk pack of natural dietary fibre. It is low in calories and has no added sweeteners. The husks can be a great addition to baked goods and other recipes..