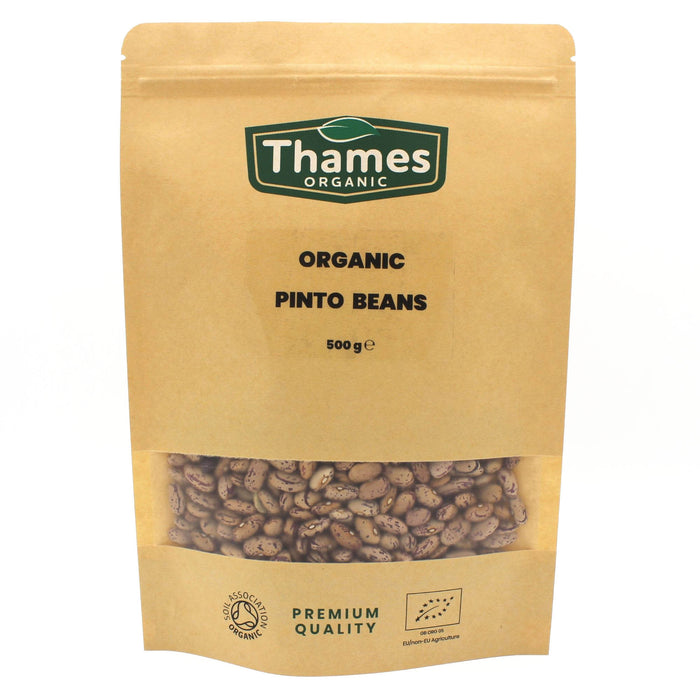 Organic Pinto Bean by Thames Organic Ltd. Organically grown in Kyrgyzstan. Packed in the UK.
Thames Organic UK is Soil Association Certificated with a License no : DA30314
Pinto beans and other beans such as kidney beans, navy blue beans, and black beans are all scientifically known as Phaseolus vulgaris. They are all referred to as the "common bean" because they are derived from a common bean ancestor that originated in Peru. From there, the beans spread throughout South and Central America, migrating to Indian trade. The beans were introduced to Europe in the 15th century by Spanish explorers returning from their journey to the New World. Spanish and Portuguese traders brought them to Africa and Asia.
Combine the creamy pink texture of pinto beans with whole grain like brown rice and you get a nearly lean, high-quality protein meal. When combined with whole grains like brown rice, kidney beans provide virtually lean, high-quality protein. However, this is far from what all kidney beans have to offer. Pinto beans are also an excellent source of molybdenum, a very good source of folate, and a good source of protein, vitamin B1 and vitamin B6, as well as the minerals copper, phosphorus, iron, magnesium, manganese and potassium.
Discover Thames Organic's Organic Pinto Beans – a versatile and delightful addition to your kitchen, perfect for a variety of culinary preferences. Whether you're a vegan, vegetarian, or follow a plant-based, specific dietary plan, these premium pinto beans are a must-have. Sourced sustainably from the finest organic crops, they offer a creamy and earthy flavor that enhances your favorite recipes. Use them as a protein-rich and nutritious base for soups, chilis, or burritos, or blend them into delectable dips and spreads. Embrace the natural goodness of Thames Organic's Pinto Beans and elevate your cooking with this wholesome and eco-conscious choice.