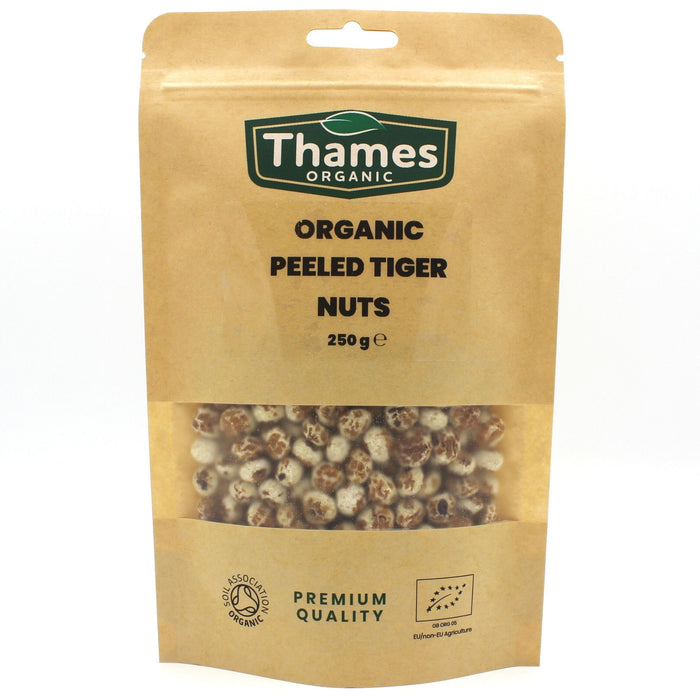 Organic Peeled Tiger Nuts
Cyperus esculentus (also called chufa, tiger nut, atadwe, yellow nutsedge and earth almond) is a crop of the sedge family widespread across much of the world. It is found in most of the Eastern Hemisphere, including Southern Europe, Africa and Madagascar, as well as the Middle East and the Indian subcontinent. C. esculentus is cultivated for its edible tubers, called earth almonds or tiger nuts, as a snack food and for the preparation of horchata de chufa, a sweet, milk-like beverage

Cyperus esculentus can be found wild, as a weed, or as a crop. It is an invasive species outside its native range, and is readily transported accidentally to become invasive. In many countries, C. esculentus is considered a weed. It is often found in wet soils such as rice paddies and peanut farms as well as well-irrigated lawns and golf courses during warm weather.
Organic peeled tiger nuts are paleo friendly. They are also rich in nutrients and minerals including potassium, calcium, magnesium and iron. They contain a lot of fibre, which helps to regulate the digestive system. Tiger nuts are a delicious snack with a slightly sweet flavour.
Discover Thames Organic's Organic Peeled Tiger Nuts – a versatile and delightful addition to your kitchen, perfect for a variety of culinary preferences. Whether you're a vegan, vegetarian, or follow a plant-based, specific dietary plan, these premium peeled tiger nuts are a must-have. Sourced sustainably from the finest organic crops, they offer a naturally sweet and nutty flavor that enhances your favorite recipes. Use them as a wholesome and crunchy snack on their own, or blend them into delicious nut milk or nut butter for a nutritious twist. Embrace the natural goodness of Thames Organic's Peeled Tiger Nuts and elevate your culinary experiences with this wholesome and eco-conscious choice.