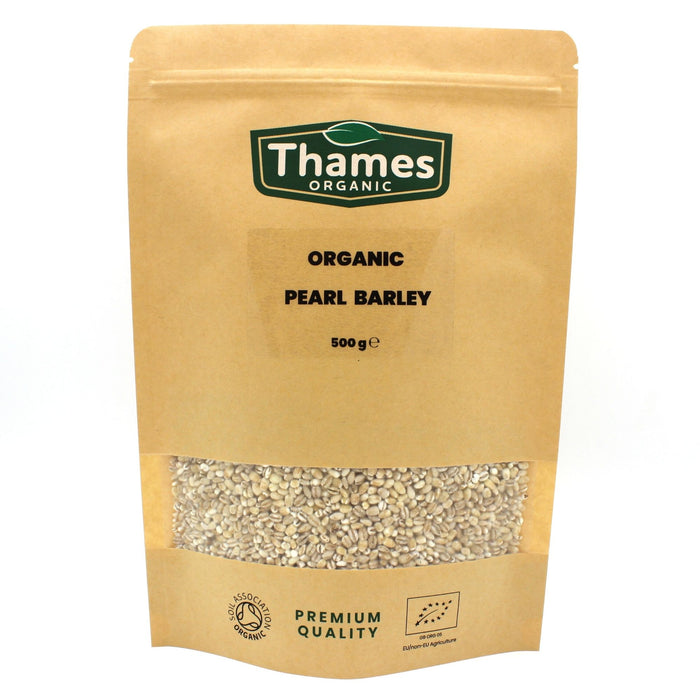 Introducing our high-quality Organic Pearl Barley, a versatile and nutritious grain that is perfect for adding to a wide range of dishes. Pearl barley is a rich source of fibre, protein, and essential nutrients like iron and B vitamins, making it a healthy addition to any diet.
Our organic pearl barley is grown on small, sustainable farms using natural, chemical-free methods. We carefully select and hand-pack each batch to ensure the highest quality and freshness.
Pearl barley is a versatile grain that can be used in a variety of dishes, from soups and stews to pilafs and salads. It has a slightly chewy texture and nutty flavour that adds depth and richness to any dish.
Try our Organic Pearl Barley today and add a healthy, tasty grain to your meals. It's an excellent choice for those looking to incorporate more whole grains into their diet.
Are you looking to add a tasty and nutritious grain to your diet? Look no further than our organic pearl barley! Grown without the use of pesticides, herbicides, or synthetic fertilizers, this pure, raw, vegan, and GMO-free grain is the perfect choice for those following a plant-based or all-natural diet.
With its rich, nutty flavor and chewy texture, pearl barley adds depth and flavor to any recipe. It's perfect for soups, stews, and risottos, and can be used in a variety of dishes, from salads and pilafs to dessert recipes. And with its high fiber content and nutrients like selenium, magnesium, and phosphorus, pearl barley is not only delicious, but it's also good for you.
Discover Thames Organic's Organic Pearl Barley – a versatile and delightful addition to your kitchen, perfect for a variety of culinary preferences. Whether you're a vegan, vegetarian, or follow a plant-based, specific dietary plan, this premium pearl barley is a must-have. Sourced sustainably from the finest organic barley fields, it offers a hearty and nutty flavor that enhances your favorite recipes. Use it as a nutritious and wholesome ingredient in soups, stews, or salads, or as a delightful base for risottos and pilafs. Embrace the natural goodness of Thames Organic's Pearl Barley and elevate your cooking with this wholesome and eco-conscious choice.
At our company, we are committed to providing the highest quality products to our customers. That's why we source our pearl barley directly from trusted farmers and batch-test it for purity. And with our convenient resealable bag, you can trust that your grain will stay fresh and ready to use whenever you need it.
So why wait? Add a bag of our organic pearl barley to your pantry today and discover the delicious possibilities! Whether you're cooking for one or feeding a crowd, this versatile grain is sure to be a staple in your kitchen.
Pearl barley is whole barley that has been processed by removing the tough outer hull and polishing or pearling off the bran layer and creating pearled barley grains with a smooth surface and quicker cooking time. It is a hearty grain that is wonderful in risottos and soups, including classic dishes like vegetable barley soup, and it can also serve as a substitute for Arborio rice to make risotto.
Rich in Many Beneficial Nutrients

Contents Insoluble and Soluble Fiber 

Naturally 
Pearl barley is a clean, polished pearl barley grain with no outer body, so it boils faster. Barley could cut back hunger and promote feelings of fullness and each of these can cause weight loss over time. Barley lessens hunger for the most part through its high fiber content. A soluble fiber called beta-glucan is especially useful. hat's as a result of soluble fibers, like beta-glucan, tend to create a gel-like substance in your gut, that slows the digestion and absorption of nutrients.

Pearl barley is very rich in amino acids. For example, it participates in collagen production, helps slow down the appearance of wrinkles and helps keep our skin smooth. Also, pearl barley is a powerful food source with vitamins E, A, B, D
Thames Organic's Soil Association Licence number is DA30314.