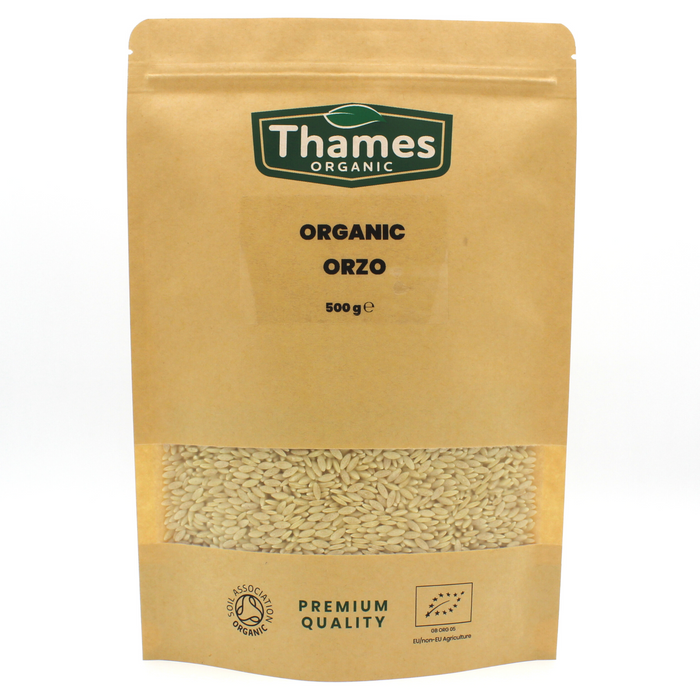 Organic Orzo (Risoni) - rice shape from durum wheat
Original price
£4.99
-
Original price
£6.99
Orzo (/ˈɔːrzoʊ, ˈɔːrtsoʊ/,Italian: [ˈɔrdzo]; from Italian for ''barley'', from Latin hordeum), also known as risoni (pronounced [riˈzoːni]; 'large [grains of] rice'), is a form of short-cut pasta, shaped like a large grain of rice. Orzo is traditionally made from white flour, but it can also be made of whole grain.

The name orzo is common for this pasta shape in North America, but less so in Italy, where the word means barley.
Durum wheat (/ˈdjʊərəm/), also called pasta wheat or macaroni wheat (Triticum durum or Triticum turgidum subsp. durum), is a tetraploid species of wheat. It is the second most cultivated species of wheat after common wheat, although it represents only 5% to 8% of global wheat production. It was developed by artificial selection of the domesticated emmer wheat strains formerly grown in Central Europe and the Near East around 7000 BC, which developed a naked, free-threshing form. Like emmer, durum wheat is awned (with bristles). It is the predominant wheat that grows in the Middle East.
Orzo (also known as risoni), made from durum wheat, is shaped like a grain of rice. A high quality protein with an intense flavour, it is a versatile ingredient that complements both Mediterranean and Eastern dishes.