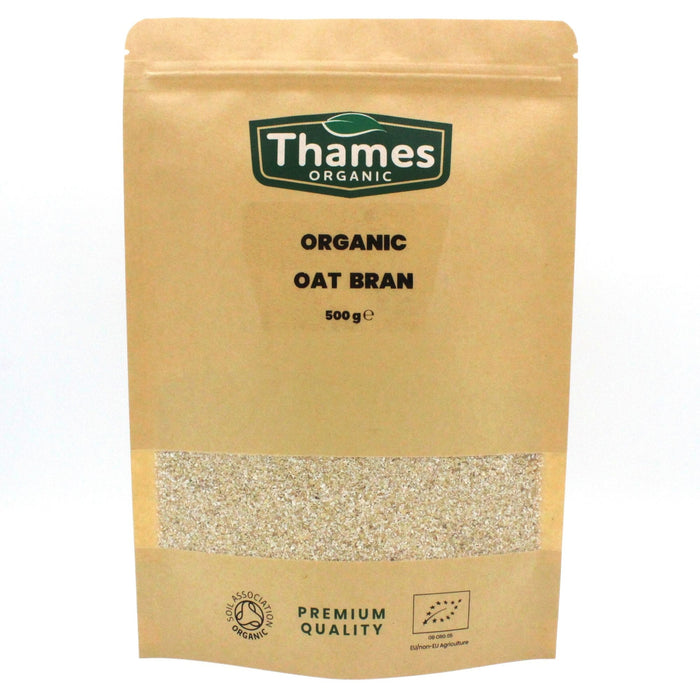 Organic Oat Bran
Original price
£3.49
-
Original price
£4.99
Looking for a high-quality, versatile ingredient to add to your pantry? Look no further than our organic oat bran!

Made from 100% pure, certified organic oats, our oat bran is grown sustainably and free from any additives or preservatives. It's a rich source of dietary fiber and contains important nutrients like B vitamins, iron, and zinc.
But it's not just good for you - oat bran is also incredibly versatile. Add it to your favorite recipes to boost their nutritional content and add a subtle, nutty flavor. It's perfect for baking, smoothies, oatmeal, and more.
Not only is our oat bran delicious and nutritious, it's also sustainably sourced. We work with trusted farmers who prioritize sustainability and environmentally friendly practices to bring you the best quality oat bran possible.
And with our convenient packaging, it's easy to portion out and use in your daily meals and recipes. The resealable bag helps keep the oat bran fresh and flavorful, so you can enjoy it anytime.
So why wait? Add our organic oat bran to your pantry today and discover all the delicious and nutritious ways you can use it in your cooking and baking!
Discover Thames Organic's Organic Oat Bran – a wholesome and versatile addition to your kitchen, catering to a variety of dietary preferences. Whether you follow a vegan, vegetarian, or Mediterranean diet, this premium oat bran is a nutritious choice. Sourced from the finest organic oats, it is a rich source of fiber, vitamins, and minerals. Enjoy the nutty flavor and creamy texture of this sustainably sourced oat bran as a hearty breakfast or a delightful ingredient in your baking. Embrace the natural goodness of Thames Organic's Oat Bran and fuel your day with a wholesome start. Elevate your culinary creations with this nutritious and eco-conscious choice.
The oat (Avena sativa), sometimes called the common oat, is a species of cereal grain grown for its seed, which is known by the same name (usually in the plural, unlike other cereals and pseudocereals). While oats are suitable for human consumption as oatmeal and rolled oats, one of the most common uses is as livestock feed.
Bran, also known as miller's bran, is the hard outer layers of cereal grain. It consists of the combined aleurone and pericarp. Along with germ, it is an integral part of whole grains, and is often produced as a byproduct of milling in the production of refined grains.
Bran is present in cereal grain, including rice, corn (maize), wheat, oats, barley, rye and millet.
Oat bran is the outer layer of the oat grain, containing significant quantities of dietary fibre. Oat bran is a great source of energy-boosting complex carbs, protein and soluble fibre beta-glucan—the type of fibre. Creamy and delicious, oat bran has a nutty flavour that adds depth to baking and cooking. You can incorporate oat bran into a variety of dishes and baked goods, such as breads, cereals or casseroles. It's high in dietary fibre and protein..