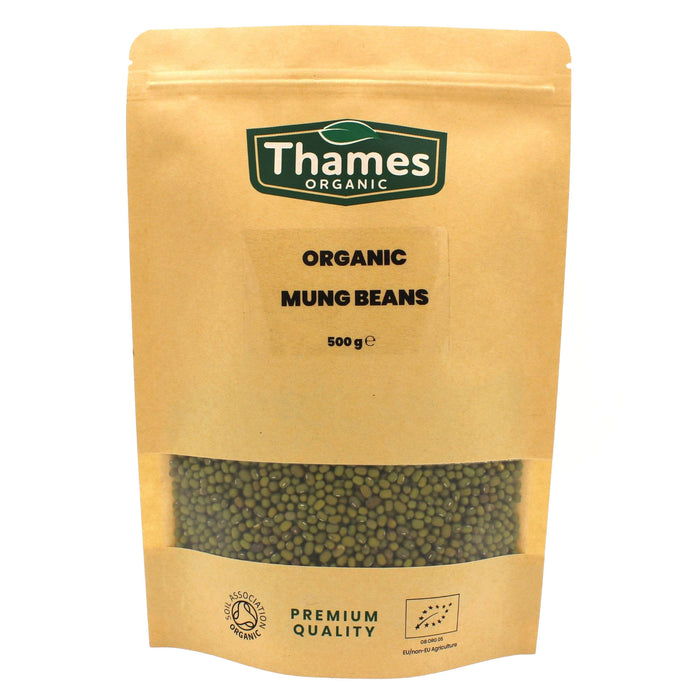 Organic Mung Beans
Original price
£5.49
-
Original price
£7.99
Introducing the most delicious and nutritious organic mung beans on the market! These small, green legumes pack a big punch when it comes to nutrition, making them a must-have ingredient in any kitchen.
Packed with protein, fiber, and a variety of essential vitamins and minerals, mung beans are a great source of nutrients for vegetarians and meat-eaters alike. They have a delicate, slightly sweet flavor that pairs well with a variety of dishes, making them a versatile ingredient in the kitchen.
Not only are these mung beans packed with nutrients, they are also grown sustainably and ethically. Our mung beans are sourced from eco-friendly farms that use organic growing methods to cultivate the highest quality beans. This means no synthetic pesticides or fertilizers are used in the growing process, making these mung beans not only good for your body, but also good for the environment.
Discover Thames Organic's Organic Mung Beans – a versatile and delightful addition to your kitchen, perfect for a variety of culinary preferences. Whether you're a vegan, vegetarian, or follow a plant-based, specific dietary plan, these premium mung beans are a must-have. Sourced sustainably from the finest organic crops, they offer a mild and nutty flavor that enhances your favorite recipes. Use them as a protein-rich and nutritious base for soups, stews, or salads, or sprout them for a delightful addition to sandwiches and wraps. Embrace the natural goodness of Thames Organic's Mung Beans and elevate your cooking with this wholesome and eco-conscious choice.
These organic mung beans are perfect for adding to soups, stews, curries, and salads. They can also be used  for a crunchy, nutritious addition to sandwiches and wraps. And because they are so easy to cook, they make a quick and convenient meal option when you're short on time. Simply rinse and soak the beans overnight, and then simmer them in water or broth until they are tender. You can also use a pressure cooker to speed up the cooking process.
So why wait? Start incorporating these delicious and nutritious organic mung beans into your meals today and experience the numerous benefits for yourself! Whether you're a seasoned bean-lover or just starting to incorporate more plant-based proteins into your diet, these organic mung beans are sure to become a new pantry staple.
Organic Mung Beans Organically grown in China and Uzbekistan. Packed in the UK. 
The mung beans are climbers, (Vigna radiata)
Thames Organic's Soil Association Licence number is DA30314.
The mung bean is mainly cultivated in East Asia, Southeast Asia and the Indian subcontinent. It is used as an ingredient in both savoury and sweet dishes.
Description:
Organic Mung Beans are the beans most commonly grown in Asia, Europe and America. It is very nutrient-dense, an excellent source of dietary fiber, plant protein, complex carbohydrates and iron, and is packed with vitamins and minerals. It is very low in calories, fat, and sodium, and is cholesterol-free. Organic mung beans are a healthy, all-natural and delicious addition to soups, stews or served as a side dish.
Benefits of Mung Beans
Rich in Protein

Good source of fiber

Rich in essential vitamins including B-complex vitamins
Organic Mung Beans are several times richer than soybeans in the daily requirement of iron. Organic mung beans are an easy way to add protein and fiber to your diet. They're typically used in cooking, though they can also be sprouted and used raw in salads and other dishes. Mung beans are high in protein, vitamins B1 and B2, amino acids, calcium, iron and magnesium.