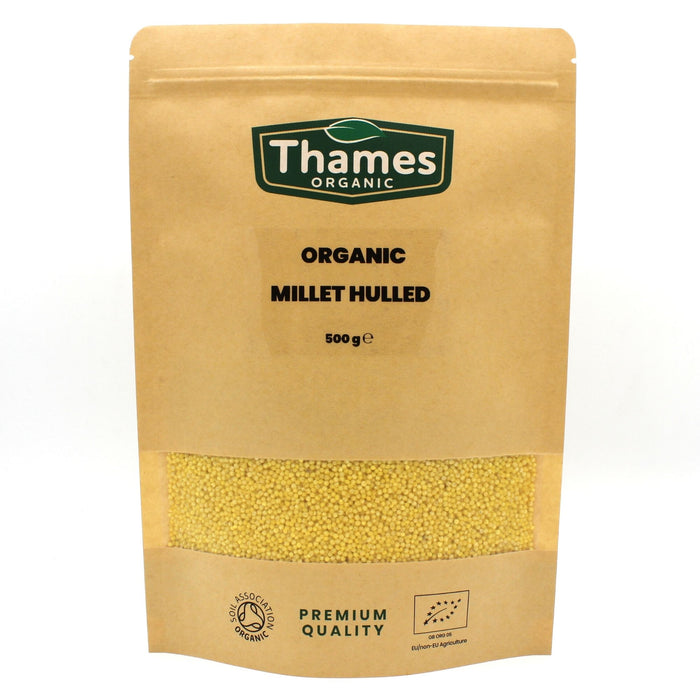 Our organic millet grain is the perfect addition to any pantry. Sustainably grown without the use of harmful pesticides or chemicals, our millet is an environmentally friendly choice. With a mild, nutty flavor, our millet is versatile and pairs well with a variety of dishes. Use it as a replacement for rice in stir-fries, add it to porridges and grain bowls, or use it as a base for salads.

In addition to its delicious taste, millet is a nutrient-dense grain packed with protein, fiber, and essential minerals like magnesium and phosphorus. Incorporating it into your diet can help support overall wellness. 
Discover Thames Organic's Organic Millet Hulled – a versatile and delightful addition to your kitchen, perfect for a variety of dietary preferences. Whether you're a vegan, vegetarian, gluten-free enthusiast, or follow a Mediterranean diet, this premium hulled millet is a must-have. Sourced sustainably from the finest organic millet grains, it offers a mild and nutty flavor, making it a delightful base for a multitude of dishes. Use it as a fluffy and nutritious alternative to rice, or blend it into hearty porridge and salads. Embrace the natural goodness of Thames Organic's Hulled Millet and elevate your cooking with this wholesome and eco-conscious choice.
Our millet grain comes in a convenient, resealable pouch for easy storage and use. Keep your pantry stocked with this delicious grain that can be used in a variety of dishes. Try our organic millet today and experience the delicious taste and versatility it brings to your cooking and baking.
Organic Hulled Millet is a versatile whole grain that has a mildly sweet and nutty flavour, as well as a light and fluffy texture when cooked. It is similar to couscous in its consistency. To prepare millet, simply combine one cup of millet with 1 and a half cups of water or stock and cook it according to your preference. 
Millet can be used in a variety of recipes, both as a baking ingredient and as a cooked grain, in much the same way as other grains.
Organic whole millet berries are an excellent choice for baking or incorporating freshly milled millet into your recipes. Whether you're cooking at home or in a small production setting, these hulled millet berries are a convenient and nutritious option.
Its mild flavour and quick cook time make it an ideal choice for use as a cereal or inside dishes. Simply add it to your meals for a tasty and nutritious boost.
Organic Millet Hulled by Thames Organic Ltd. Organically grown in Russian Federation. Packed in the UK. 
Allergen Information: Packed on premises that handles nuts, seeds, cereals, soya & products containing gluten. 
Thames Organic's products are certified as organic by the UK's Soil Association 
(Soil Association licence no. DA30314)
Millet Hulled is one of the most ancient grains that  and is versatile in the whole food world. If you haven't tried it before, you'll be surprised how delicious and nutritious it is. Before the millet hulled is consumed, the undigested cover is removed and the shells are peeled off. After organic millet is cooked, it becomes a soft, absorbent grain, similar in consistency to couscous. It is a source of vegetable protein, so it is an excellent choice for vegetarians and vegans.
It can be cooked in porridge, added to soups, stews, or served as a side dish. Millet has a long history in many cultures and is known in Asian traditions despite being of an African origin. Although not a particularly fashionable grain in the West, it is known in Asian Culinary History as the 'Queen of Cereals'. Boiled millet is delicious with a simple dressing of garlic, lemon, oil, and salt.