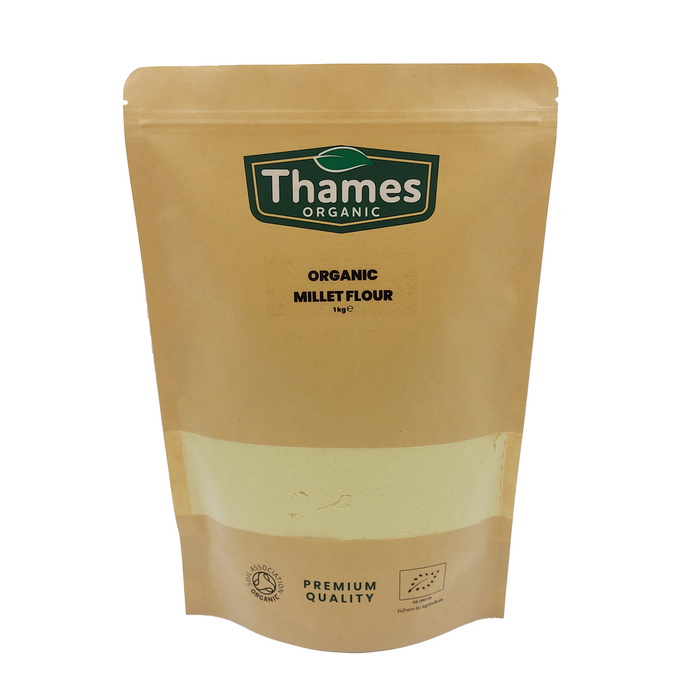 Organic Millet Flour
Original price
£3.99
-
Original price
£5.49
Are you ready to experience the incredible taste and nutritional benefits of millet? Look no further than our premium organic millet flour!
Millet is a tiny grain that has been enjoyed for centuries in cultures around the world. It's a rich source of nutrients, including B vitamins, magnesium, and iron, making it a great choice for anyone looking to boost their diet. Plus, it's naturally gluten-free, making it a perfect choice for those with sensitivities.
But our millet flour isn't just nutritious - it's also incredibly tasty and versatile. It has a slightly sweet, nutty flavor that pairs well with a wide range of ingredients, making it perfect for both sweet and savory dishes. And with its versatility, you can use it as a substitute for wheat flour in just about any recipe, from breads and cakes to cookies and more.
And if you're concerned about additives and artificial ingredients, you can feel good about using our millet flour. It's organic, raw, vegan, and free from GMOs, making it a natural choice for all of your baking needs. No additives, no preservatives - just pure, nutritious goodness.
So why wait? Add our premium organic millet flour to your pantry today and discover the delicious, nutritious, and versatile flour that's taking the baking world by storm! Whether you're looking to add some variety to your baking repertoire or are in need of a gluten-free flour option, our millet flour is the perfect choice. Trust us, you won't be disappointed!
Discover Thames Organic's Organic Millet Flour – a versatile and delightful addition to your kitchen, perfect for a variety of dietary preferences. Whether you're a vegan, vegetarian, or follow a Mediterranean or plant-based diet, this premium millet flour is a must-have. Sourced sustainably from the finest organic millet grains, it offers a mild and nutty flavor that enhances your culinary creations. Use it as a nutritious alternative to wheat flour in baking, or blend it into savory dishes for added richness and texture. Embrace the natural goodness of Thames Organic's Millet Flour and elevate your cooking with this wholesome and eco-conscious choice.
Organic Millet Flour by Thames Organic Ltd. Organically grown in the UK and packed in the UK. Re-sealable bag to ensure continuous freshness.

Thames Organic's Soil Association Licence number is DA30314.

Millet is a small seeded grain that provides our bodies with extraordinarily rich sources of protein, dietary fibre and its high content of B vitamins and manganese can provide us with many energy boosting benefits.

Organic millet flour is nutritious and can be used as a substitute for wheat flour in baking. Millets are a group of highly variable small-seeded grasses, widely grown around the world as cereal crops or grains for fodder and human food.

Millet flour is full of nutrients and contains vitamins B1, B3, B5, B6 and B9 .It is also a good source of fibre, calcium, iron, magnesium, potassium and phosphorus.

Millet flour can be used to make flatbreads such as roti or tortillas. Pumpkin seeds, cumin seeds, nigella seeds and/or sesame seeds are sometimes added to the dough to give flavour.

Organic millet flour is ground from whole millet grains. Millet flour has a high nutrient density and adds a distinct flavour and nutrition to baked goods. It also adds lightness, texture and moisture to baked goods.