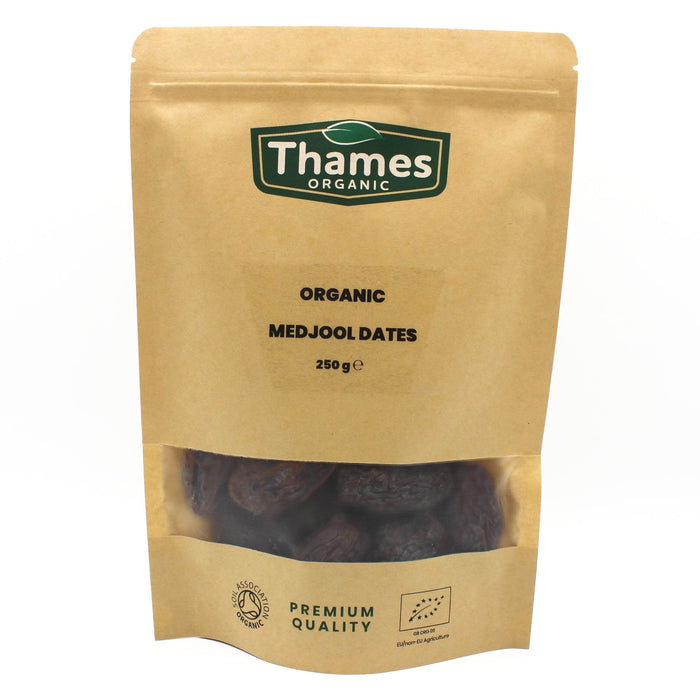 Organic Medjool Dates by Thames Organic Ltd. Organically grown in Jordan and packed in the UK. Re-sealable bag to ensure continuous freshness.

Thames Organic's Soil Association Licence number is DA30314.

Organic Medjool Dates are naturally delicious, low in fat and high in potassium for a healthy alternative to dessert. These dates are huge and ideal for a snack; just remember to remove the seeds first. This fruit can also be used to make energy bites or raw desserts.

Organic Medjool dates are full of potassium and also provide important minerals such as calcium, magnesium and copper. It is also a good source of B-complex vitamins known as pyridoxine, niacin, pantothenic acid, and riboflavin. These essential vitamins aid the body by helping convert food into energy.

Benefits of Medjool Dates

High in Fiber
B-complex Vitamins
High in Potassium
Full of Minerals
Medjool dates are famous for their large size and plump, chewy texture. Containing numerous vitamins, minerals and fibre, this unique fruit can be eaten fresh or used in a variety of recipes.
Medjool dates are high in potassium and a healthy source of natural energy. These Medjool dates can be enjoyed fresh or added to baked goods.
Discover Thames Organic's Organic Medjool Dates – a versatile and delightful addition to your kitchen, perfect for a variety of culinary preferences. Whether you're a vegan, vegetarian, or follow a plant-based, specific dietary plan, these premium Medjool dates are a must-have. Sourced sustainably from the finest organic date palms, they offer a naturally sweet and luscious flavor that enhances your favorite recipes. Use them as a wholesome and energy-boosting snack on their own, or incorporate them into smoothies, desserts, or oatmeal for a delightful touch. Embrace the natural goodness of Thames Organic's Medjool Dates and elevate your cooking with this wholesome and eco-conscious choice.
Organic Medjool dates are considered to be the finest quality of dates available, and are a decadent treat that will satisfy your sweet cravings!
Medjool dates are produced in hot, dry climates and are grown on large commercial plantations in a variety of locations around the world, including Israel, Palestine, the Jordan Valley, California, South Africa, Mexico, Namibia, Morocco, Egypt, and Saudi Arabia.
Medjool dates are considered to be the most refined type of dates due to their large size, sweet flavour, and moist texture. Organic Medjool dates are grown and harvested in an organic manner, which preserves their rich, caramel-like flavour and soft, chewy texture.
Medjool dates are a delicious and versatile fruit that can be filled with a crunchy nut kernel to create a sweet and satisfying snack.
Simply cut the juicy dates in half and fill them with a nut of your choice for a combination of sweet, juicy, nutty, and crunchy flavours. This tasty treat is sure to be a hit at any party and will make you the favourite guest!