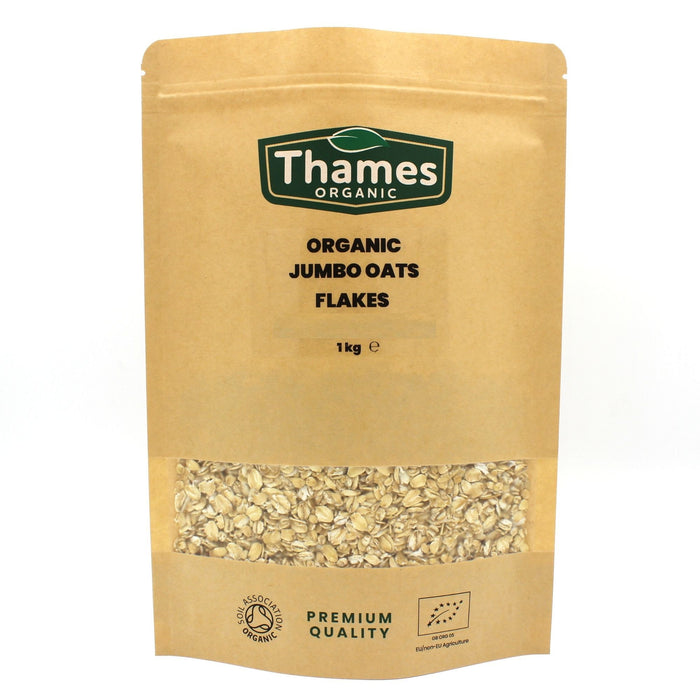 Organic Jumbo Oat Flakes by Thames Organic Ltd. Organically grown in the UK. Packed in the UK. 
Allergen Information: Packed on premises that handles nuts, seeds, cereals, soya & products containing gluten. 
Thames Organic's products are certified as organic by the UK's Soil Association 
(Soil Association licence no. DA30314) 
Discover Thames Organic's Organic Jumbo Oat Flakes – a versatile and delightful addition to your kitchen, perfect for a variety of culinary preferences. Whether you're a vegan, vegetarian, or follow a plant-based, specific dietary plan, these premium jumbo oat flakes are a must-have. Sourced sustainably from the finest organic oats, they offer a hearty and chewy texture that enhances your favorite recipes. Use them as a nutritious and filling base for porridge, overnight oats, or homemade granola, or incorporate them into baking for added wholesome goodness. Embrace the natural goodness of Thames Organic's Jumbo Oat Flakes and elevate your cooking with this wholesome and eco-conscious choice.
Description:
Organic Jumbo Oats are larger than ordinary oats and are seriously versatile – a true whole food staple. Oats are most often used to make warming porridge, but they can be used for many things; Oats make a great crumbly topping, creamy face mask, rich milk bath, or crumbly biscuit. Common oats are a type of cereal grain that is high in beta-glucans. You may already know that porridge is a source of beta-glucan, but do you know what they do? The consumption of beta-glucan from oats as part of a meal contributes to a decrease in blood sugar spikes after that meal.
From breakfast to dinner, and even dessert, these organic jumbo oat flakes are as versatile as they are nutritious. They bring a grainy, mildly nutty flavour and a chewy, substantial texture to your favourite recipes. Enjoy them in rolled oats, granola bars, cookies, muffins, pie crusts or coatings for chicken or fish.
Indulge in the deliciousness of our organic jumbo oat flakes for a satisfying breakfast. We've carefully chosen a special variety of large whole grain oats, known as "jumbo oats," that have a smooth texture and subtle flavour that will enhance your dishes, especially when used in porridge. Try them today and experience the difference!
Our organic oat flakes are not only high in fibre, magnesium, and phosphorus, but also naturally rich in iron, zinc, potassium, and vitamin B1. Enjoy all of these nutrients in every delicious bowl.
Oat flour is made from oats, which are highly versatile and can be used to make porridge with water, cow's milk, or plant-based milk. They can also be added to granola or used in omelette recipes. When ground into flour, oats can be used for baking and as a breading for dishes. Oats are a great source of easily digestible carbohydrates and contain a high amount of fibre.