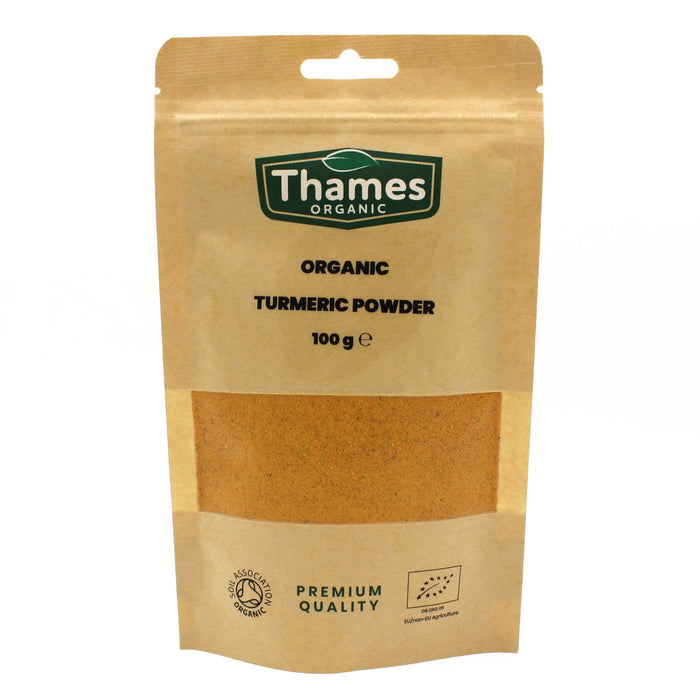 Organic Turmeric Powder
Original price
£3.49
-
Original price
£9.99
Organic Ground Turmeric by Thames Organic Ltd. Organically grown in Nigeria. Packed in the UK.
Nutrition Value Per 100g: Energy (kj) 354 kcal, Energy (kcal) 8g, Protein 65g, Carbohydrate 3g, of which sugars 10g, Fat 3g, of which saturates 21g, Salt 38mg
Allergen Information: Packed on premises that handles nuts, seeds, cereals, soya & products containing gluten.
Thames Organic's products are certified as organic by the UK's Soil Association
(Soil Association licence no. DA30314).
About Organic Turmeric Powder
Turmeric powder delivers an earthy flavour like no other, complete with subtle notes of orange and ginger. Organic turmeric powder is the purest form of turmeric as it has been produced without chemical enhancements making it a great option for organic food lovers. This golden wonder-food has earned a strong reputation for its benefits over the years
Dietary Information
Discover Thames Organic's Organic Turmeric Powder – a versatile and delightful addition to your kitchen, perfect for a variety of culinary preferences. Whether you're a vegan, vegetarian, or follow a plant-based, specific dietary plan, this premium turmeric powder is a must-have. Sourced sustainably from the finest organic turmeric roots, it offers a warm and earthy flavor that enhances your favorite recipes. Use it as a vibrant and aromatic spice in curries, soups, or rice dishes, or blend it into smoothies for a nutritional boost. Embrace the natural goodness of Thames Organic's Turmeric Powder and elevate your cooking with this wholesome and eco-conscious choice.
Uses of organic turmeric powder
Add a distinct and delightful flavour (and stunning yellow-gold glow) to meals.
Perfect for flavouring rice, vegetable dishes, curries, soups and adding to baking.
Essential for making authentic curries, classic Indian cuisine and is an excellent compliment to Asian vegetables, bean and lentil dishes like dahl, sambar and kitchari.
Ingredients
Organic Turmeric Powder
Allergen Information
Packed on premises that handles nuts (including peanuts), seeds, cereals, soya & products containing gluten.
Storage
Store in a cool, dry place away from sunlight.
Turmeric, a close relative of ginger, is a plant that grows year after year and is native to Southeast Asia. Today, it is grown in many warm regions around the world, with India being the largest producer. 
Other major producers include China, Indonesia, Bangladesh, and countries in the Caribbean and South America.
Turmeric is a spice with a distinct flavour and a bright yellow colour, which is often used in curries and rice dishes. It is also known for its main active ingredient, curcumin, a pigment that gives dishes a vibrant yellow colour.
This organic turmeric powder is of high quality and will add delicious flavour and a beautiful golden colour to your dishes. It can be used in cooking and is also a great addition to wellness drinks like golden milk.
Our hand-picked, high quality turmeric root powder will add the perfect taste and aroma to your dishes.
India
a republic in the Asian subcontinent in southern Asia; second most populous country in the world; achieved independence from the United Kingdom in 1947
More (Definitions, Synonyms, Translation)