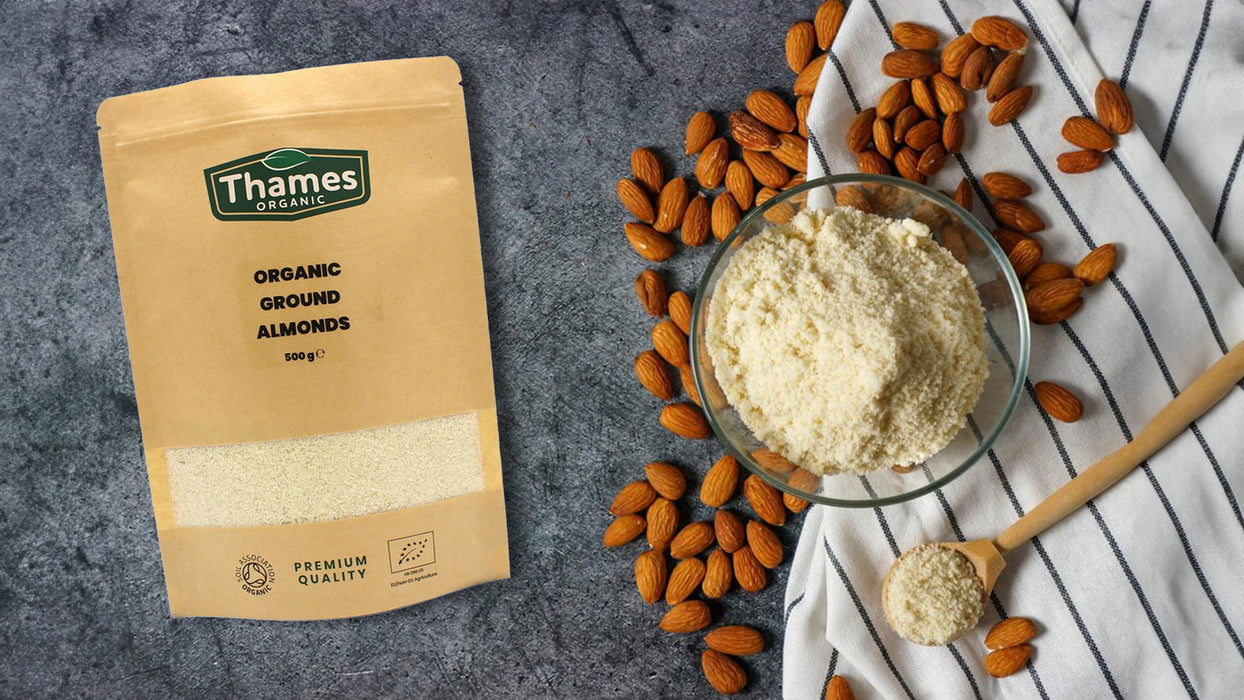 Although almonds are commonly referred to as nuts, they are actually seeds. The almond tree is native to the Middle East and South Asia, and the seeds of this tree, called almonds, are edible and have been used in cooking and baking for centuries.
Organic ground almonds, also known as almond meal or almond flour, are made from almonds that have been grown using organic farming techniques and ground into a fine powder. They are a flavourful and nutritious ingredient that can be used in a variety of dishes and baked goods.
Almonds are a nutrient-rich food that are high in antioxidants, vegetable protein, fibre and vitamin E.
They are a good choice for those looking to add more nutrients to their diet. Organic ground almonds, or almond meal or almond flour, are a fine, lightweight powder that is often used as an alternative to wheat flour in baked goods. In addition to adding flavour and texture, it can also provide additional nutrients to your recipes.
Organic ground almonds by Thames Organic Ltd. Organically grown in Spain. Packed in the UK. 
Allergen Information: Packed on premises that handles nuts, seeds, cereals, soya & products containing gluten. 
Thames Organic's products are certified as organic by the UK's Soil Association 
(Soil Association licence no. DA30314)
Description:
Organic ground almonds are easily the tastiest, most nourishing and highest quality version of this sweet, nutty and utterly unique foodstuff! And to many UK and European food lovers, it's an absolutely essential baking ingredient: perfect for making countless recipes, including paleo and recipes, classic and exotic desserts and much more (see below). Use organic almond flour to bake cookies, cakes, doughnuts, breads, brownies, pancakes, naans, energy balls and bars, muffins, waffles, cobblers, crackers, crisps, porridge, pies, pasta, pastries, rolls … and almost every sweet and savoury treat imaginable.
Benefits of Ground Almond
An incredibly versatile sweet and savoury baking ingredient, used to make thousands of recipes worldwide.

Made with the most nutritiously dense nut in the world!

Packed with healthy minerals, vitamins and other nourishing components.

This organic almond flour has greater "bioavailability" than the whole nuts, meaning more goodness is available to our bodies.

Consuming a handful (28 grams) of almonds a day helps to maintain healthy blood cholesterol and promotes a healthy heart, when enjoyed as part of a diet low in saturated fat.
Discover Thames Organic's Organic Ground Almond – a versatile and delightful addition to your kitchen, perfect for a variety of culinary preferences. Whether you're a vegan, vegetarian, or follow a plant-based, specific dietary plan, this premium ground almond is a must-have. Sourced sustainably from the finest organic almonds, it offers a rich and nutty flavor that enhances your favorite recipes. Use it as a nutritious alternative in baking, or add it to smoothies and oatmeal for a delightful texture and taste. Embrace the natural goodness of Thames Organic's Ground Almond and elevate your cooking with this wholesome and eco-conscious choice.