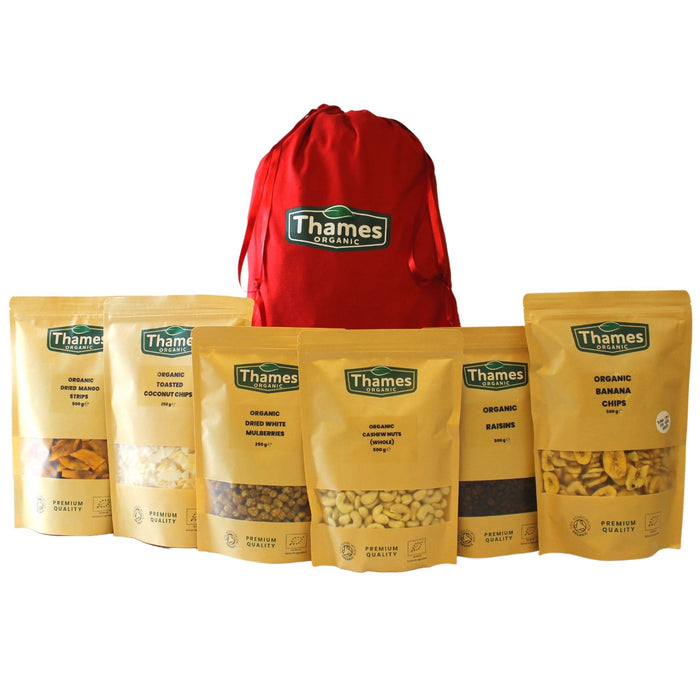 Organic Goodies Bag (Red Energy Pack 1)
Original price
£39.99
-
Original price
£39.99
Ingredients
Mango 500
Toasted cocnut 250
Mulberries 250
Cashew nut 500
Banana Chips 500
Raisin 500
Organic dried mango strips made from organic mangos are a great naturally tangy and sweet substitute for fresh mango. These mango strips are an excellent source of vitamins and are especially high in vitamin A and C-both of which have antioxidant properties.
Organic Toasted Coconut Chips are a perfect topping or snack. Naturally sweet and bursting with coconut flavour. Crunchy and slightly sweet, these coconut chips are a perfect snack for putting on salads or just eating by the handful.
Organic Dried White Mulberries are a delicious and useful dried fruit that is great for snacks, breakfast foods like cereals, raw foods, baked goods and more, with their sweet flavour and slightly chewy texture.
Organic cashew nuts are packed full of goodness, protein and essential fats and are the perfect snack at any time of day. They are extremely versatile and can be used to add texture to meals and sweet treats.
Organic Banana chips are a great-tasting healthy snack option as they are low in calories and loaded with nutrients. Organic Banana Chips are made from whole slices of the finest bananas available.
Organic raisins are dried grapes. Raisins are great as a healthy snack right out of the box, or you can use them to enhance salads, cookies, breads and more.