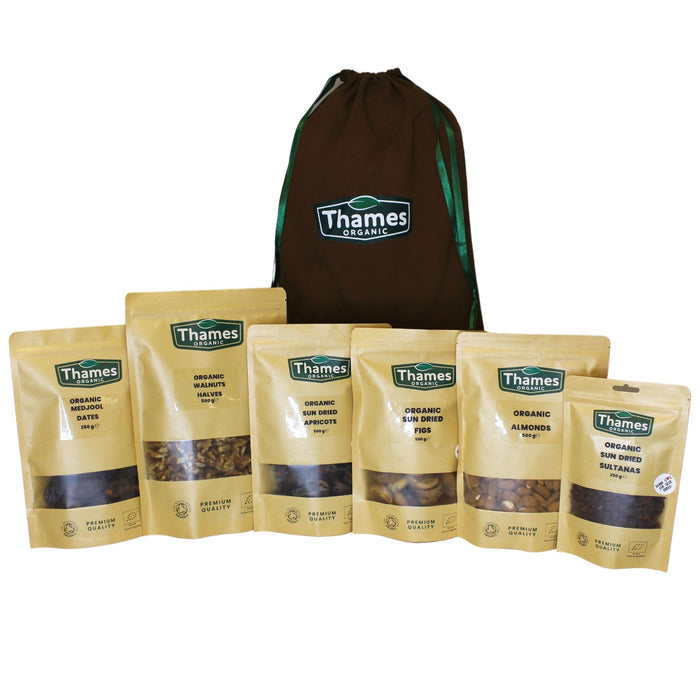 Organic Goodies Bag (Earth Brown Pack 1)
Ingredients
Medjool 250g
Walnut 500g
apricot 250g
figs 500g
almond 500g
Sultanas 250g
Organic Medjool Dates are naturally delicious, low in fat and high in potassium for a healthy alternative to dessert. These dates are huge and ideal for a snack. This fruit can also be used to make energy bites or raw desserts.
Organic walnut halves have a distinctive flavour that is often added to salads and cakes as a decorative finishing touch. The halves are perfect for snacking on, adding to cakes or topping savoury meals such as waldorf salad. 
Organic Sun Dried Apricots are rich sources of vitamins and minerals, especially beta-carotene and potassium. They have a delicious sweet flavour.
Organic dried figs are naturally sweet and juicy and great for snacking on. They are rich in vitamins and minerals and high in soluble fibre, which can be great for a healthy digestive system.
Organic Almonds are one of the most popular nuts in the world with their high calcium, magnesium, potassium and vitamin E levels.
Organic Sun Dried Sultanas are made from green grapes that have been dried with a little oil. Sultanas have a high amount of naturally occurring sugars and should be enjoyed in moderation as part of a healthy and balanced diet.