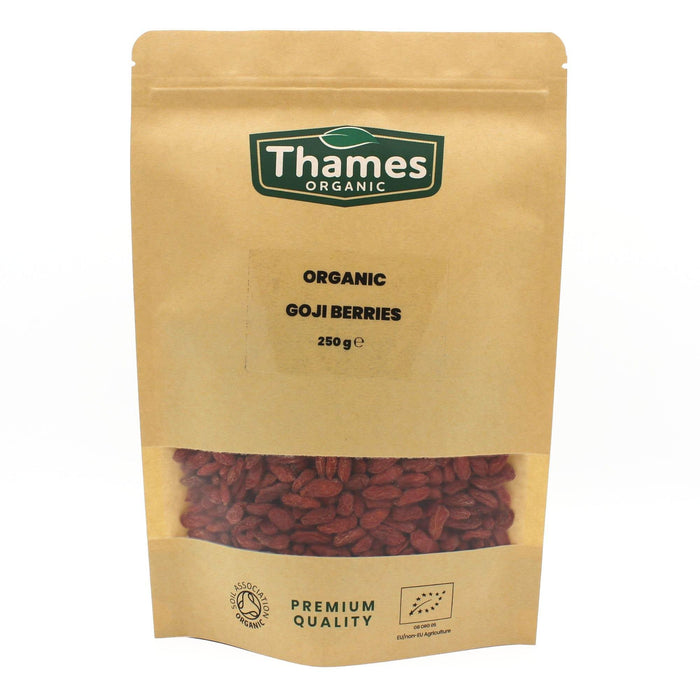 Organic Goji Berries by Thames Organic Ltd. Organically grown in China and packed in the UK. Re-sealable bag to ensure continuous freshness. 
Thames Organic's Soil Association Licence number is DA30314.
Organic goji berries are natural, sweet red energy balls are famous for their anti-aging effects thanks to their rich antioxidant and vitamin A concentration. These sweet red fruits can also strengthen the immune system and support eye health.
Organic goji berries are a delicious and useful dried fruit that is great for snacks, breakfast foods like cereals, raw foods, baked ones and more, with their sweet, slightly tangy taste, mild aroma and distinctive red color.
Benefits of goji berries
HIghest in Oxygen Radical Absorbance Capacity

Provide High Levels of Antioxidants
Organic Goji Berries are sweet red energy balls that can be used in rich antioxidant and vitamin A concentration.
Indulge in Thames Organic's Organic Goji Berries – a versatile and delightful addition to your kitchen that caters to a variety of dietary preferences. Whether you're a vegan, vegetarian, paleo enthusiast, or follow a Mediterranean diet, these premium goji berries are a must-have. Sourced sustainably from the finest organic sources, they offer a delectable blend of sweet and tart flavors, perfect for snacking or adding to your favorite recipes. Sprinkle them over cereals, blend them into smoothies, or use them as a flavorful garnish for desserts – the possibilities are endless. Embrace the natural goodness of Thames Organic's Goji Berries and elevate your culinary experiences with this wholesome and eco-conscious choice.

Organic goji berries are a nutritious and delicious dried fruit that is excellent for snacks and recipes. Goji berries are rich in anti-oxidants and vitamin A, which are great for eye health and strengthening the immune system. They're also a great source of protein, iron and fiber, which supports digestive health. Organic goji berries have a sweet yet slightly tangy taste, which makes them perfect to use in cereals, salads, smoothies or baked foods.

If you're looking for a nutritional powerhouse to add to your diet, look no further than goji berries . These sweet red treasures full of antioxidants and Vitamin A support eye health and the immune system. In their raw form, goji berries are slightly sweet with a distinct tanginess, but they can work well in both raw or baked recipes. Add them to trail mix for a dash of color and sweetness or bake them into muffins for a healthy snack.

Organic Goji Berries are sun-dried, dehydrated, desiccated goji berries. After the goji fruits are picked and cleaned, they are dried whole without cutting or slicing. The post-harvest drying method helps to retain color and nutrients in our organic goji berries.
This small red fruit that is the Goji berry, comes from Lycium barbarum, a bush of the Solanaceae family. This family includes eggplants and tomatoes. Goji berries, native to China, are small red berries that grow on a shrub. These berries are often referred to as a "superfood" due to their high antioxidant content.
Our organic goji berries are grown at a high altitude and are sun-dried immediately after harvesting to preserve their nutritional content. These berries are a good source of vitamins, minerals, fibre, protein, and antioxidants.
Goji berries have a unique taste and can be eaten as a snack on their own or added to a variety of dishes such as energy balls, trail mixes, granola bars, grits, and smoothies. They can also be used to top salads or brewed into tea.