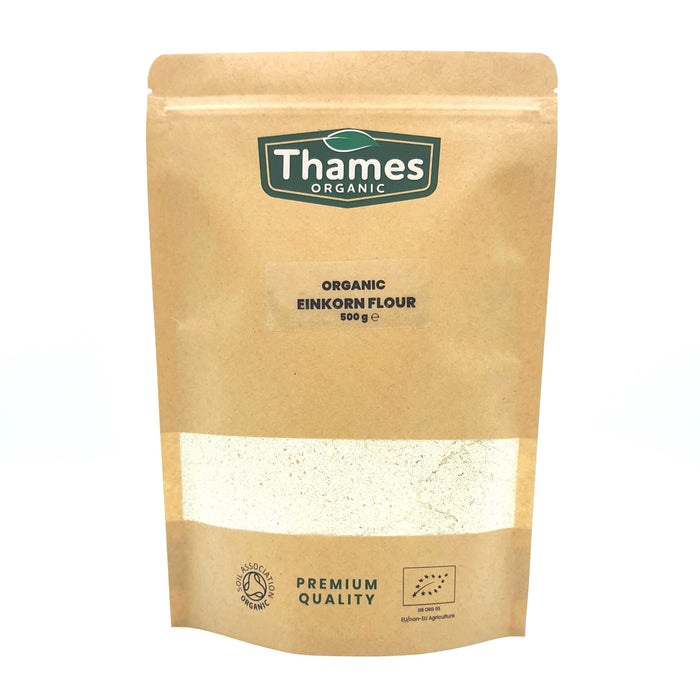 Organic Einkorn Wholemeal Flour
Organic Einkorn Wholemeal flour
Introducing our premium organic Einkorn flour, the perfect choice for health-conscious home bakers and professional chefs alike. Our Einkorn flour is 100% certified organic, non-GMO, and grown without the use of harmful pesticides or synthetic fertilisers.

Einkorn is one of the oldest grains in the world, dating back over 10,000 years. It's a type of wheat that's packed with nutrients, including protein, fibre, and essential minerals like iron and magnesium. Compared to modern wheat varieties, Einkorn is lower in gluten and higher in protein, making it an excellent choice for those with gluten sensitivities or looking to increase their protein intake. But please note our product is NOT gluten free. 

Our Einkorn flour has a subtle, nutty flavour that's perfect for making a wide range of baked goods, from artisan bread to fluffy pancakes and everything in between. It's also incredibly versatile and can be used as a 1:1 replacement for all-purpose flour in most recipes.

With our organic Einkorn flour, you can feel good about what you're putting in your body and supporting sustainable farming practices.

Discover Thames Organic's Organic Einkorn Flour – a versatile and delightful addition to your kitchen, perfect for a variety of culinary preferences. Whether you're a vegan, vegetarian, or follow a plant-based, specific dietary plan, this premium einkorn flour is a must-have. Sourced sustainably from the finest organic einkorn wheat, it offers a rich and nutty flavor that enhances your favorite recipes. Use it as a nutritious and ancient grain alternative in baking, pasta, or bread-making, or create delightful and wholesome desserts. Embrace the natural goodness of Thames Organic's Einkorn Flour and elevate your cooking with this wholesome and eco-conscious choice.