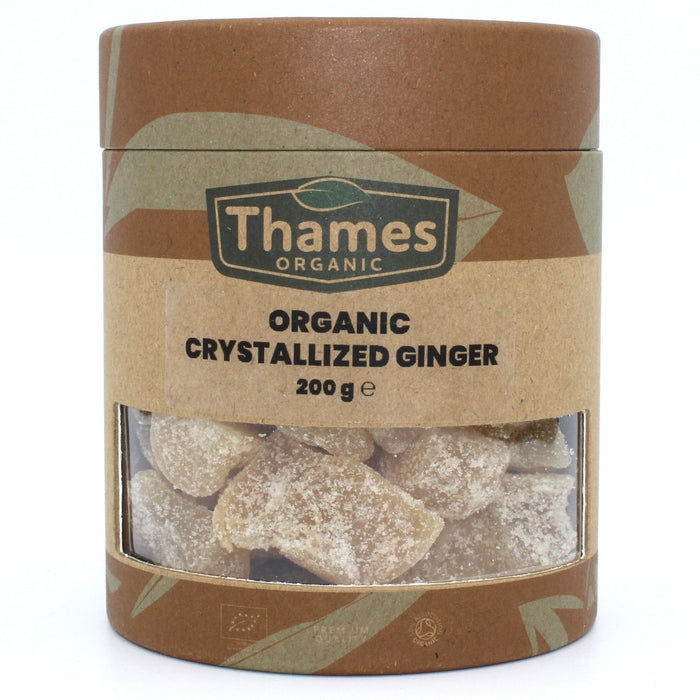 Organic Crystallized Ginger-Box
Original price
£4.49
-
Original price
£10.49
Organic Crystallized Ginger Organically grown in China. Packed in the UK. 
Thames Organic's Soil Association Licence number is DA30314.
Ginger is in the family Zingiberaceae, which also includes turmeric (Curcuma longa), cardamom (Elettaria cardamomum), and galangal. Ginger originated in Maritime Southeast Asia and was likely domesticated first by the Austronesian peoples. It was transported with them throughout the Indo-Pacific during the Austronesian expansion (c. 5,000 BP), reaching as far as Hawaii. Ginger is one of the first spices to have been exported from Asia, arriving in Europe with the spice trade, and was used by ancient Greeks and Romans. The distantly related dicots in the genus Asarum are commonly called wild ginger because of their similar taste.
Description:
Organic Crystallized ginger or candied ginger is made of ginger root that has been cooked until softened, and then lightly coated in sugar. Enjoy as-is for a healthy, moist and chewy snack with its spicy-sweet flavor and distinctive aroma. It's also a sweet way to experience the potential health benefits of ginger. Crystallized ginger can be chopped and used as toppings on ice cream or added in cookies or fruit cakes
Benefits of Crystallized Ginger
High in antioxidant

Low in Saturated Fat

High in Phytoestrogens.