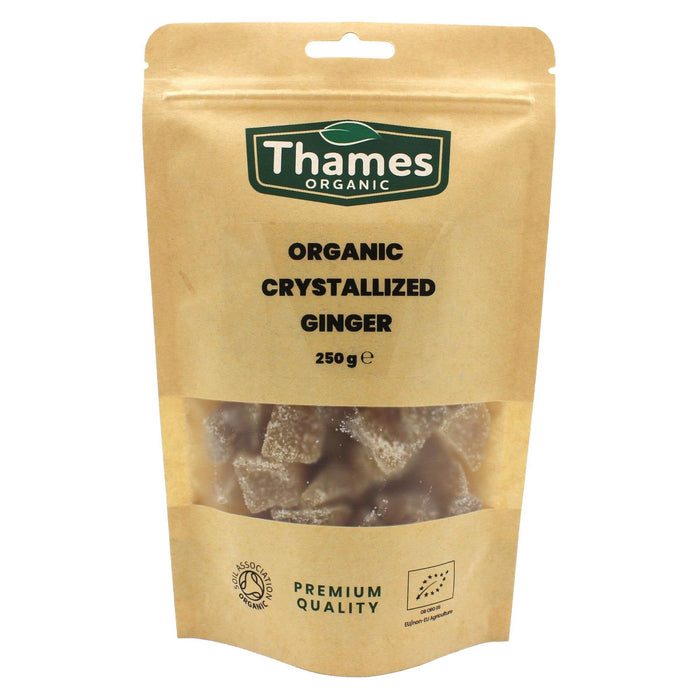 Organic Crystallized Ginger
Introducing our Organic Crystallized Ginger! This delectable treat has a rich history and is beloved for its unique flavor and numerous benefits.
Originating in Southeast Asia, ginger has been used for centuries as a medicinal herb and a spice in cooking. It was even prized by ancient civilizations for its ability to aid in digestion and reduce inflammation.
Our Organic Crystallized Ginger is made from the highest quality ginger roots, grown on eco-friendly farms. The ginger is carefully selected and by hand, ensuring that each and every piece is of the utmost quality.
Once harvested, the ginger is carefully peeled and sliced before being slowly cooked in a mixture of sugar and water. This process preserves the ginger's natural flavor and nutrients, resulting in a deliciously sweet and spicy treat.
But our Organic Crystallized Ginger is more than just a tasty snack. It's packed with nutrients that can benefit you in numerous ways. Ginger is a natural anti-inflammatory and is known to aid in digestion. It's also rich in antioxidants, which can help to boost the immune system and protect against free radicals.
So what can you do with our Organic Crystallized Ginger? The possibilities are endless! You can snack on it straight out of the bag, use it as a topping for ice cream or yogurt, or add it to your favorite recipes for a burst of flavor. It's also great for baking and makes a delicious addition to gingerbread cookies, cakes, and other sweet treats.
Overall, our Organic Crystallized Ginger is a versatile and delicious treat that's sure to become a staple in your pantry. With its unique flavor and numerous benefits, it's a snack that you can feel good about indulging in.
Organic Crystallized Ginger Organically grown in China. Packed in the UK. 
Thames Organic's Soil Association Licence number is DA30314.
Discover Thames Organic's Organic Crystallized Ginger – a versatile and delightful addition to your kitchen, perfect for a variety of culinary preferences. Whether you're a vegan, vegetarian, or follow a plant-based, specific dietary plan, this premium crystallized ginger is a must-have. Sourced sustainably from the finest organic ginger roots, it offers a sweet and spicy flavor that enhances your favorite recipes. Use it as a delightful and energizing snack on its own, or chop it up and add it to baked goods, desserts, or stir-fries for a burst of natural sweetness and warmth. Embrace the natural goodness of Thames Organic's Crystallized Ginger and elevate your cooking with this wholesome and eco-conscious choice.
Ginger is in the family Zingiberaceae, which also includes turmeric (Curcuma longa), cardamom (Elettaria cardamomum), and galangal. Ginger originated in Maritime Southeast Asia and was likely domesticated first by the Austronesian peoples. It was transported with them throughout the Indo-Pacific during the Austronesian expansion (c. 5,000 BP), reaching as far as Hawaii. Ginger is one of the first spices to have been exported from Asia, arriving in Europe with the spice trade, and was used by ancient Greeks and Romans. The distantly related dicots in the genus Asarum are commonly called wild ginger because of their similar taste.
Description:
Organic Crystallized ginger or candied ginger is made of ginger root that has been cooked until softened, and then lightly coated in sugar. Enjoy as-is for a healthy, moist and chewy snack with its spicy-sweet flavor and distinctive aroma. It's also a sweet way to experience the potential health benefits of ginger. Crystallized ginger can be chopped and used as toppings on ice cream or added in cookies or fruit cakes
Benefits of Crystallized Ginger
High in antioxidant

Low in Saturated Fat

High in Phytoestrogens.