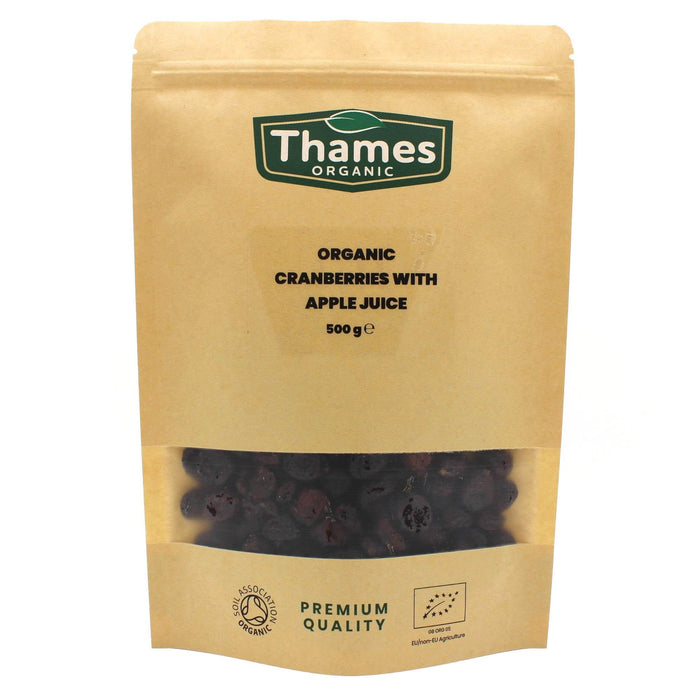 Organic Cranberries with Apple Juice
Original price
£6.49
-
Original price
£18.99
Organic Cranberries with Apple Juice Organically grown in Canada. Packed in the UK. 
* Soil Association Certificated by Thames Organic
Thames Organic's products are certified as organic by the UK's Soil Association
(Soil Association license no. DA30314).
About Organic Cranberries with Apple Juice
These cranberries are tart and just sweet enough to fit all manner of snacking, and baking. These organically grown cranberries are sweetened only with apple juice concentrate and this gives them a gentle, not strong sweetness. This subtle sweetness makes them perfect for adding to savoury as well as sweet dishes. Organic Cranberries with Apple Juice are a delicious and useful dried fruit that is great for snacks, breakfast foods like cereals, raw foods, baked ones and more, with their sweet, slightly tangy taste, mild aroma and distinctive red color.
High in vitamin C

No added sugar

Organically grown
Organic Cranberries with Apple Juice are an excellent way of adding dried cranberry goodness to any number of foods - desserts like cakes, muffins, cookies and biscuits; raw foods like fruit salads, fruit smoothies and natural chocolate confectionery; breakfast foods like cereals, granola bars and muesli bars. They are also excellent in savoury dishes like chutneys, sauces and even in curries.
Discover Thames Organic's Organic Cranberries with Apple Juice – a versatile and delightful addition to your kitchen, perfect for a variety of culinary preferences. Whether you're a vegan, vegetarian, or follow a plant-based, specific dietary plan, these premium cranberries with apple juice are a must-have. Sourced sustainably from the finest organic farms, they offer a delicious blend of tart cranberries and naturally sweet apple juice that enhances your favorite recipes. Enjoy them as a tasty and convenient snack, or add them to your cereal, yogurt, or baked goods for a burst of natural flavor. Embrace the natural goodness of Thames Organic's Cranberries with Apple Juice and elevate your culinary experiences with this wholesome and eco-conscious choice.