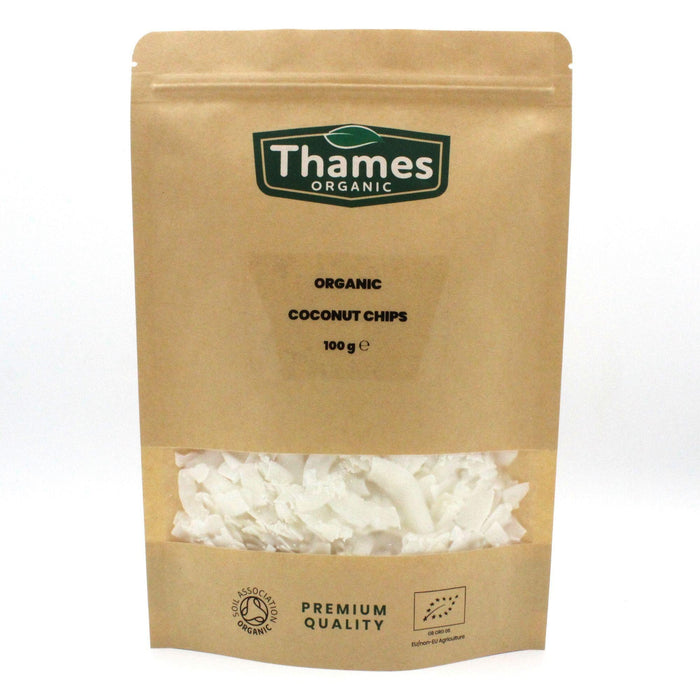 Introducing our delicious Organic Coconut Chips, made from 100% pure coconut and gently dried to perfection. These crispy, crunchy chips are the perfect snack for anyone looking for a healthier alternative to traditional chips.
Our coconut chips are packed with nutrients, including healthy fats, fibre, and minerals like iron and potassium. They are also naturally gluten-free and vegan, making them suitable for a variety of dietary needs.
Our coconut chips are carefully sourced from organic farms and made using sustainable, eco-friendly practices. We never use any artificial preservatives or additives, ensuring that you get the purest, most natural coconut flavour possible.
Enjoy our Organic Coconut Chips as a satisfying snack on their own, or use them to add a tropical twist to your favourite recipes. Order now and discover the delicious goodness of pure, organic coconut.
Get ready to indulge in the tropical goodness of our Organic Coconut Chips! These crunchy treats are made from sustainably grown and harvested coconuts, with a focus on preserving the natural environment and supporting sustainable agriculture. Not only are they a delicious snack, but they're also packed with nutrients that can benefit you.
Coconuts are a great source of fiber. They also contain a range of vitamins and minerals, including potassium, magnesium, and iron. Plus, their natural sweetness makes them a tasty and guilt-free alternative to other sugary snacks.
But our Coconut Chips aren't just for snacking - they're also a versatile ingredient that can add a tropical twist to your recipes. Use them in granola bars, trail mix, smoothies, baked goods, oatmeal, and more. They add a crunchy texture and a sweet, coconutty flavor that's hard to resist.
Our Coconut Chips are pure and natural, with no additives or preservatives. They are sourced from certified organic farms and are free from any artificial ingredients. You can trust that what you're consuming is pure and natural.
And our convenient packaging makes it easy to store and use our Coconut Chips as needed. The resealable bag is BPA-free and easy to store, so you can seal it up and use it whenever you need it. No more spilling or worrying about the product going stale - just seal it up and use it whenever you need it.
Treat yourself to the tropical goodness of our Organic Coconut Chips today and add some delicious variety to your snacks and meals!
DIETARY INFORMATION
Experience a tropical taste sensation with Thames Organic's Organic Coconut Chips. Harvested and processed responsibly, our coconut chips bring a delightful crunch and natural sweetness to any dish. These are the perfect addition to a vegan breakfast bowl, infusing an exotic flair into your morning routine. Coconut chips are ideal for those following a ketogenic lifestyle, providing healthy fats and fibre. Toss them in your raw food salads or use them as a satisfying snack for your Mediterranean diet. For flexitarians seeking a unique, plant-based crunch, or paleo enthusiasts after a grain-free treat, our coconut chips are a perfect choice. With Thames Organic, your culinary creativity knows no bounds.

Organic Coconut Chips by Thames Organic Ltd. Organically grown in Srilanka. Packed in the UK.

Coconut Chips are made from fresh coconuts cut into thin strips and packed fresh. No added sugar.

Nutrition Value Per 100g: Energy (kj) 2821, Energy (kcal) 675, Protein 7g,Carbonhydrate 25g, of which sugars 7g, Fat 64g,of which saturates 57g, Salt 0g

Allergen Information: Packed on premises that handles nuts, seeds, cereals, soya & products containing gluten.

Thames Organic's products are certified as organic by the UK's Soil Association

(Soil Association license no. DA30314).

About

These organic coconut chips are nutrient-rich and popular for baking. They are processed at low temperatures therefore still qualify as raw and are 100% organic.

Coconut chips are a great source of fibre and protein and are the ideal ingredient added to a trail mix for a tasty snack. Team with other ingredients such as dried fruits and dark chocolate or use to top smoothie bowls.

Benefits

Natural sweet treat
Organic
Raw
Rich in protein
Good source of fibre
Healthy fats
Usage

Team with dried fruit, dark chocolate and almonds for a healthy snack
The perfect ingredient for baking particularly for decorating
Sprinkle on to fresh fruit and yoghurt or smoothies bowls of a boost of nutrients, texture and a decorative touch
Add into homemade granola for a delicious breakfast
Add to warm bowls of porridge oats and sprinkle with cacao nibs
Ingredients

Organic Coconut Chips, Raw

Allergen Information

Packed on premises that handles nuts (including peanuts), seeds, cereals, soya & products containing gluten.

Storage

Store in a cool dry place away from sunlight.