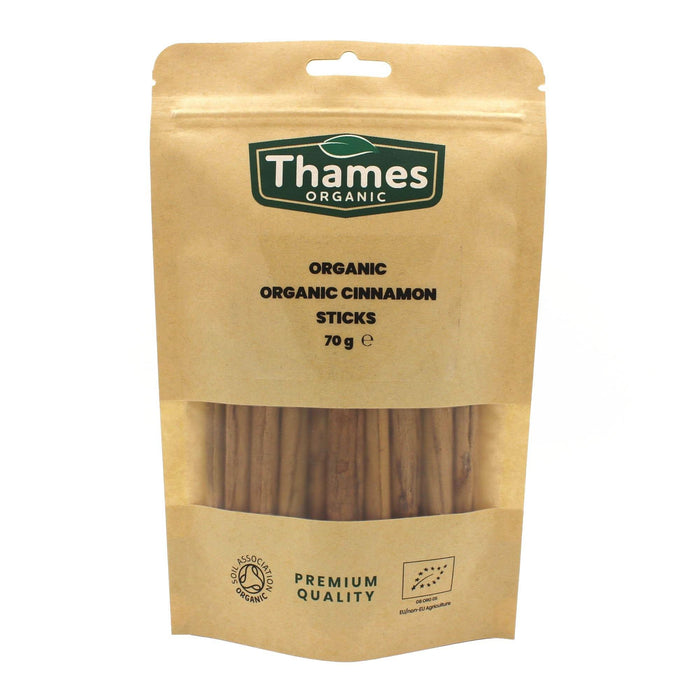 Our Organic Cinnamon Sticks are known for their rich, bold flavor and aromatic scent. Hand-selected from the finest Ceylon farms, these cinnamon sticks are of the highest quality and are sure to elevate any dish.
The flavor of our cinnamon sticks is warm and spicy, with hints of sweetness. It's the perfect balance of flavors that adds depth and complexity to any recipe. And the aroma is equally as tantalizing - it's sure to fill your kitchen with the inviting scent of cinnamon.
But it's not just the flavor and aroma that sets our Organic Cinnamon Sticks apart. They're also of the highest quality, being sustainably sourced and certified organic. This means they're free from pesticides and chemicals, making them the right choice for you and the planet. Plus, they're non-GMO and raw, making them suitable for plant-based diets.
Introducing Thames Organic's Organic Cinnamon Sticks – a delightful addition to your culinary adventures and a perfect fit for a variety of dietary preferences. Whether you're following a vegan, vegetarian, or Mediterranean diet, these premium cinnamon sticks will add a burst of flavor to your dishes. Indulge in the aromatic wonders of these sustainably sourced, organic cinnamon sticks, and elevate your culinary creations to new heights. These versatile sticks are a great complement to both sweet and savory dishes, bringing warmth and richness to your recipes. Embrace the natural goodness of Thames Organic's Cinnamon Sticks and explore the art of mindful cooking.
How to use organic cinnamon sticks
Crack the sticks: If you want to use cinnamon sticks in a recipe or in your drinks, it is recommended that you crack them first. This will unlock the full aroma and flavor of the spice.
Infuse in liquids: Cinnamon sticks can add a warm and spicy flavor to drinks like tea, coffee, or hot cocoa. Simply add a stick to your beverage and let it steep for a few minutes before removing it.
Flavor soups and stews: Cinnamon sticks can be used to add depth of flavor to savory dishes like soups and stews. Simply add a stick to the pot while cooking and remove it before serving.
Use as a garnish: Cinnamon sticks can also be used as a decorative garnish for cocktails or desserts. Simply place a stick on top of your dish for a festive touch.
Make a DIY air freshener: Cinnamon sticks have a natural, warm scent that can help freshen up your home. Simply place a few sticks in a pot of boiling water and let the aroma fill your space.
Organic Cinnamon Sticks
Organic cinnamon sticks, also called Ceylon cinnamon quills, can add a subtle spiciness to drinks and recipes. These aromatic sticks are obtained from Ceylon plants, which are more nutritious and flavourful than Cassia cinnamon. They are perfect for making authentic curries, herbal teas, desserts, and even cinnamon chai lattes.
Cinnamon is a great choice for those trying to reduce their sugar intake, as it has a natural sweetness that can replace sugar in many recipes. Some people enjoy making tea with clove, cinnamon and cumin.
Organic cinnamon sticks contain such a small amount of coumarin that it may not be detected in testing. Organic Ceylon cinnamon is a superior product that has higher levels of cinnamon's beneficial essential oil (cinnamaldehyde). It is safe to consume in large quantities on a regular basis, unlike cassia cinnamon, which contains too much coumarin to be consumed frequently.
So why wait? Add some depth and flavor to your cooking and baking with our high-quality Organic Cinnamon Sticks. 
Thames Organic Cinnamon Sticks. Organically grown in Sri Lanka. Packed in the UK.
Thames Organic's Soil Association Licence number is DA30314.
About
Cinnamon is a purer form which has more potent properties including a very high cinnamaldehyde content.  To obtain this precious Organic Cinnamon Sticks, the inner bark is gently dried with warm air and then ground down. This rich brown sticks has a characteristic aromatic taste and comes all the way from regions in Asia where the cinnamon tree grows.
Organic  Cinnamon is nutritionally superior to its more common, lower-quality cousin Cassia (usually the cinnamon found in supermarkets) – it also carries a fuller and more satisfying flavour that works well with both sweet and savoury foods. This makes organic Ceylon cinnamon powder an essential spice to have in the kitchen cupboard. Cinnamon Sticks are extracted from a plant native to Sri Lanka, so for the highest quality cinnamon always be sure to check the country of origin.
Benefits
Loaded With Antioxidants

100% organic


Intense cinnamon flavour

Low in sugar
Usage
Create authentic Morrocan cuisine by adding a touch of warming cinnamon

Add to warm milky drinks such as chai latte, hot chocolate or eggnog
Ingredients
Organic  Cinnamon Sticks (Quills) C4 Grade
Allergen Information
Packed on premises that handles nuts (including peanuts), seeds, cereals, soya & products containing gluten.
Storage
Store in a cool dry place away from sunlight.