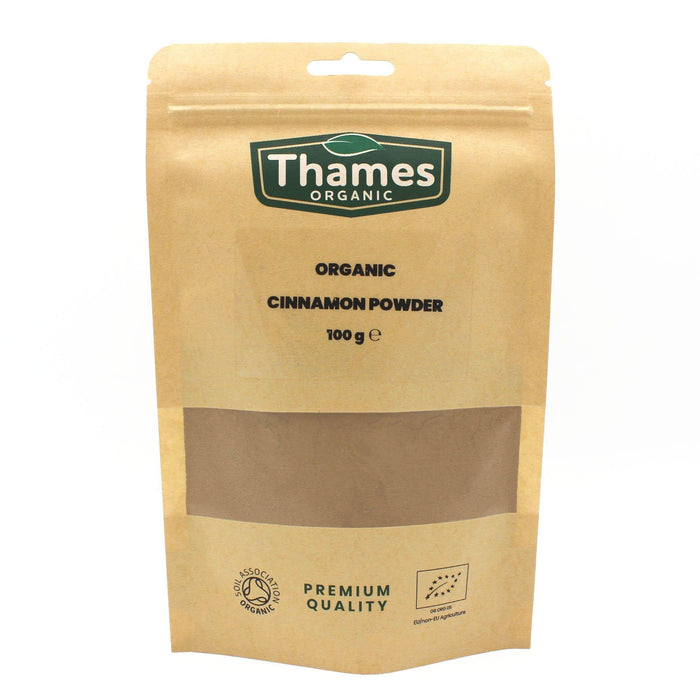 Organic Cinnamon Powder
Original price
£3.99
-
Original price
£16.99
Thames Organic Cinnamon Powder. Organically grown in Madagascar. Packed in the UK.
Thames Organic's Soil Association Licence number is DA30314.
About
Ceylon cinnamon (or true cinnamon) is a purer form which has more potent properties including a very high cinnamaldehyde content.  To obtain this precious organic cinnamon powder, the inner bark is gently dried with warm air and then ground down. This rich brown powder has a characteristic aromatic taste and comes all the way from regions in Asia where the cinnamon tree grows.
Organic ceylon cinnamon is nutritionally superior to its more common, lower-quality cousin Cassia (usually the cinnamon found in supermarkets) – it also carries a fuller and more satisfying flavour that works well with both sweet and savoury foods. This makes organic Ceylon cinnamon powder an essential spice to have in the kitchen cupboard. Ceylon cinnamon is extracted from a plant native to Sri Lanka, so for the highest quality Ceylon cinnamon always be sure to check the country of origin.
Benefits
Loaded With Antioxidants

100% organic


Intense cinnamon flavour

Low in sugar
Dietary Information
Discover Thames Organic's Organic Cinnamon Powder – a versatile and delightful addition to your kitchen, perfect for a variety of culinary preferences. Whether you're a vegan, vegetarian, or follow a plant-based, specific dietary plan, this premium cinnamon powder is a must-have. Sourced sustainably from the finest organic cinnamon bark, it offers a warm and aromatic flavor that enhances your favorite recipes. Use it as a delightful and fragrant spice in baked goods, oatmeal, or hot beverages, or add it to savory dishes for a unique twist. Embrace the natural goodness of Thames Organic's Cinnamon Powder and elevate your cooking with this wholesome and eco-conscious choice.
Usage
Perfect for sprinkling onto or into porridge

Add to baking recipes such as apple and cinnamon muffins

Create authentic Morrocan cuisine by adding a touch of warming cinnamon

Add to warm milky drinks such as chai latte, hot chocolate or eggnog

Add a touch to chocolate smoothie bowls along with nut butter

 
Ingredients
Organic Ceylon Cinnamon Powder (True)
Allergen Information
Packed on premises that handles nuts (including peanuts), seeds, cereals, soya & products containing gluten.
Storage
Store in a cool dry place away from sunlight.
Suggested Use
Guideline: 1-6g per day or as directed.