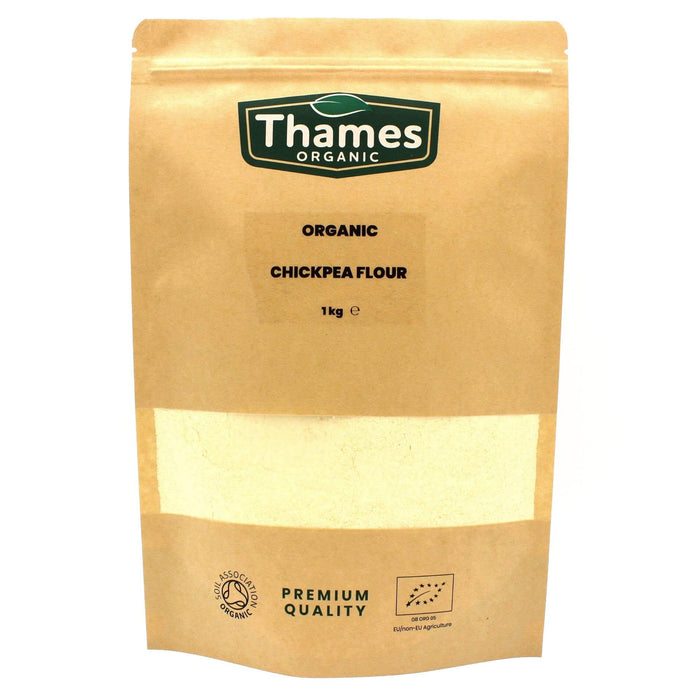 Organic Chickpea Gram Flour
Get ready to discover the ultimate superfood flour that is both nutritious and versatile - organic chickpea flour! Also known as gram flour or besan, this flour is made from ground, organic chickpeas and is a delicious alternative to traditional wheat flour.
Our organic chickpea flour is made from 100% non-GMO chickpeas that are grown using sustainable and ethical methods in the fertile soil of the Mediterranean region. No synthetic pesticides or fertilizers are used in the growing process, making our chickpea flour not only good for your body, but also good for the environment. These chickpeas are also minimally processed, ensuring a pure and natural product.
Chickpea flour has a long history of use in Indian, Middle Eastern, and Mediterranean cuisines, where it is widely used to make a variety of dishes, including breads, pastas, and sauces. It is also increasingly popular as a gluten-free and vegan alternative to wheat flour.
Our organic chickpea flour is finely ground, making it easy to use in a variety of recipes. It is a rich source of protein and fiber and is a good source of essential vitamins and minerals. It is also naturally low in fat and calories, making it a convenient and tasty addition to any diet. Plus, its unique and nutty flavor makes it a tasty and unique addition to any meal or snack.
Our organic chickpea flour comes in a convenient and easy-to-use resealable pouch, making it easy to keep the flour fresh and easily accessible for all your cooking needs. Simply add it to your favorite recipes or mix it with other flours to create unique and tasty blends. It can also be used as a thickening agent in soups and stews.
Don't miss out on the numerous benefits of organic chickpea flour. Start incorporating it into your meals and snacks today and discover a new superfood flour that is both tasty and good for you! Our organic chickpea flour is a nutritious and versatile way to add a little extra flavor to your meals and snacks.
Chickpea flour is made of the chickpeas that are traditionally grown in the Mediterranean. This lentil-like legume is a nutritious and versatile ingredient that can be used in a variety of recipes from curries and stews to pasta dishes and soups. Apart from its mild, nutty taste and high fiber content, chickpea flour contains about 25% fewer calories than white flour. You can easily use chickpea flour as a replacement for wheat flour in baking and it's great for making pancakes or crepes.

Benefits of Chickpea flour

Rich in vitamins and minerals
Fewer calories than regular flour
Packed with fiber
Higher in protein than other flours
Introducing Thames Organic's Organic Chickpea Flour – a versatile and delightful choice that caters to a variety of dietary preferences. Whether you follow a vegan, vegetarian, paleo, or Mediterranean diet, this premium chickpea flour is a must-have in your kitchen. Sourced sustainably from the finest organic chickpeas, it offers a rich and nutty flavor, perfect for creating a multitude of culinary delights. From delectable pancakes and fritters to savory dishes, this flour adds a unique twist to your recipes. Embrace the natural goodness of Thames Organic's Chickpea Flour and elevate your cooking with this wholesome and eco-conscious choice.
Organic chickpea flour is an alternative to wheat flour, and can be used in baking, as a thickener for soups and curries, or even as a batter for pancakes! Its mild, nutty taste adds flavour to baked goods and its high protein content makes it great for vegans. Organic Chickpea flour is a good way to get your daily intake of proteins. High in fibre and vitamins, chickpea flour has functioned as an important staple in the diets of cultures around the world for centuries.