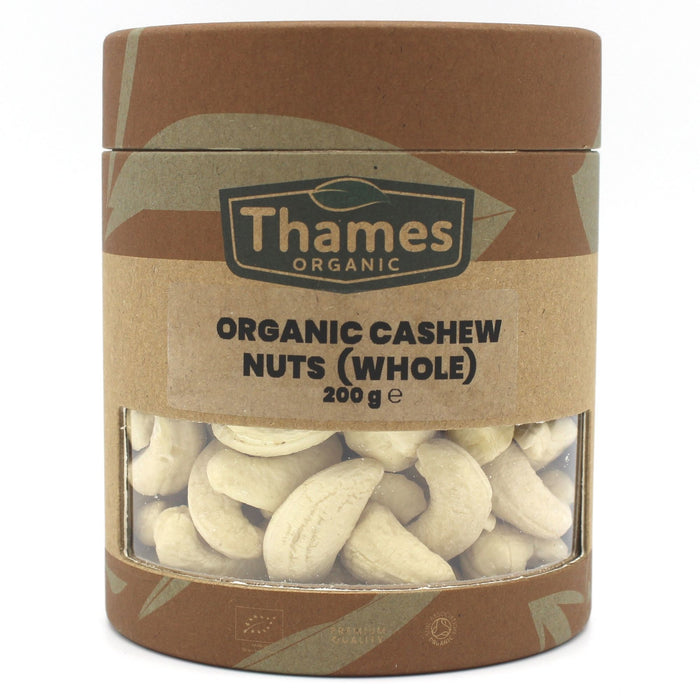 Organic Cashew Nuts (Whole) - Box
Organic Whole Raw Cashews by Thames Organic Ltd. Organically grown in Vietnam. Packed in the UK. 100% premium organic Raw Cashews from Thames Organic. Produced to the highest standards. Re-sealable bag to ensure continuous freshness.
Thames Organic's Soil Association Licence number is DA30314.
About Organic Cashew Nuts
Organic cashew nuts are packed full of goodness, protein and essential fats and are the perfect snack at any time of day. They are extremely versatile and can be used to not only add texture to meals and sweet treats but can also be used to make creamy pasta sauces or even a vegan cheese dip!
Benefits of organic cashew nuts
Essential healthy fats

High in protein

High in fibre

100% organic

Versatile

Ways to enjoy
Enjoy as a healthy snack
Make your own organic nut butter to add to toast, oats and smoothies

Sprinkle on top of salads, stir fries or curries for texture

Use to make a vegan cheese sauce or dip - particularly good for nachos!

Make creamy pasta sauces and stir through warm pasta for a healthy meal

Buy online in a range of sizes or shop for alternative organic cashew nuts including organic nut pieces for more options. We deliver to most of the UK and throughout Europe with fast and efficient delivery times to suit you and your needs or business.
Ingredients
Organic Cashew Nuts
Allergen Information
Packed on premises that handle nuts (including peanuts), seeds, cereals, soya & products containing gluten.
Storage
Store in a cool dry place away from sunlight.